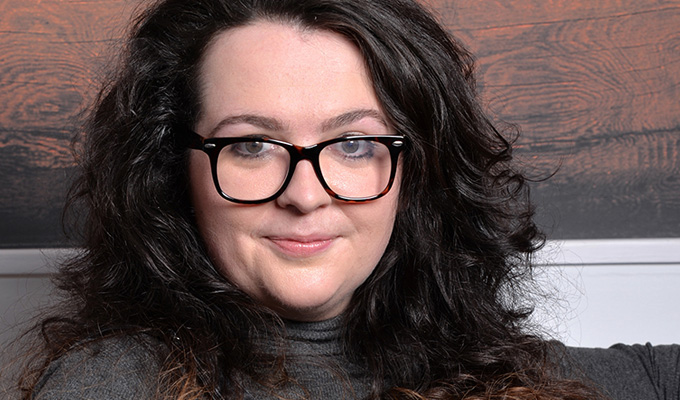 'One of the funniest, most brilliant pieces of anything committed to film'
Ashley Storrie picks her comedy favourites.
Dinnerladies
Victoria Wood was one of the finest comedy writers in the world, when people talk about her they always talk about her songs, but for me it was the effortless simplicity of the jokes in Dinnerladies, the first box set I ever bought.
It was a show about women, except they didn't need to remind you or apologise for it, it just was. It wasn't contrived, or girly or deliberately anything. It was just funny.
I know people who can't stand it, and as a result I think less of them. It's magical mundanity at its finest.
Alan Partridge does James Bond
'Stop talking about American things and let's watch the best film ever made'
I really enjoy watching Alan Partridge, I LOVE watching him recreate the opening of The Spy Who Loved Me in a caravan. I grin as I watch Alan getting angrier and angrier as his friends keep 'getting Bond wrong'.
I watch it on YouTube at least once a month, I can do the whole bit off by heart. I'd kill to go back in time and watch them film that, watch the actors he's performing to try to keep a straight face as he demands they all hold their encircled fingers up to their eyes.
When he starts singing 'clang, clangalang alang…' my heart sings. To me, this is one of the funniest, most brilliant pieces of anything committed to film.
Jane Curtin
When it comes to the original 1975 cast of Saturday Night Live it's a smorgasbord of legends, Chevy Chase, Dan Aykroyd and John Belushi cut their teeth on that stage, but the one person in that band of not ready for prime-time players I most identify with is Jane Curtin.
She's hilarious, that is a given, she held her own when she stood in for Chevy Chase on the Weekend Update desk, eventually replacing him when he left. She was strait-laced, she treated comedy like a job, not a social club, she didn't sleep with her co-stars, she didn't do drugs and when Belushi's addictions were becoming destructive she was one of the few people who spoke up.
I respect her immensely, it can be quite lonely being the sober girl who just wants to get the job done… Jane Curtin and her triumphs make that loneliness seem lesser. Her work since SNL has been stellar, particularly as Mary on Third Rock from The Sun.
I love you Jane Curtin, you ignorant slut.
Ian Holloway
I get my jollies in the strangest of places, one of those places is Ian Holloway interviews, I own a book that just lists funny things he's said. He's a little man, who usually manages football teams that are failing and he says the strangest and funniest words when being interviewed. His metaphors are beyond hilarious, his quips are magical, his rants are legendary…
I thoroughly enjoy him and his work and I wish he'd leave football for good and start working on his Fringe show. I mean his set on why Snoods shouldn't be allowed in football would be a winner!
Bob's Burgers
Bob's Burgers was a slow burn for me, I didn't like it off the bat, but I have a seven-episode rule – watch seven (seven for US shows three for UK) episodes of something, even if you hate it, because you might change your mind. But if you don't you've got enough ammunition to bad mouth it accurately.
I'm glad I did, because it's one of my favourite shows of all time now. I love it, I love the characters, I love the plots, I even enjoy the odd and sometimes jarring animation style.
I've found myself in Tina Belcher, she is a legitimate representation of me as a teenage girl, I used to sit beside this hot boy in art and I'd write creepy erotic fiction about him. He's a model now.
It's funny, it's heart-warming… it's one of the few animated comedies where the Dad actually loves his kids… The Simpsons, Family Guy, American Dad all show a father who needs to constantly be reminded through hilarious life lessons to love his family… but Bob Belcher just does and that opens up the comedy, I think.
The love is such a strong thread throughout that you can push the characters into some very daunting or harrowing situation, but as a viewer you feel safe because you know they'll always have each other. It's beautiful, and the voice acting is amazing.
• Ashley Storrie: Morning Glory is on at Laughing Horse @ The Counting House at 18:45.
Published: 25 Aug 2017
What do you think?