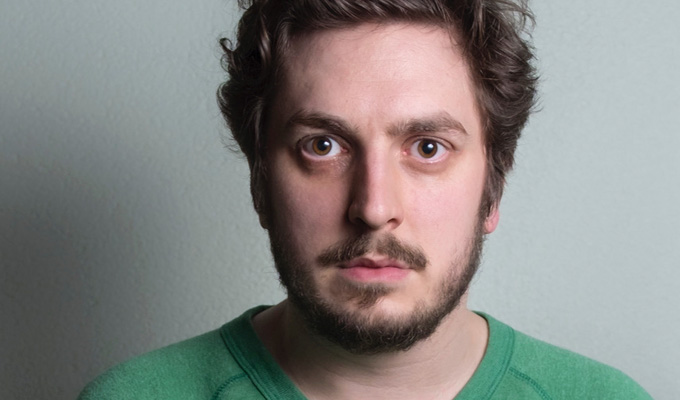 Genuinely mesmerising, and 100 per cent real
I've been unhealthily obsessed with comedy for as long as I can remember, both as a viewer and a performer (as a kid I was the absolute worst). Anyway, here are some of my absolute comedy favourites,- all highly recommended (and apologies in advance for being too gushing/earnest/inarticulate.)
Mat Ewins
He'll fucking hate that I've included him in this, but seen as this is effectively a comedy Desert Island Discs I couldn't not include the best comic I've ever seen.
That might sound hyperbolic or sycophantic, but I mean it with absolutely sincerity - nobody has ever made me laugh as hard as Mat Ewins. He's exhaustively creative and constantly high octane, with a mind that can produce seemingly impossible material that's both original and brilliantly accessibly funny. He's like the David Bowie of comedy.
No clip can do him justice, obviously go see him live wherever he's on - but this for me perfectly encapsulates the genius of Ewins. An insane weekend gig at an all-weather ski slope in Plymouth in broad daylight, the first pro gig for a lot of West Country acts starting out in a tricky room - and Ewins is still doing his brilliantly inventive shtick with absolute conviction, and still absolutely smashes it. Funny's funny.
Do You Not Know Who Eric Hitchmough Is? (The Office Facebook quoting group)
I won't be debated on the fact that The Office (UK) is the greatest sitcom ever made. Anyone who knows me or has ever seen my act will attest to that - but nobody wants to be the guy who picks The Beatles as their favourite band, I'm far too pretentious for that.
So I decided to choose something that combines my two greats loves - inventively quoting The Office and procrastination, for which there's no better place than the Facebook quoting group Do You Not Know Who Eric Hitchmough Is?
This closed group is Kryptonite to actual comic creativity but I struggle to think of anything that's brought me more unbridled joy - through good times and bad - than this group.
Credit must go to superb Bristol comic Jeremy Flynn for introducing me to it during Edinburgh 2015, it's genuinely changed my life in a pathetically self-indulgent and time-consuming way.
Several other brilliant comics are also regular contributors - Ivo Graham, Jake Lambert, Jordan Brookes, Darren Coles, Will Duggan and even your old pal Georgie Rigden - and every member is an Office obsessive, so the standard and inventiveness of the quotes are typically of a very high standard and some are bordering on genius, often topping the original scene the quote is lifted from.
This is one of my personal favourites - it still makes me laugh now.
The Best Of Norfolk: Daniel Evans
I'm so grateful that this exists - lifelong thanks to the fantastically funny Rachel Fairburn for introducing me to this, I can't stop watching it. One of those things that makes you laugh so hard you have to keep pausing it to get the giggles out of your system.
Genuinely mesmerising, it's almost a shame its 100 per cent real.
I don't want to spoil it, so in a nutshell - Dan Evans is an 18-year-old kid with an unwavering passion and love for broadcasting and his home county of Norfolk, to the point that he's made a four-part documentary series about it. It's just as brilliant as it sounds. Watch.
Celebrity Paul - Charlie Dinkin
From one documentary focused on a real-life character to another, although the tone of this one is a lot more knowing - having been made by excellent comedian and filmmaker Charlie Dinkin.
Celebrity Paul is one of the most criminally overlooked and wonderfully funny pieces of comedy film-making I've ever seen. Again, I don't want to ruin it for anyone - but basically Celebrity Paul is Paul Redfern, a professional actor/extra exhaustively chasing his dream of becoming famous.
He's a real life David Brent, and I say that with genuine affection and absolute accuracy. Amazing.
Lee Mack
I'm aware that this playlist is in very real danger of disappearing up its own arse, so with that in mind I figured I'd break up the pretension by including my favourite TV comic. Lee Mack is, for me, the very definition of funny boned. Most comics from my experience are either phenomenal writers, incredible performers or lightning quick off the cuff. Lee Mack is all three, which is frankly ridiculous.
I don't know anyone who doesn't love him, from every comic I know right through to my dad (who is NOT a comedy fan. He came to one of my gigs and decided that was enough. I think most people have that feeling after seeing me perform, but seriously please come to my show).
And while Mack has a terrifying number of blinding routines, for me this is him at his best - killer joke after killer joke after killer joke. Insane. I must watch this video at least once a fortnight.
The Pogues
So this is a bit of a weird one, but if you'll indulge me...
Music has always been a huge part of my life - I was in bands for nine years before starting stand-up, and I use a guitar and songs in my act. Some would call that 'cheating', I'd call it 'massaging comedy'.
Anyway, I love music and The Pogues are my favourite band of all time. Shane MacGowan is the greatest poet of the post-war period, his lyrics are at turns heartbreaking and introspective but often fucking hilarious, and he was the second person to make me laugh through song after Victoria Wood.
They reformed about 15 years ago (they've since split again) and for almost a decade, I'd travel to London from Bristol every year around Christmas time to go and see them with my best mate Tom. He was living in London at the time as a professional jobbing actor, and he was the most astonishingly talented person I've ever encountered - funny, intelligent, beautiful and tirelessly hardworking.
I admired, envied and loved him in equal measure and it was Tom who told me, aged 17, that I should give stand-up a try. I wanted to, but at that age I lacked the courage and self-belief to do it.
Then four years ago, he drowned while travelling in Cambodia. It properly destroyed me and I couldn't foresee how to function in the world without him. He was the only person in my life who totally understood me, who always got the joke and never made me apologise for taking a gag too far.
I didn't have anyone else who made me feel so accepted and I felt lost without him, but after a couple of months I decided to finally heed his advice and give stand-up a try. Despite the constant knocks to confidence and the evaporation of ANY free time, it's the best thing I ever did and I feel blessed to have found something so enjoyably stimulating with my life, its genuinely a dream come true. I just wish he could be here to see it.
Anyway, Tom wasn't a proper Pogues fan but he loved coming to see them live every year, and this was his favourite song of theirs - The Boys From The County Hell. Every time I hear it, it still makes me smile, laugh and cry because as much as I'd give anything to have Tom back, I wouldn't be doing what I'm doing if it wasn't for him - and I probably wouldn't have ever picked up a guitar if it wasn't for The Pogues.
Sorry that was all a bit heavy - if you've not been put off, please come and see me perform in Edinburgh:
• George Rigden: Comic Sans Girlfriend – a 40 minute work-in-progress show – is at Black Market at 17:05.
Published: 20 Aug 2017
Recent Perfect Playlist
What do you think?