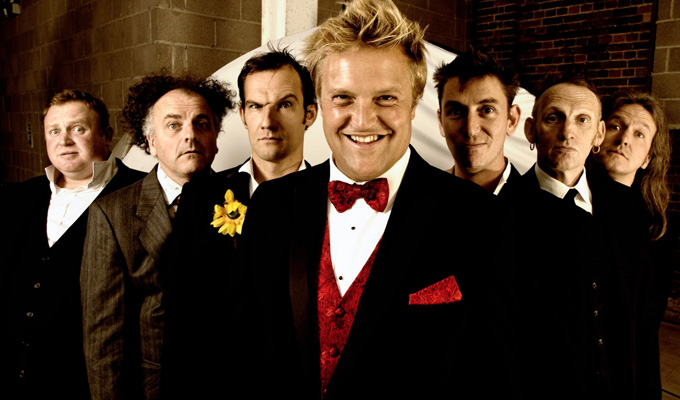 'Such a satisfying antidote to media pomposity...'
Variety group Slightly Fat Features are performing at the Underbelly Festival on London's South Bank this weekend. Here each of their members chooses their favourite comedy moment:
Alan Partridge
Chosen by Matt Barnard
I was looking at the 'get on your feet' scene from Parks and Rec and some classic Tobias from Arrested Development, but then I asked myself who had genuinely made me laugh out the most over the years and it could only be one man. Alan Gordon Partridge. I'm just a fan, Alan. Your biggest fan.
Victoria Wood: The Ballad of Barry and Freda
Chosen by Goronwy Thom
What can you say about this? Victoria Wood at her best.
This is simply everything I love about musical comedy: very funny, great piano playing, lovely bouncy music to keep it going and a building rhythm that just builds to an enormous climax.
I could watch it again and again. You can't top it.
John Cleese: Sex Education
Chosen by Richard Garaghty
To be honest I could watch Cleese do almost anything.
Fawlty Towers is of course amazing and there are many many bits of that I could choose. The Dragonfly horse betting episode is amazing, almost unbeatable.
But I chose this bit from the Meaning of Life which I think is hilarious. I guess it's because I first watched it as an adolescent teenager and it made me howl the idea of a teacher having sex in front of the class after having my awkward teachers try and talk to us about it in school.
It's classic Cleese and apparently he didn't even like doing Meaning of Life - but he is hilarious.
The Day Today
Chosen by Robert Lee
Was there ever a more satisfying antidote to media pomposity than this? As anyone who's watched The Day Today will know, its tone can stay with you long after watching – and 'real' news is never quite the same again.
Any good street theatre comedy performer
Chosen by Herbie Treehead
I was probably 12 when I first saw acts down Covent Garden. They blew my mind. They were so good at holding an audience, and making them laugh. The physical tricks and circus skills were simply a device to make the audience have a great time, to make them laugh. I first realised when I saw them, that it was the laughter the audience were really interested in.
When you watch a great street performer, I could watch that time and time again. Because it changes and I love that about live comedy that it can change night after night.
Finding a clip of one that really captures the essence of a good street show is hard. But I found this of Peppe Mime from Covent Garden some time in the 2000s. He was brilliant and was a king down there when I started. It's really not the same experience on YouTube as if you watch it live, but it gives the idea.
Spymonkey: Joan of Arc
Chosen by Jon Hicks
They are creative, unusual, at times sort of dangerous, physical and clever with words. They love a prop and their best work seems to have layers and layers of funny.
The first time I saw them they were doing a couple of spots in a variety show, both great, but my favourite I call their Joan of Arc routine, where Petra is going to be burned at the stake. A sort of tableaux, it descends into a chaotic pole-dancing routine with a lot of nudity. Nothing spoken, hilarious, but with a lot of subtlety. Me and the three people I was with were mouth agape with surprise at what was happening and laughing so much it hurt.
Les Dawson
Chosen by Gareth Jones
Les Dawson just makes me laugh. Classic old stuff done beautifully.
So here he is just as I remember him on Blankety Blank!
• Slightly Fat Features' show VarietySoup us at the Underbelly Festival at 3pm on Sunday. Tickets available here from £14 (plus £1.50 booking fee) or from £12 with the discount code 'Varietysoup'.
Published: 7 Jun 2017
What do you think?