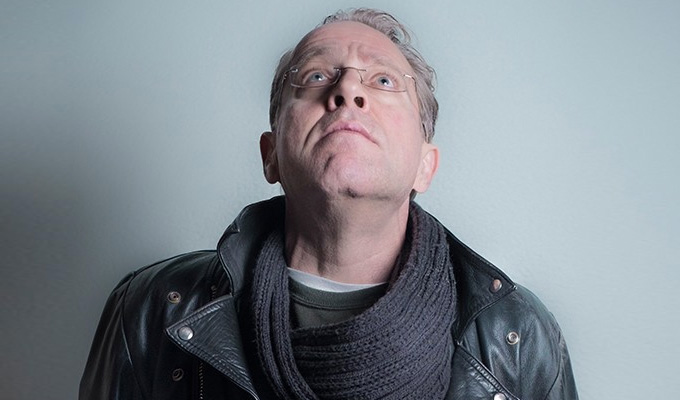 The album that made me choose stand-up as a living
Laurel and Hardy
Where to start, where to start? I think my first memory of comedy was watching old silent films with my dad on his Super 8 projector. Mostly Laurel and Hardy. I was blown away by how fluid it all seemed. Many compare Laurel and Hardy and Chaplin with ballet. I've never seen ballet so I'm sticking with 'fluid'. Dad got me into the detail of silent comedies. The slight nuances.
I remember one bit from one short, Habeas Corpus, where Stan was carrying a sack with a body in it. He's having a little trouble with this heavy load. What the boys don't realise is it's not a corpse. the fella's just been knocked out. When he awakes his legs pop out from the bag and walks - in unison - with Laurel. The look on Stan's face is vividly engrained in my memory.
SCTV
When I was in my early teens I watched a Canadian comedy show called SCTV (Second City television) I still remember every minute, much like a Python nerd. The cast of that low budget show is now comedy royalty. John Candy, Rick Moranis, Dave Thomas, Martin Short, Catherine O'Hara, Eugene Levy, Andrea Martin, Harold Ramis. That line-up still knocks me out. They created their own little world called Melonville with it's own little TV network.
Topical shows like Saturday Night Live don't stay funny. SCTV is more like a perfect sculpture that never loses it's impact. Eugene Levy's Phil's House of Nails still kills me and fellow Torontonian John Candy remains a huge inspiration to this day. My city cried when he died.
Mel Brooks
My mum took me to see Young Frankenstein when I was a kid. I could not quite believe anything could be that funny. Mel Brooks is a god. I had the album 2,000 Year Old Man, to me it was a miracle. Carl Reiner and Mel Brooks had and probably still have remarkable timing.
My very funny friend Alex Adelman has a photo of him and Mr. Brooks, and Mel is bursting with laughter over something Alex had just said. As long as Alex keeps that picture he'll never be totally depressed. I truly believe that people who are that funny are magical beings scattered sparingly on Planet Earth to heal us.
George Carlin: Class Clown
What can I say? I wore the grooves off this record, like guitar players play and replay riffs. Magic.
It was that album that made me chose this as a living. I feel to this day, like many North Americans, that was the single biggest influence on me to pick up a microphone and try, for the rest of my life, to be one of his many disciples. I met and befriended his daughter Kelly in Hollywood a couple of years back. I kept rubbing her hand hoping to be blessed with some of that miraculous DNA. Can't hurt right?
Sam Simmons
My favourite new(ish) comic is Sam Simmons. I love his silliness and I want to kiss his brain. We toured the Outback in Australia together a few years back. I have to say that of all the comics I've worked with in the past, he would have to be the closest to 180 degrees from me material-wise. His focus is amazing. I know few performers who grab a hold of the performance better than Sam. That and he's a sweet heart.
Speaking of sweethearts I also love Romesh Ranganathan because he has a funny old soul. I hit it off with him instantly. He woulda made a great comic in any era. His poise, his confidence, his delivery is timeless.
• Mike Wilmot: Uncle is at the Soho Theatre at 9.30pm from Wednesday until Saturday. Tickets.
Published: 7 Nov 2016
What do you think?