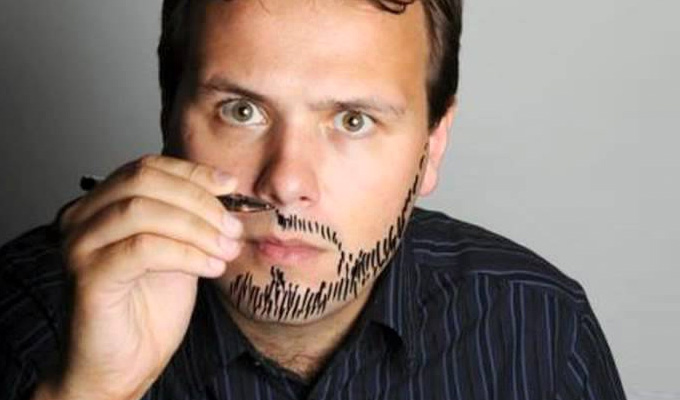 'I wish I had written this...'
I found 'any comedy ever made in any form' a very slightly dauntingly large field, so, as I am writing a sketch show at the moment, I decided just to pick sketches. Only it turns out that was also on the impossibly daunting side, so I went for sketches by double acts. Even that didn't help much – I can't believe I haven't included Morecambe, Wise, French, Saunders, Cook, Moore, Laurel, Hardy, Ronnie or Ronnie. Never mind. Here is a list of quite literally some sketches.
Clarke and Dawe: The Front Fell Off
For decades, the Australian double act Clarke and Dawe have been doing satirical interviews of the kind that in this country John Bird and John Fortune did so brilliantly. I love this one in particular, from the relentless repetition of the title, to the perfection of the timing of 'cardboard's out'. Also, funniest use of the phrase 'by all means' I've ever heard. If you like this, I also recommend the one about the whale that died of old age.
Wood and Walters: Red Balls
All double acts eventually do a sketch where they play small children, and it's never funny. Except when Wood and Walters do it. Because Victoria Wood doesn't just write kids saying cute kid things (or indeed uncute adult things, in a hilarious reversal) she writes two characters, who happen to be children. And then Julie Walters doesn't just lisp and fiddle with her hair… she somehow becomes a little girl. It's an amazing performance. Also I find, 'Well I don't care, because I'm getting a bracelet', a very useful phrase in everyday life.
Harry and Paul: Anglers
This is such a terrific idea for a character, and so beautifully played. I am in awe of Paul Whitehouse's ability to transform himself – but here, without prosthetics, and in a voice not far from his own, you really see how great an actor he is. I also like that at no point is Harry's character actually scornful – he's baffled, but perfectly happy to hear more. All the whipped dog reactions of Paul's character are to things in his own head.
Key and Peele: Party Game
Short sketches are so much harder to write than long ones. It would have been so easy to spin this idea out for five minutes. Instead, Key and Peele give you 30 seconds of set up to guess where they're going, a reveal you still never saw coming, 50 seconds of great lines and performances, and then they're out with a proper punchline. Having said that, of course, they're also good at really long sketches. Not fair.
Irene Handl and Peter Sellers: Shadows on the Grass
When I was a boy, I had this wonderful sketch, written by Irene Handl, on a cassette of Peter Sellers' stuff, and then, I'm ashamed to say, I thought of it as the long boring one you had to listen to before you got to Balham: Gateway to the South'. But now, it's my favourite of them. Her voice; the turns of phrase ('We nearly always have a second vegetable'), and the subtle way that, while it's obvious what he's up to, it's actually her who's making all the running.
Mitchell and Webb: Corner Shop
I wrote for this show, but not this sketch (by Sam Bain and Jesse Armstrong) so I think I'm allowed to include it. I wish I had written it – it's wonderful, and heart-breaking. As are the performances. I love David's pleading eyes as he silently begs the shopkeeper to play along. Also, as with Harry's fisherman, it would have been easy to play the shopkeeper as sarcastic, but what Rob does instead is so much better.
Mr Show: Pre-Taped Call In Show
Barely supressed rage is always funny, as is someone patiently trying to explain something. David Cross does a wonderful version of both here, and I also love the structure of the sketch – how, just when you think they've got all the mileage they can out of the idea, and it's going to be diminishing returns from here on, they hit you with the brilliant ending sequence. Also, love the little extra visual gag of his hairline.
Fry and Laurie: Eye Witness
People tend to think of Fry and Laurie as being all about wordplay and that brilliantly over-wrought language they are the masters of, but if you think that's all there is to them then you are more vastly mistaken than a man who supposes that Hilaire Belloc is still alive. This one is such a simple idea, so perfectly done. I don't think I'll ever watch Hugh Laurie's final, chastened, subdued telling of the story without laughing out loud.
• For some less transcendently perfect - but hopefully still, you know, pretty good - two-handed sketches, come along to John Finnemore's Souvenir Cabin at the Shaw Theatre from September 30 to October 11. Or don't. I don't care, because I'm getting a bracelet.
Published: 22 Sep 2015
What do you think?