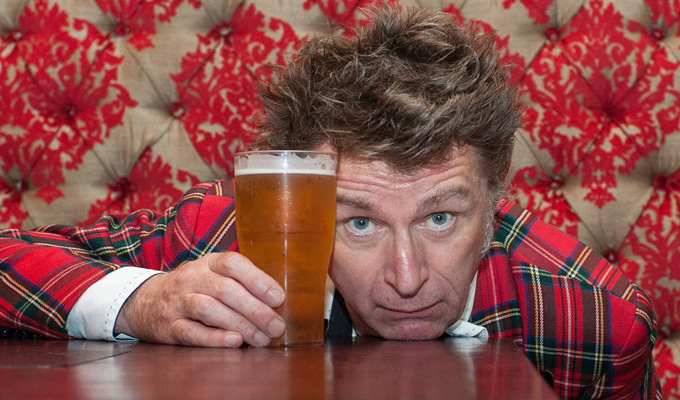 A script that sounds like a musical score...
Many, many moons ago when I'd just started doing a bit of comedy stuff, a friend I was writing and performing with mentioned Arnold Brown. So I bought a recording of Arnold on cassette entitled And Why Not? on Laughing Stock records as – as Arnold himself might have said – I was perfectly entitled to do.
I listened to that tape many times. I loved his wonderfully laconic, deadpan delivery, beautiful timing and gentle whimsy. Arnold started out doing stand-up when he was a 40 year old accountant. As a Scotsman who had just escaped the corporate 9 to 5 this was so inspiring to me.
I met him a wee while back when he was in the audience at a gig I was doing. He was utterly charming. Made my year. And the excellent folk at Laughing Stock have released a CD of mine. Cheers Arnold!
I've been a fan of John's for more than 30 years. I remember seeing him busking with the Popticians in Covent Garden and hearing his songs being played by John Peel.
His verse is incredibly funny but can also be poignant and moving - a rare gift - and he's so good at perfectly daft rhymes. Watching John perform is always a masterclass in controlling an audience. There aren't many performers who could get a roomful of people flapping their arms like guillemots. He also clearly derives huge pleasure at people joining in together – it ain't all about him.
Can't quite believe I've been lucky enough to do a fair number of gigs with John over the last few years and have got to know him as a friend – a very funny, really lovely man.
.
House of Fools and Curb Your Enthusiasm
I love Vic and Bob. House of Fools is deranged, surreal, violent and a joy. It's wonderful that the most anarchic thing on the telly involves two middle aged men with the energy of toddlers who've had too many Sugar Puffs and who always manage to unearth other performers who are equally barking. House of Fools gleefully deconstructs all the sitcom conventions and clichés.
Curb Your Enthusiasm on the other hand is just a beautifully constructed, performed and written classic sitcom. I adore New York Jewish humour and transposing it to LA is just genius. Larry David's character is exquisitely awful.It's watch through your fingers stuff – 'For God's sake don't say that – oh too late'.
There's a lot of lazy hagiography surrounding Bill Hicks but his best stuff is articulate, angry, beautifully delivered and seriously funny. It made me think, yes, you can be pissed off with things and do 'political' material but still be entertaining. You don't have to subscribe to the 'we don't come to comedy to think' club and you don't have to lecture or harangue. So much of his material sounds like it could have been written yesterday.
The Big Lebowski
This is my favourite film. The script is so well written and performed it's like a musical score and stands up to repeated viewing.
The Coen brothers have such a good ear for dialogue and a clear love of words. The most wonderfully arcane turns of phrase manage to sound realistic. It's fabulous and just gloriously funny.
We included Big Lebowski references throughout the wee late night sitcom Elvis McGonagall Takes A Look On The Bright Side on BBC Radio 4 which was a great excuse for repeat visits to the film's script.
Two shows I saw at The Stand in Edinburgh during the Fringe at opposite ends of the day. I saw Daniel Kitson at midnight having queued for returns. I think the show was nearly two hours long. Didn't feel like it though. Time flew by. Intelligent, incisive and so funny.
Didn't know whether to be inspired or depressed - as someone else who'd been in the queue said: 'That was so good it made everything else look a bit shite'.
Saw Bridget Christie at about 11am. Blimey, comedy shouldn't work at that time should it? But it did. Fabulous energy and again intelligent, incisive, funny material and wonderful delivery.
Elvis McGonagall: Countrybile is on at The Stand in The Square at 13:40
Published: 19 Aug 2015
What do you think?