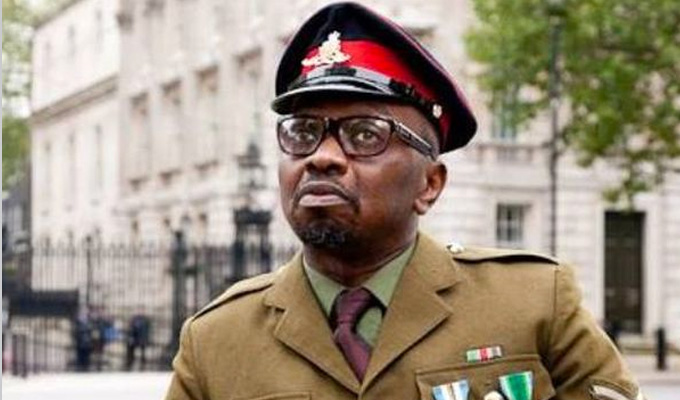 Malcolm Hardee Awards announce their 2019 nominees
The nominations for this year's Malcolm Hardee Awards – which has returned to the Edinburgh Fringe after a year's hiatus, have been announced.
They are:
Comic Originality
Charles Quarterman: An Afternoon With Charles Quarterman For One Hour. 2:20pm, Heroes @ The SpiegelYurt
Jimmy Slim and Lewis Blomfield:Scratch and Sniff. 10:30pm, Heroes & Bob's BlundaBus
Joz Norris: Joz Norris Is Dead. Long Live Mr Fruit Salad. 4:40pm, Heroes @ The Hive
Legs. 9:05pm, Just The Tonic at The Caves
President Obonjo: Goodbye Mr President. 9:05pm, The Voodoo Rooms
Sean Morley: Soon I Will Be Dead and My Bones Will Be Free to Wreak Havoc Upon the Earth Once More. 3:20pm, Heroes @ The Hive

Cunning Stunt
E4 & BBC Studios: 'For exponentially increasing the knowledge of, and sales for, President Obonjo with their "appalling theft of his character".'
Jimmy Slim and Lewis Blomfield: Scratch and Sniff: 'For creating and distributing flyers which have scratch-off elements on them.
West End Producer: For releasing a poster featuring 5 star reviews appearing to be from well-known critics and producers (M Billington, L Gardner, S Clapp, C Mack, A Webber). However, the reviewers mentioned are actually members of the public he phoned up, who gave permission for their names to be used (e.g. Andy Webber is a man who lives in Bognor Regis).
Act Most Likely to Make a Million Quid
Candy Gigi: For having a world class voice that could go global, and showcasing it in a new musical genre.
Catherine Cohen: For her force-of-nature take on millennials and their outwardly perfect, inwardly bleak lives.
President Obonjo: For winning a legal battle over ownership of his character [the judges assume!] or getting a TV series of his own.
Sophie Duker: For being a self-aware, increasingly prominent voice of intersectionality as it changes Western culture.
Tom Crosbie: For creating a highly addictive video game, and getting people hooked on it during the introduction to his show.
The results will be announced at The Counting House after midnight tomorrow.
The show will be hosted by President Obonjo, pictured, the creation of Benjamin Bello, who features in every category. and feature sets from a number of comedy acts. It is free to attend, and everyone is welcome.
The awards are handed out in memory of British comic, agent, manager, club-owner and anarchic prankster Malcolm Hardee. Initiated in 2005, the year of his death, the awards aim to celebrate and promote the spirit of madcap, anything-goes comedy anarchy that he personified.
His children Frank and Poppy Hardee said in a statement: 'One of our dad's greatest qualities was finding and supporting new talent. This award in honour of our father will hopefully help to continue to promote new, exciting and slightly eccentric comedy acts at one of the world's most famous comedy festivals."
Meanwhile, Tom Stade has won a Merv award, handed out by festival veteran Mervyn Stutter in recognition of acts that encapsulate the spirit of the Fringe, for his stand-up show You Ain't Seen Nothing Yet
Published: 22 Aug 2019
Recent Other News
What do you think?