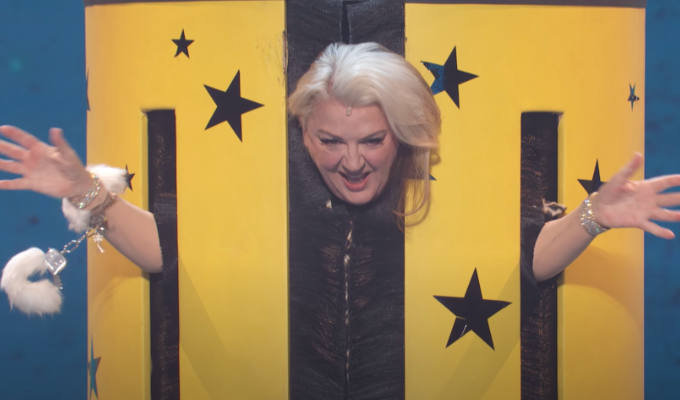 Mandy Muden misses America's Got Talent final
Mandy Muden's time on America's Got Talent has come to an end.
The British comedy magician did not get enough viewer votes to reach the finals following her quick-change act in the qualifiers of the NBC show this week.
Instead, military-based a cappella group 82nd Airborne and balancing act duo Ramadhani Brothers made it through from her episode,
In this week's show she flirted with 'very famous, handsome, gorgeous' Simon Cowell as she prepared for an alleged date with the judge – before disappearing into a box to change.
After her performance Judge Howie Mandel told her: 'You've given us so much you really have you give us comedy you give us magic you give us quick change you make us laugh you entertain. I think you've checked every box. I think you've got a good shot of getting into the finals. America vote! I love what you did.'
Heidi Klum added: 'I feel like the magic could use a little bit more wow. A little bit more like your personality. You remind me kind of Patsy from Absolutely Fabulous, darling, sweetie. I love that persona that you have... I feel like we need a little bit more oomph on the magic.
Sofía Vergara added: 'I can tell you worked really hard on your act this time. And I thought that you took a risk and you did amazing. It wasn't too much. It was super entertaining. You had a lot of I don't know what it was. There was a lot of it
And Cowell himself said: 'Mandy, you're very funny, really naughty. Look, I'm not saying the magic's the best I've ever seen, but I have seen Mandy on the British show before. And what I will say about Mandy is that Mandy – and I'm talking for you – has done all of these terrible little gigs to get to where she's got to, so the fact that you're here in Hollywood tonight, bravo.'
Muden, a familiar face on the UK comedy circuit, previously appeared on Britain's Got Talent in 2016 and 2018, reaching the semi-Finals the second time around.
She previously won four yeses from judges in her America's Got Talent heat in July.
Thanks for reading. If you find Chortle's coverage of the comedy scene useful or interesting, please consider supporting us with a monthly or one-off ko-fi donation.
Any money you contribute will directly fund more reviews, interviews and features – the sort of in-depth coverage that is increasingly difficult to fund from ever-squeezed advertising income, but which we think the UK's vibrant comedy scene deserves.
Published: 21 Sep 2023