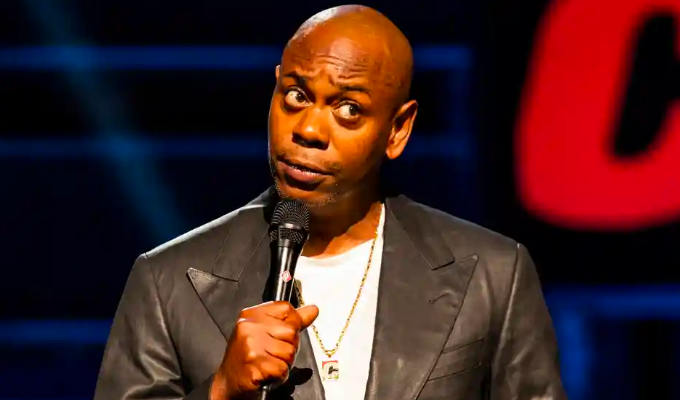 Comedy world should rally around Dave Chappelle
One of America's most influential comedy club owners is calling on stand-ups to show their support for Dave Chappelle.
Laugh Factory founder Jamie Masada has called the backlash against Chappelle's material – and calls on Netflix to drop his latest special – an 'attack on the independence of comedy'.
And he has called on comedians and the rest of the industry to show their support for the comic amid the storm about his material about trans people in The Closer, for which he was paid a reported $24.1million (£17.4million).
In a letter to the industry obtained by the Los Angeles Times, Masada said: 'If we don't stand up for one another it won't just be one of us that loses this freedom — it will be all of us — and once this freedom is gone, the doors of comedic expression will be sealed shut There's no going back.
'Dave deserves the same freedoms that we all enjoy — the ones that make comedy what it is and provoke perspective shifts time and time again.
'Without unfiltered comedy, the world would be a grey, sad place,' he added. 'The laughter comedy brings extends far beyond the confines of the stage, brightening up the lives of every audience member and those they come in contact with. It provides ecstasy on our good days, and reminds us that everyone is human on our worst days.'
However, plenty of people think Chappelle's recent work has done little to 'brighten lives'. Hannah Gadsby, whose specials are also on Netflix, said the platform was enabling Chappelle's 'emotionally stunted partial world view'.
The intervention from Masada – who has known Chappelle since he was a rookie teenage comedian – came as several trans employees at Netflix organised a walkout to protest at the company's refusal to drop the special.
Netflix co-CEO Ted Sarandos has admitted he 'screwed up' the response to criticism of Chappelle's material, but has insisted the special falls short of being hate speech.
Published: 21 Oct 2021
What do you think?