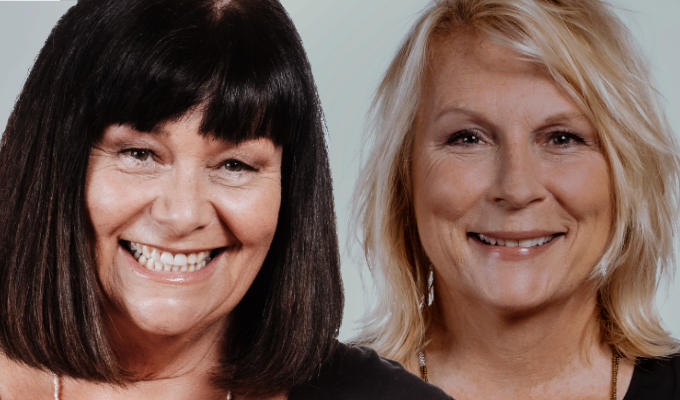 Dawn French and Jennifer Saunders to celebrate female comics
Dawn French and Jennifer Saunders are to front a new one-off show to address the question: 'Are women funny?'
Filmed on the set of their sketch show, French and Saunders: Funny Women will run for two hours on the Gold channel later this year.
Over the course of the show, the pair discussing female comics from early trailblazers to today's stars.
In a statement, they said: 'Are women funny...? This is the thorny age-old question we have been chewing over since both of us were two years old and to date we still have no definitive answer.
'So in this programme we explore 50,000 or so irrefutable examples to see if we can draw any blatantly predetermined conclusions…"
UKTV executive Helen Nightingale, who commissioned the show, said,: I've always been a huge fan of French and Saunders, and to be able to bring them back together on Gold to celebrate the funny women who inspire them is a dream come true.'
And Glen Middleham, from producers Double Yellow Television, added: 'It's a total joy to listen to Dawn and Jennifer discuss their craft and also that of the very many funny women who've influenced them. It's an honour to make what will be a very exciting, engaging and laugh-out-loud programme with two comedy icons.'
French and Saunders have renewed their working partnership since lockdown. Last year they launched the podcast Titting About, starred in the Radio 4 comedy What Ever Happened to Baby Jane Austen? and appeared together in the latest film adaptation of Agatha Christie's Death on the Nile.
French previously hosted Girls Who Do Comedy, a BBC TV series that also celebrated female comedians.
Published: 29 Jan 2021
What do you think?