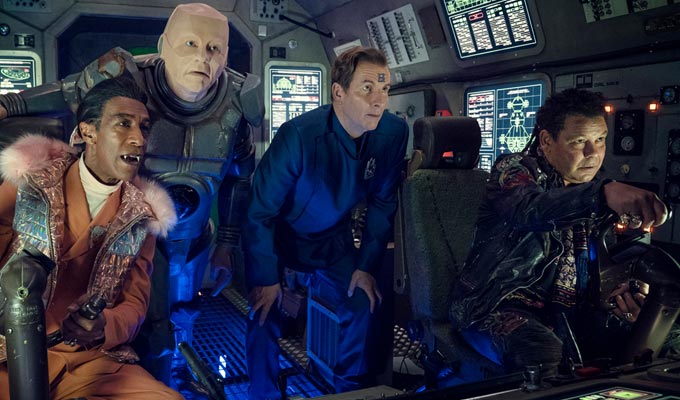 Dwarfing all the other shows...
The feature-length Red Dwarf special was the top-rated show on the UKTV network during lockdown, the broadcaster has announced.
More than 2 million viewers saw The Promised Land episode within 24 days of it launching on Dave on April 9.
The second highest-rated show on the channel was the first series of Meet The Richardsons. The loosely autobiographical sitcom starring Jon Richardson and wife Lucy Beaumont had a 'total consumption', in TV jargon, of 1.13million viewers.
The second series of James Acaster and Josh Widdicombe panel show Hypothetical was also deemed a success with 595,000 viewers by the same measure.
UKTV is also claiming a 55 per cent increase in its audience of 16-34 year-olds compared to the pre-lockdown period, and says the demographic are also turning to classic comedies such as The Vicar of Dibley, Only Fools & Horses and Gavin & Stacey, all making the top 10 among that age group.
The broadcaster's chief executive, Marcus Arthur, said: 'It's heartening to see younger viewers discovering iconic shows that have stood the test of time and are just as funny and engaging today as they were years ago.
'And our strategy of commissioning original programming on a bedrock of classics means new shows like the feature length Red Dwarf: The Promised Land, Big Zuu's Big Eats and Meet The Richardsons offer audiences fresh and exciting programming alongside a vast catalogue of firm favourites.'
During lockdown, with social media mentions of UKTV shows have also gone up more than six-fold.
Read our review of Red Dwarf: The Promised Land here.
Published: 27 May 2020
What do you think?