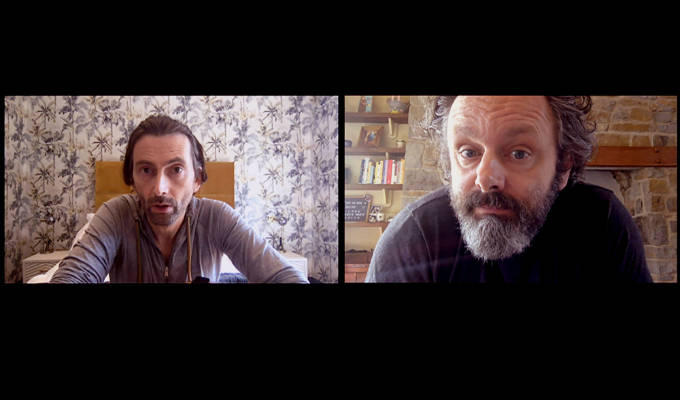 David Tennant and Michael Sheen to star in lockdown comedy
David Tennant and Michael Sheen are to star in a new lockdown comedy for BBC One.
Staged is about the cast of a West End production who try to keep their rehearsals on track when they are forced to work from home.
The series also stars Tennant's wife Georgia and Sheen's partner Anna Lundberg plus Lucy Eaton and guest stars including W1A's Nina Sosanya.
Six 15-minute episodes have been announced, with the BBC calling it 'absurd and humorous in equal measure'.
Charlotte Moore, the BBC's director of content says: 'It's so important that the BBC provides moments of humour and light relief and this mischievous idea shows what great sports Michael and David are.'
The pair recently played demon Crowley and the angel Aziraphale in the BBC Two and Amazon Prime adaptation of Terry Pratchett and Neil Gaiman's Good Omens.
Staged will be made with the actors shooting themselves and using video conferencing technology, all in accordance with the latest social distancing protocols.
It is written and directed by theatre director ​Simon Evans, based on an idea he had with film producer Phin Glynn and will air next month.
Staged production credits
Made by: Infinity Hill and GCB Films for BBC One
Based on an original idea by: ​Simon Evans and Phin Glynn
Written and directed by: ​Simon Evans
Commissioned by: Charlotte Moore, Director BBC Content
Producers: Phin Glynn, Victor Glynn and Georgia Tennant
Executive producers: David Tennant, Michael Sheen, plus Axel Kuschevatzky and Cindy Teperman for Infinity Hill and Geoff Iles for GCB
Published: 22 May 2020