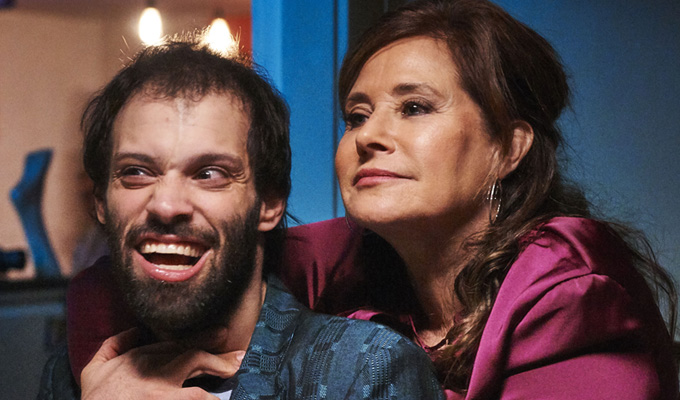 Tim Renkow's Jerk will be back
The BBC has ordered a second series of Tim Renkow's Jerk.
Four more 22-minute episodes are to be made for BBC Three next year, with a follow-up broadcast on BBC One.
At the end of the first series, the fictional version of the comedian was forced to return to the US, but he's now enrolled himself on a post graduate course for the sole purpose of getting back in to Britain.
Like the previous run, the comedy comes from him milking the discomfort his cerebral palsy creates in others and pushing the boundaries of what he can get away with for his own amusement.
Executive producer Ash Atalla joked: 'We've tried really hard to get rid of Tim Renkow. Unfortunately Jerk has been recommissioned and we now have to continue working with the self-proclaimed genius that he is. You can't win them all."
And Kate Daughton, the BBC's head of comedy, added: 'Tim has a unique voice and an ability to take down his targets like no one else. We can't wait to see who he sets his sights on next.'
The series piloted as A Brief History of Tim in BBC Three's 2016 Comedy Feeds, and last year's series won an award for its representation of disability at the Mipcom TV trade show in Cannes.
Jerk production credits
Written by: Shaun Pye and Tim Renkow
Made by: Roughcut TV and Primal Media for BBC Three.
Recommissioned by: Shane Allen, controller of BBC Comedy, and Fiona Campbell, controller of BBC Three
Executive producers: Ash Atalla and Alex Smith for Roughcut TV, and Mat Steiner for Primal Media
Producer: Rebecca Murrell,
Commissioning editor for BBC Comedy: Alex Moody
Published: 3 Dec 2019
What do you think?