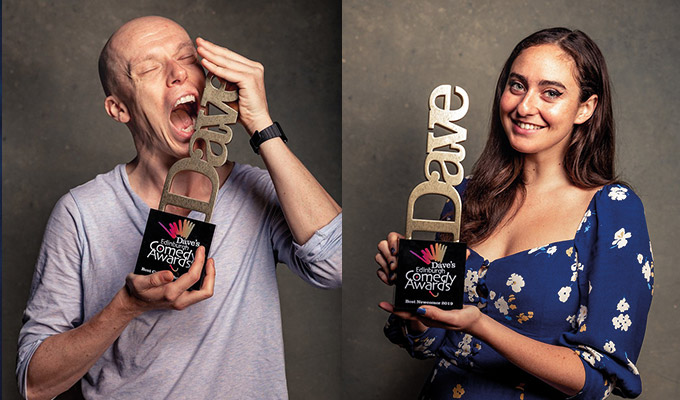 Jordan Brookes wins Edinburgh Comedy Award
Jordan Brookes has won best show at this year's Edinburgh Comedy Awards for his show I've Got Nothing.
He said: 'I really don't think I deserve this' – adding that he was so surprised by the result that he hadn't prepared a speech.
But he also praised his fellow nominess as 'a really nice list of diverse people' in terms of identy and style.
Awards producer Nica Burns said: 'With a very close list of nominees and a nail-biting debate, the judging panel chose Jordan Brookes as the 2019 winner for his originality, his playfulness with the audience, his timing and his sheer laughter count. Utterly unique, dubbed by some critics as the comic coup of the Fringe, there is literally no one like him.'
Brooks was previously nominated for his third solo hour, Body of Work, in 2017, which started at a Free Festival venue but transferred to the Pleasance Courtyard because of its word-of-mouth buzz. Read our review of his now award-winning 2019 show here.
New Yorker Catherine Cohen won best newcomer for her show The Twist….? She's Gorgeous. (Review)
She said the Fringe was 'The most difficult most rewarding thing I've ever done. This place is magical!'
Burns called her 'hugely talented with a wonderful voice and charismatic personality, an instinctual comedian, very funny'.
Both winners performed back-to-back in the very same space, Pleasance Below. The venue dominated the shortlist, hosting six of the nine on the best show list and all but one of the eight on the best newcomer list.
Edinburgh resident Jessica Brough won the Panel Prize for her initiative Fringe Of Colour – which compiles a database of shows by non-white performers and persuaded venues and shows to give away tickets to non-white audiences. This year 19 shows each gave 25 tickets away.
Times critic Dominic Maxwell, who chaired the judging panel, praised her 'vision and passion' and said: 'We hope that, through the Panel Prize more people will find out about their work and that the £5,000 cash prize means they will have some funding to connect more performers and audiences with each other, expand the scheme and inspire young, diverse people.
'So, in a year when the two comedy nomination lists are more gender equal and more diverse than ever before, we are delighted to award the Panel Prize to Jessica Brough.'
Brough explained: 'The whole purpose is to cut through the white noise at the Fringe' - and pointing to the mainly white audience of comedians and industry at the awards announcement.
London Hughes was this year the first black British woman to be nominated in the main category, and Duker the first black British woman to be in the running for best newcomer. And last year Rose Matafeo was the first person of colour to win the main award.
Brough said it that was a sign things were changing, but said it was 'ridiculous' it took so long.
She added that it was 'jarring' to see line-ups of panel shows that are all white. And she singled out Whose Line Is It Anyway? whose roster of performers this Fringe contained no non-white faces.
'Who's programming that?,' she asked. 'Who thinks that's OK?
Addressing producers and programmers, she said: 'The tendancy is to invite people you know, people you are comfortable with. But you need to invite [other] people into these spaces. Stop being boring, start changing your spaces!'
Brookes noted the irony of her speech coming at a ceremony when both winners were white.
He joked: of his 'They just went with a white dude in the end. Absolutely natural choice!'
The awards were presented by Matafeo with Stephen Fry, who is celebrating his 62nd birthday today.
He said: 'When I first came here in 1979 I was overwhelmed by the Fringe.I was in three plays that year and the next year I wrote a play to bring to the Fringe and did six shows a day.The third year I came with the Cambridge Footlights, with Hugh Laurie and Emma Thompson, won the first ever Perrier Award in 1981.'
Matefeo interrupted him to joke: 'Did any of you continue doing comedy?'
In the year Fry won, judges had to watch 34 comedy shows. This year it was more than 750.
The winner of the best comedy show will win £10,000, with £5,000 prizes for best newcomer and for the winner of the Panel Prize, for best capturing the spirit of the Fringe.
Here's footage of the announcement.
The full list of nominees for best show is:
Darren Harriott: Good Heart Yute @ Pleasance Courtyard
The Delightful Sausage: Ginster's Paradise @ Monkey Barrel
Demi Lardner: Ditch Witch 800 @ Gilded Balloon Teviot
Goodbear: Dougal @ Pleasance Dome
Ivo Graham: The Game of Life @ Pleasance Courtyard
Jessica Fostekew: Hench @ Monkey Barrel
Jordan Brookes: I've Got Nothing @ Pleasance Courtyard
London Hughes: To Catch A D**k @ Pleasance Courtyard
Spencer Jones: The Things We Leave Behind @ Pleasance Courtyard
And the full list of nominees for best newcomer are:
Crybabies: Danger Brigade @Heroes@ Boteco
Catherine Cohen: The Twist….? She's Gorgeous @ Pleasance Courtyard
Helen Bauer: Little Miss Angel Baby Face @ Pleasance Courtyard
Huge Davies: The Carpark @ Pleasance Courtyard
Janine Harouni: Janine Harouni (Please Remain Seated) - Edinburgh Fringe 2019 at Chortle.co.uk">Stand Up with Janine Harouni (Please Remain Seated) @Pleasance Courtyard
Michael Odewale: #BLACKBEARSMATTER @ Pleasance Courtyard
Nigel Ng: Culture Shocked @ Pleasance Courtyard
Sophie Duker: Venus @ Pleasance Courtyard​
Also on the panel were Gold channel director, Gerald Casey, TV producers Hannah Duncombe and Suzy Grant, journalists Tristram Fane Saunders, Paul Fleckney and Nosheen Iqbal and public competition winners Angela Jariwala, Gráinne Smyth and Michael Thomson. Between them, they saw more than 750 eligible shows to select the nominees.
This is the first year Dave has sponsored the award, long known as the Perrier, and whose former backers have included Foster's and lastminute.com.
Published: 24 Aug 2019
Recent News
What do you think?