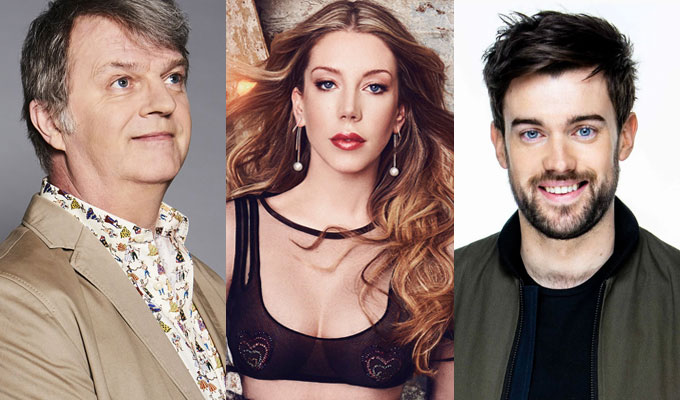 Comedians sign up for Who Do You Think You Are?
Paul Merton, Jack Whitehall and Katherine Ryan are to examine their family history in the next series of BBC One's Who Do You Think You Are?
The genealogical show returns for a 16th series this summer and also includes Kate Winslet, Daniel Radcliffe, Sharon Osbourne, Naomie Harris, and Mark Wright.
Whitehall will be joined by his father Michael Whitehall as they go back into their family tree, and find a link to the Newport Rising.
The event in November 1839, was the last large-scale armed rebellion against authority in Britain, when, nearly 10,000 people marched on Newport, Monmouthshire to seek the release of Chartists: activists who were demanding political reform for the working classes.
Ryan was born in Ontario, Canada, to an Irish family; while Merton was born in London to an English Anglican father, Albert, a Tube driver, and an Irish Roman Catholic mother, Mary Ann.
Elsewhere in the series, Radcliffe uncover his ancestor's moving letters from World War One, Winslet delves into her Swedish roots and Wright discovers an ancestor tortured by the Spanish Inquisition.
Without going into details, the BBC says: 'One celebrity uncovers an ancestor burned at the stake and another unearths a musical assault involving a banjo. From swordsmanship to solitary confinement, diamond trading to cod fishing and one American Dream gone wrong, the celebrities travel to the likes of Grenada, Jamaica, Sweden and Spain.'
Executive producer Colette Flight, says: 'We're delighted to have this incredible line-up of stars and to have captured these journeys of discovery as they explore their extraordinary family trees.
'What they uncover is revelatory, moving, often funny and always fascinating. Many of our celebrities' ancestors were caught up in momentous historical events which we are covering for the first time in the series.'
Published: 10 Jun 2019
What do you think?