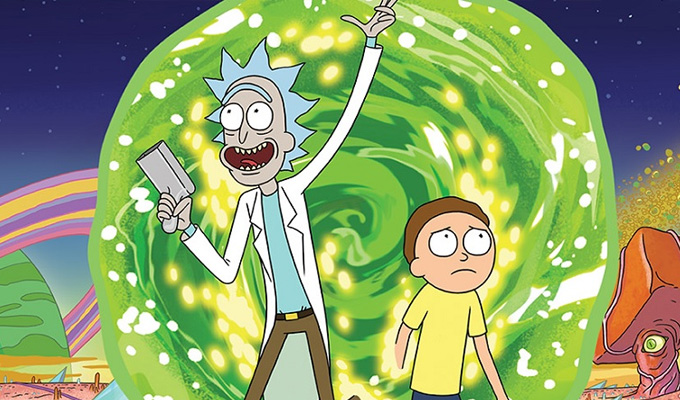 Rick and Morty comes to Channel 4
Animated comedy Rick and Morty is coming to free-to-air television in the UK for the first time.
The first three series of the incentive sci-fi comedy will be broadcast on E4 from next month, with the fourth series then airing on Channel 4.
The deal is part of a new partnership that also involves hundreds of hours of content from America's Adult Swim strand of avant-garde programming being made on free streaming service All 4
Ian Katz, Channel 4's director of programmes, said: 'Rick and Morty is one of the most anarchic, ingenious and original shows around and the breakthrough animated hit of recent years. I'm thrilled that it's coming to Channel 4 and E4.'
It was created by Justin Roiland and Dan Harmon for Cartoon Network's late-night programming block Adult Swim in 2013.
It follows the misadventures of cynical mad scientist Rick Sanchez and his good-hearted but fretful grandson Morty Smith, who split their time between domestic life and interdimensional adventures.
Three series have already aired in the US with the fourth on its way, but writer Ryan Ridley has said that he does not expect it to air any sooner than late 2019.
Rick and Morty will be accompanied by the UK premiere of the Robot Chicken Walking Dead Special on E4, as part of the channel's new Adult Swim Hour programming block.
More than 300 episodes of Adult Swim content will be made available when it launches as a 'featured channel' on All4, with hundreds more being added over the next three years.
Other programmes in the deal include The Venture Bros, The Eric Andre Show, Mr Pickles, Aqua Teen Hunger Force, Tim and Eric Awesome Show, Great Job!, Tim & Eric's Bedtime Stories, Squidbillies, Hot Streets and Ballmastrz 9009.
Published: 14 Jan 2019
What do you think?