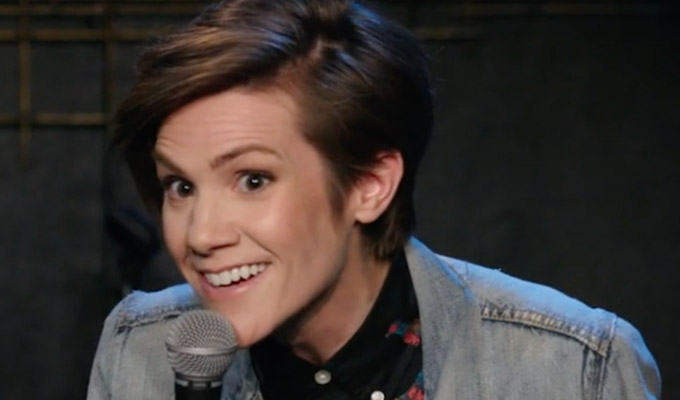 Stop complaining that you can't use hate words!
A comedian has blasted her colleagues who complain about having to watch their language – saying their whinges expose their privilege and lack of empathy.
Cameron Esposito said stand-ups who protest about being policed for political correctness – overwhelmingly heterosexual, white, men – are only revealing how little understanding they have of other people's experiences.
She told an audience at Montreal's Just For Laughs festival that the overwhelming perception of a comic is still 'a straight white dude' and that anybody else is marginalised.
Esposito, who is a lesbian, said the alienation starts at open mike nights where comics start out. 'The stuff you have to sit through - rape jokes, misogyny, homophobia – for five hours a night, and that's supposed to be a clubhouse where I'm welcome?,' she said.
She described how she would have to follow comics whose material demonstrates 'how much you hate me', including derogatory terms for gay people: 'You just said the f-word and I have to come on after you?'
Esposito added that if a comic complains about the pressure to drop such abusive language, then it shows 'you've had an easy experience of life… [you] have lived a normative life and have not had to deal with this shit.'
And while they might complain about being 'patrolled' for language, it's nothing compared to what criticism more marginalised comedians face.
'I have never got away with anything,' she said. 'I've been criticised for being too butch, too gay, been asked why don't I joke about other things or "why so political?"'
And she said that even comedians who resisted removing offensive words from their set because it was the right thing to do, might consider dropping them for financial reasons.
'Evolving is good,' she said. 'If you want to appeal to the 18-35-year olds who buy tickets for comedy shows, you have to speak their language.
'If you're a shitty person and have to see it this way: evolve your word choice or you are going to work yourself out of the market.'
She reflected that she was one of the first generation of comedians who were gay when she started comedy, unlike predecessors like Ellen DeGeneres or Wanda Skyes who became famous before coming out.
But she said there was still a limited number of diverse voices allowed into the mainstream. 'Every two years there's going to be a brown-haired lesbian,' she noted wryly, a possible nod to the buzz currently surrounding Hannah Gadsby.
However, Esposito – who stars in the Seeso comedy Take My Wife –urged comedy's gatekeepers to widen their perspective, saying that after 15 years in the business: 'I know there's a market for what I do - we're not a risky proposition.'
Esposito was at the festival to speak about her latest stand-up special, Rape Jokes, which addresses the subject of sexual assault, including a first-hand account.
She said she felt compelled to speak about the subject as the focus on high-profile cases tended to be on the perpetrator – with the story being an exposé, ostracism and then, sometimes, redemption.
'We missed the survivor,' she said. 'I have so many follow-up questions and all are for the survivor, none are for the dude.'
The 36-year-old said she felt it important that rape jokes be heard from the woman's perspective, adding: ''I did this so I could be the No.1 Google result when you put in"rape joke".'
Similarly, she said: 'Want to talk about racism? I want to hear from a black person first. I don't want to see a white guy who says, "I'm an ally so I can say the n-word." No you can't!'
Esposito said stand-up was a natural medium for people like herself to tell their story because of the simplicity of the art form, with no dilution of their voice: 'For marginalised folk whose story has not been told. here's the chance to listen to them from a first-person perspective.'
She has raised more than £50,000 for rape crisis centres thanks to people donating after watching her special, which is available to view here for free.
Published: 27 Jul 2018