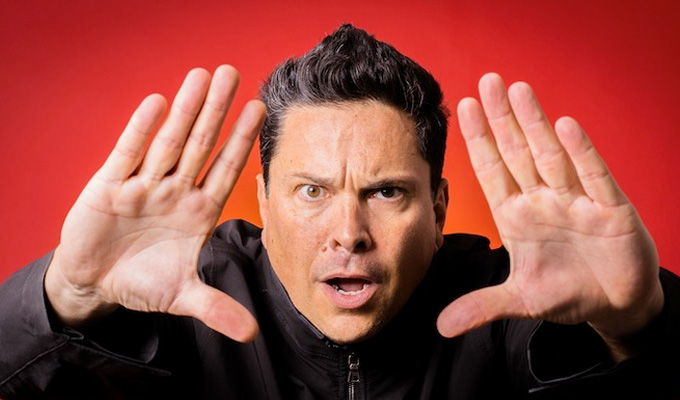 Dom Joly fumes over 'blatant TV theft'
Dom Joly has accused Netflix of 'blatant stealing' over a new documentary series.
Dark Tourist, which starts on the streaming service next month, follows New Zealand journalist David Farrier to 'unusual and often macabre tourist spots around the world', such as a nuclear lake and a supposedly haunted forest.
But the title, and the premise, is the same as Joly's 2011 book, subtitled 'sightseeing in the world's most unlikely holiday destinations.' In it, he described trips to Iran, North Korea and back to Lebanon, where he was born.
'Actually fuming about @NetflixUK @netflix blatant stealing of title and idea from my book,' the Trigger Happy star tweeted last night. 'So sick of TV theft.
'Should have asked me @NetflixUK @netflix I'd have done it loads better.'
He also tweeted directly to Farrier this morning: 'So fucking sick of plagiarists. Get your own fucking ideas @davidfarrier drives me nuts!!!
'Out of interest @davidfarrier did you guys just think "fuck it, we'll use the same name, everything" who gives a shit?'
However, the title predates Joly's book too… a more academic text from 2000 called Dark Tourism explored why acts of inhumanity are celebrated in heritage sites such as the Tower of London.
Farrier is a TV journalist turned documentary-maker. In 2014, he played the interviewer in Rhys Darby's mockumentary series Short Poppies, and also co-hosts The Cryptid Factor podcast, about cryptozooolgy, with the comedian.
Joly has complained about plagiarists before, especially French prankster Rémi Gaillard whom he has accused of 'an industrial level of theft' after recreating hidden camera pranks from Trigger Happy TV for his YouTube channel. Gaillard insisted it was pure coincidences since they both had similar influences, such as Buster Keaton.
Chortle has approached both Farrier and the streaming giant – which releases Dark Tourist on July 20 – for comment.
Published: 26 Jun 2018
What do you think?