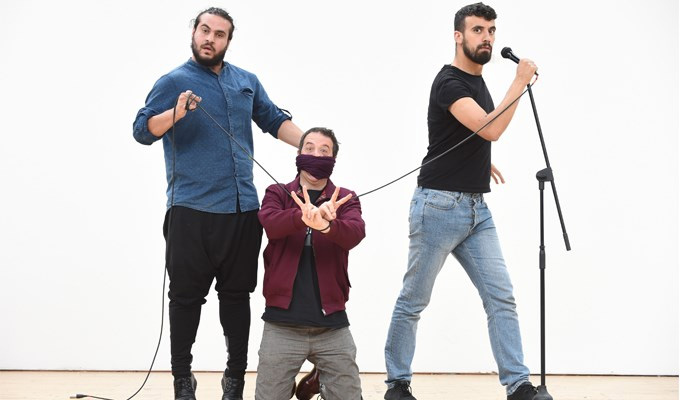 The comedy club in a Palestinian refugee camp
Mark Thomas has announced a new theatre show – about his efforts to start a comedy club in a Palestinian refugee camp.
Showtime From The Frontline is about how he helped put on stand-up shows in the Jenin camp in the West Bank.
Jenin once had a reputation as the most militant of the camps, as a stronghold for the al-Aqsa Martyrs' Brigade. Israeli Defence Forces occupied the camp in 2002 after ten days of intensive fighting, described as a 'massacre' by the Palestinians, and its 14,000 residents still witness regular violent clashes. The United Nations Relief Agency says Jenin – one of the poorest of the camps in the West Bank – has seen 'significant suffering'.
But it is also home to the Freedom Theatre, which is developing an artistic outlet for the refugees – and that now includes comedy.
Thomas first came across it when he walked the length of Israel's barrier in the West Bank. Writing about the experience in the Guardian later, he said one 18-year-old there told him: 'You know, before I came here, one of my life options was to be a suicide bomber. To lay down your life for your community is an honour, right? But now I know art is my weapon.'
The comic added: 'It is the most extraordinary sentence I have heard. The room is full of stories like this. One student used to be a gang leader. One young woman had leaflets issued about her accusing her of being a slut for attending the theatre. Her family walked her through the camp to ensure she got to the drama course.'
In January this year Thomas returned to the venue to give comedy lessons with Sam Beale from Middlesex University, London. At the time, the theatre's Nabil Al-Raee said: 'We hope to establish a comedy club and be able to offer frequent socio-political stand-up comedy in Jenin.'
They returned in April for a top-up course that ended with two public shows of stand-up in Arabic. Two of the performers who took part in that – Faisal Abualheja and Alaa Shehada – will be joining Thomas on stage for Showtime From The Frontline.
The blurb for the show, described as 'funny, moving and necessary', says: 'Dodging cultural and literal bullets, Israeli incursions and religion, Mark and his team set out to run a comedy club and put on two nights in the Palestinian city of Jenin. Only to find that it is not so simple to celebrate freedom of speech in a place with so little freedom.'
Thomas said: 'It's the nearest I'll ever get to Alan Parker's Fame.'
Showtime From The Frontline will run at the Theatre Royal, Stratford East in London from April 10 to 21 next year. Other dates have been announced at the Lowry in Salford on March 13 and Lakeside Arts in Nottingham on February 26 and 27.
• Thomas begins a two-week run of his current show, A Show That Gambles On The Future, at London's Leicester Square Theatre on Monday (Tickets) and is taking part in a fundraiser for American comedy godfather Barry Crimmins at the New Wimbledon Theatre on October 23 with Billy Bragg, James Acaster and others (Tickets)
Published: 13 Oct 2017
What do you think?