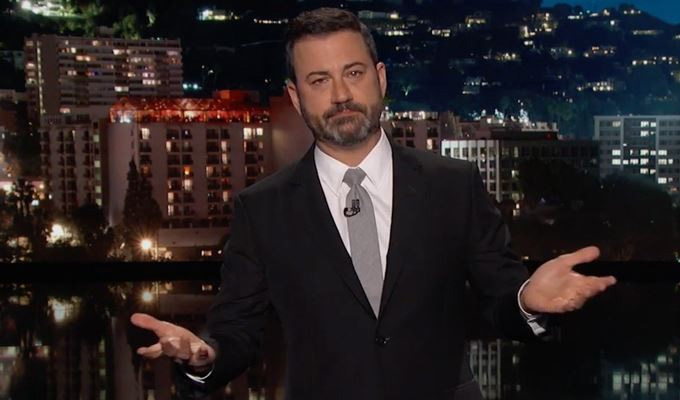 'When did this become ritual?'
America's late-night TV hosts have united in making pleas for tighter gun controls in the wake of the mass shooting in Las Vegas that left at least 59 dead.
Almost all of the comics started their shows with a sombre tone addressing the senseless bloodshed and lamenting that, yet again, all that the political establishment was offering was sympathy, not action.
Las Vegas native Jimmy Kimmel choked back the tears in his monologue, saying: 'We have children are without parents and fathers are without sons, mothers without daughters... It's the kind of thing that makes you want to throw up. Or give up. It's too much to even process.
'I don't know why do our so-called leaders continue to allow this to happen.... Common sense says no good will ever come from allowing a person to have weapons that can take down 527 Americans at a concert. Common sense says you don't let those who suffer from mental illness buy guns.'
Stephen Colbert opened by acknowledging: 'This is a comedy show ... but jokes aren't appropriate to address the shock and grief we all feel.'
But he said America should not accept mass shootings as 'a new normal as he called for action. 'Doing nothing is cowardice. Doing something takes courage,' he said.
Colbert appealed to Trump's ego to change the law. 'Now, President Trump, you've said you want to be a transformative president, who doesn't care about the way things have always been done in Washington,' he said.
'You do not owe the Republicans anything. You know the Republicans tried to stop you from being president. Well, screw 'em!"
'You want to make America great again? Do something the last two presidents haven't been able to do: Pass any kind of common sense gun legislation that the vast majority of Americans want.'
A sombre James Corden acknowledged that Americans might not want to be lectured on gun laws by a foreigner, saying that coming from the UK it was 'hard to fathom' the number of gun deaths in the US.
But he added: 'It should be hard for everyone to fathom... How does every other developed country do better at preventing these sort of attacks?'
On the Late Show, Trevor Noah said it was traffic how 'people are becoming more accustomed to this type of news'.
He added: 'I almost know how it's going to play out. We're shocked, we're sad, thoughts and prayers — and then almost on cue, people are going to come out saying, "Whatever you do, when speaking about the shootings, don't talk about guns".
The South African born comic said: 'I've never been to a country where people are as afraid to speak about guns. Every time there's a shooting you got to look at something else. Is it Muslims? Is it there religion? Is that what it is? Is it the blacks? Is it mentally ill people? Is it White Nationalists? Every time it's a different question. Now after this incident in Las Vegas we're asking a new question. Is it hotels?
'So just to keep track of the arguments," Noah said. 'Mass shooting, mass shooting, mass shooting, mass shooting, mass shooting, mass shooting, we have to take care of this hotel check-in issue.'
Conan O'Brien said that the frequency of mass shootings was driven home when his head writer presented a file of all the previous remarks the host had made about similar tragedies.
'When did this become a ritual? And what does it say about us that it has?,' O'Brien said.
Acknowledging that he's 'not the most political of our comics,' he nevertheless argued: 'I don't think it should be so easy for one demented person to kill so many people so quickly. The sounds of those automatic weapons last night are grotesquely out of place in a civilised society.'
Seth Meyers praised those who rushed to help victims of the worst mass shooting in America, saying: 'It always seems like the worst displays of humanity in this country are immediately followed by the best, and then sadly, that is followed by no action at all. And then it repeats itself.
'Are there no steps we can take as a nation to prevent gun violence? Or is this just how it is, and how it's going to continue to be?"
Only Jimmy Fallon did not take a stance on gun control, opening the show with a brief statement that 'we need to remember that good still exists in this world.'
In place of his monologue Adam Sandler and Miley Cyrus sang a cover version of Dido's ballad, No Freedom.
Yesterday Trump's press secretary, Sarah Huckabee Sanders said it was too soon to talk about gun control. 'There's a time and place for a political debate, but now is the time to unite as a country,' she said.
Published: 3 Oct 2017
What do you think?