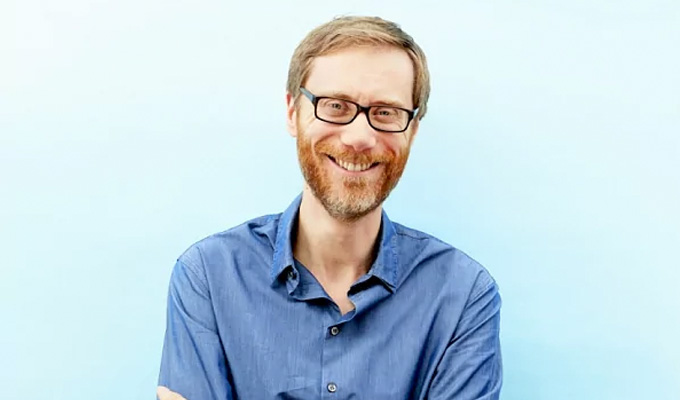 Stephen Merchant to grapple with a wrestling movie
Stephen Merchant is to write and direct a film about WWE wrestling that will star Dwayne 'The Rock' Johnson.
Fighting With My Family is based on the true story of WWE superstar Paige, real name Saraya Knight, a 24-year-old Brit whose parents were also professional wrestlers who now run the World Association of Wrestling.
Their story was told in a 2012 Channel 4 British documentary, The Wrestlers: Fighting With My Family, which is being fictionalised for the new movie.
Merchant's script tells the story of reformed gangster and former wrestler Ricky, his wife Julia, daughter Saraya and son Zak who make a living performing in tiny venues across the country. 
Ricky and Julia want a better life for their children and when brother and sister get the chance to audition for WWE, it seems the family dream is coming true and all their troubles will be solved.
Backers of the comedy-drama include WWE Studios, Film 4 and Dwayne Johnson, who is also an executive producer.
He said: 'Back in 2012, I was in my hotel room in London and stumbled across a documentary on a local UK channel. Not only was I intrigued by this loving and wild family, but I also felt it's the kind of narrative that would make an amazing movie.
'The Knights' journey is a universal one that all families are familiar with. I relate to Saraya and her wrestling family on such a personal level and it means so much that I can help tell their story.'
Merchant admits: 'When Dwayne sent me the documentary, I didn't think I'd be interested in a story about wrestling – until I realised this is not really about wrestling at all, it's about a young woman, her family and their struggles – which are funny, sad, tough, tender and ultimately inspiring. And just happen to involve people in spandex throwing each other about. 
'I love that it's a true story about a working class girl who, against the odds, climbed to the very top of her unusual profession. And as with Rocky and boxing, even if you don't like her sport, you'll love her journey.'
The Falling star Florence Pugh will play Paige and Jack Lowden, who played Nikolai Rostov in the recent BBC adaptation of War And Peace, will play her brother, Zak.
Paige's parents are Ian Bevis, who wrestled as 'Rowdy' Ricky Knight and Julia Hamer-Bevis, who wrestled as Sweet Saraya. Their sons Zak and Roy have their ring names Zak Zodiac and Zebra Kid respectively and have a tag team called The UK Hoolgsns.
Daniel Battsek, director of Film 4  said: 'Fighting With My Family is a great example of that successful genre of uplifting British films about real people who've gone from being unlikely underdogs to triumphing against the odds. 
'We are all excited at the commercial potential of this project and Stephen Merchant has the perfect comic sensibility to make this uniquely British story appeal to audiences worldwide.'
And Michael Luisi, president of WWE Studios praised Merchant's 'keen creative eye'.
The film will start shooting in Los Angeles and London this month.
Published: 7 Feb 2017
What do you think?