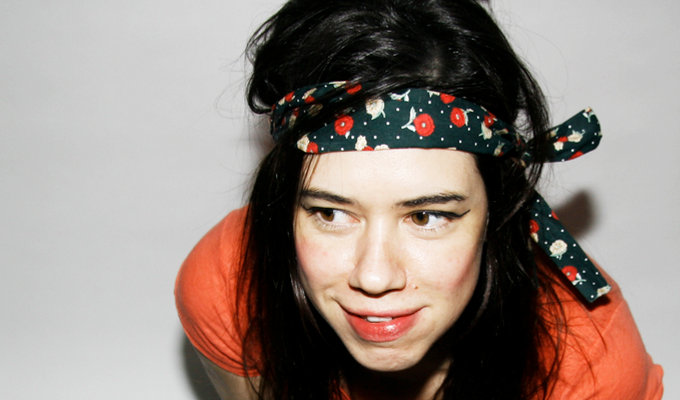 Not suitable for children!
Comedian Lou Sanders has been reprimanded by radio bosses after a saucy remark landed them in trouble with the regulators.
Sanders was standing in as co-host of Geoff Lloyd's drivetime show on Absolute Radio last moth when the conversation turned to chat-up lines.
The stand-up then suggested: 'Hello sweetie, do you have the time… to suck me off?'
Coming at 6.40pm, the line prompted a complaint to watchdog Ofcom – which has today ruled that Absolute Radio will not face sanctions over the comment because of the profuse apologies that followed.
Lloyd immediately said: 'Sorry about that, listeners' and played a music track. After that had finished, both Lloyd and Sanders apologised for what she had said.
Absolute Radio also apologised to Ofcom for any offence caused and said that Sanders had been 'drafted in as a last minute contributor' as regular co-presenter Annabel Port called in ill.
The broadcaster said the comic had appeared on the programme
once before and 'been well received by the audience'.
Sanders was briefed before the programme about what was acceptable early evening slot, and ran her material about chat-up lines by the producer.
However, Absolute Radio said she 'went off the approved script' – prompting Lloyd's immediate apology and closing down of the item.
The broadcaster said that that following the incident, 'Lou Sanders was immediately warned by the show's producer about her conduct'. And the producer was reminded by bosses of 'the need to choose any live contributors with utmost care'.
Sanders's comments were also edited out of the show's podcast
In conclusion Absolute Radio said it was confident that this incident was a 'one-off, partly caused by the illness of the regular co-host... the incident was caused when Lou Sanders deviated from the agreed and compliant content.'
Ofcom said the 'suck me off' line 'would be inappropriate for any children listening', which would have been likely at that time
However they ruled that given the on-air apologies and subsequent action by managers, 'we considered the matter resolved'
Published: 22 Feb 2016
Recent News
What do you think?