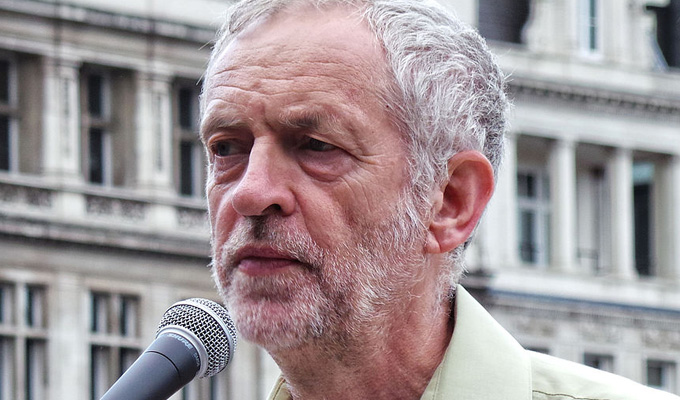 Corbyn: The Musical in the pipeline
A comedy musical about Jeremy Corbyn is to hit London later this year.
Corbyn The Musical: The Motorcycle Diaries is based on a holiday he is said to have taken with Diane Abbott in divided Germany in the 1970s – as well as being a not to Che Guevara's past.
Producers say they hope to secure comedian Lolly Adefope to play Abbott, with Mark Dexter, who portrayed David Cameron in 2015 TV film Coalition, set to cross the fictional floor to play Corbyn.
They say the show is 'a cross between The Book of Mormon and The Thick of It'.
'This comedy musical sees Corbyn facing a nuclear stand-off with Russian President Vladimir Putin,' they add. 'With pressure mounting on all sides, Corbyn has to face up to the biggest challenge of his career. But the solution lies in the story of the fateful motorbike holiday apparently taken by a young Corbyn and his then-lover Diane Abbott in 1970s pre-unification East Germany.'
The plot also features fictional appearances from Boris Johnson, Tony Blair and Ed Miliband
It has been written by Rupert Myers political correspondent for GQ magazine, and Bobby Friedman, author of a biography of Commons Speaker John Bercow. They previously hosted a podcast together, Political Takeout.
Friedman told the Daily Telegraph: 'Part of the fun is that what comes next is often unexpected and sometimes shocking… This is a comedy with more twists and turns than a Jeremy Corbyn reshuffle, albeit much shorter.'
And Myers told the BBC: 'It took us about 20 minutes to come up with the plot. It wrote itself… the first draft came very easily.'
Friedman let slip some sample lyrics, too: 'Give them all the food they want, then they'll just get fat. Feast on solidarity, there's far more pride in that. I don't want to pick my doctor, or my children's' school, I just want the left in power, with one party rule.'
The satire runs at Waterloo East Theatre from April 12 to 24.
It isn't quite the first musical about the Labour leader as Radio 4's 15-Minute Musicals broadcast Jeremy Corbyn Superstar! last month. Tony Blair has previously been the subject of a musical, too, while Margaret Thatcher has been reimagined as a camp cabaret icon in Jon Brittain and Matt Tedford's Queen Of Soho.
Meanwhile a number of comedians, poets and politicians have joined a <a href="www.jc4pmtour.com">#JC4PM tour</a> in support of Jeremy Corbyn. The likes of Billy Bragg, Mark Steel, Shappi Khorsandi, Jeremy Hardy, Hal Cruttenden, Francesca Martinez will be appearing at the O2 Forum Kentish Town on 4 February, followed by dates in Bristol (23 February), Edinburgh (9 March), Croydon (13 March) and Newcastle upon Tyne (15 March). Guest Speakers will include John McDonnell, Brian Eno, Ken Loach and Ken Livingstone
Published: 21 Jan 2016
Recent News
What do you think?