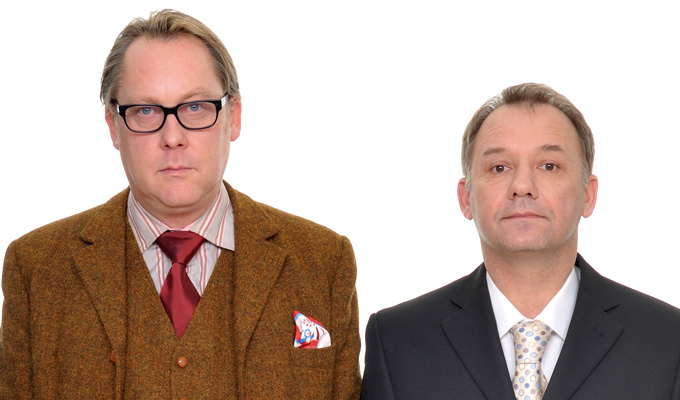 We will not let it lie!
Reeves and Mortimer fans are furious after ticket agency See Tickets charged them for shows cancelled over Bob Mortimer's triple heart bypass.
The duo cancelled all this year's dates of their 25th anniversary tour after Mortimer was admitted to hospital this week.
And while ticket-holders were promised a refund, See Tickets wrote to customers saying the refund 'will be minus transaction fee if tickets have been despatched.'
But the decision to hold back the £3 fee has angered fans.
Alan Anderson, a comedian and promoter of his own gigs in Scotland, said: 'While I wish Bob Mortimer a speedy and successful recovery, I want my transaction fee refunded. I now consider these monies to have been stolen from me by See Tickets.'
Others took to Twitter to complain. Charlotte Walker tweeted: 'Not refunding transaction fee for tickets for Reeves and Mortimer is bang out of order. Complaining to my credit card company.'
Helen Foster said: 'Shocking customer service', Stuart Lemon called it 'pretty disgraceful' and David Kelly asked: 'Please can you explain why you won't be refunding transaction fees?'
A spokesman for See Tickets said: 'All booking fees are refunded and the transaction fee too, unless tickets have already been posted out. The main bulk of the transaction fee covers the postage, so if they've been delivered, we'll retain that fee.'
However, because demand for Reeves and Mortimer was high, many tickets were bought a long way in advance, and will have already been mailed out.
See Tickets say the rest of the refund will be issued back to cards or Paypal accounts but asked fans to allow ten days for this to clear.
Reeves and Mortimer's shows from November 8 to December 5 have been cancelled, although next year's leg is expected to go ahead as planned.
A spokesperson for 56-year-old Mortimer, said:'Bob would like to thank his consultant and all the nursing staff at the hospital for looking after him so well.
'He now needs several weeks to fully recover, so unfortunately the first leg of the UK tour will be cancelled.
'Bob very much hopes to be fit and well enough to perform the second leg in January next year.'
Reeves added: ' I'm so pleased the operation has gone well and Bob is fixed. Many thanks to the surgeon.'
Published: 29 Oct 2015
What do you think?