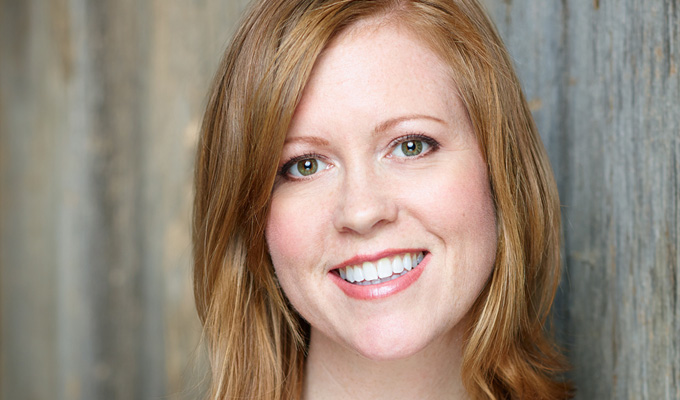 'I felt violated, scared, objectified'
A boorish heckler has been suspended from his job after a comedian went public about his 'rapey' comments.
Canadian stand-up Jen Grant cut short her appearance at a printing industry awards show after becoming rattled by the sexist abuse.
She said she was 'publicly humiliated, objectified and belittled' by the sexual comments – which she exposed in a blog this week.
Grant says it was the worst incident she had encountered in 16 years as a comedy, and she says she felt constrained by the rules on corporate comedy that means she couldn't talk about sex or swear in response.
She said the heckling began about three minutes into her set when a man said: 'There's a 51 per cent chance that my buddy here will have sex with you. And I will take the other 49 per cent'.
Grant added: 'After a couple more minutes he says in a very "rapey" tone "I bet you do" following one of my jokes. Women know what I mean when I say "rapey". It's that tone that makes you feel like they verbally taken advantage of.
'As he is saying these horrible things I am embarrassed and feeling small. I am just trying to do my job and I can't. His words were cutting like a knife. I felt off balance and violated…
'Then about five minutes later, 25 minutes into my 45 minute set, he says to me (again with that tone) "ohhh the things I would do to you." '
She said she then called attention to the man's behaviour, saying to the crowd: 'Really? Is this really happening right now?' And a man at the next table said to the heckler: 'You crossed the line"'
'It's hard to put into words how I felt at that moment,' Grant added. 'Scared. Objectified. Threatened. Invalidated.
'I felt like I was going to cry. Turned my head for about 15 seconds, took a sip of water, told myself to just plug through, went to talk and my voice was all warbled like I was about to cry. Realised I couldn't talk because I was so upset. Said into the microphone "I'm sorry but I can't do this". Put the mic into the stand and walked off stage.'
She said it was the worst abuse she had suffered in her career, the first time she had ever cut short her set, and the first time she had become tearful.
Grant said the organiser was very apologetic about the incident, and that the next day she received a call from the vice-president of the company the heckler works for – later identified as marketing firm TC Transcontinental – to say sorry.
They have suspended an employee pending the outcome of an independent investigation.
Grant said on her blog, which has since gone viral, that the incident reminded her 'once again that I am not respected as just a comic. I am a female comic. To some neanderthals I am an object that can be talked down to and aggressively sexualized.'
Published: 21 May 2015
Recent News
What do you think?