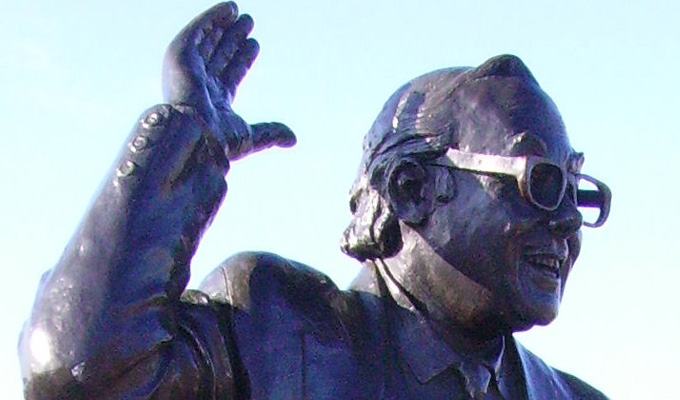 You can hardly see the join...
Eric Morecambe's statue is to be returned to its rightful place on Thursday, nine weeks after it was damaged by vandals.
The comedian's widow Joan, son Gary and daughter Gail are expected to travel to the Lancashire resort from which Eric took his name to witness the occasion. Thursday would also have been Eric and Joan's wedding anniversary.
However there will be no formal ceremony. Instead, Lancaster City Council has organised a celebration for March 14 next year, the day after Comic Relief.
The statue, created by sculptor, Graham Ibbeson, has has spent the past two months being repaired in a London foundry after its legs were attacked with a hacksaw. A man was arrested over the vandalism and later sectioned under the Mental Health Act.
Councillor Ron Sands, who is responsible for tourism, said he wanted to 'put together a proper event that celebrates the statue's return'.
He added: 'Naturally everyone will be very excited to see the statue back in its rightful place – Morecambe hasn't felt quite the same.
'There has obviously been a lot of interest in celebrating the return and we're keen to put on an official event. We want to celebrate the statue's return by holding an event on a weekend that celebrates what the statue, and Eric Morecambe's legacy, bring to the town but also kick starts the tourist season.'
The statue was first unveiled on Morecambe Promenade by the Queen in 1999.
Published: 9 Dec 2014
Recent News
What do you think?