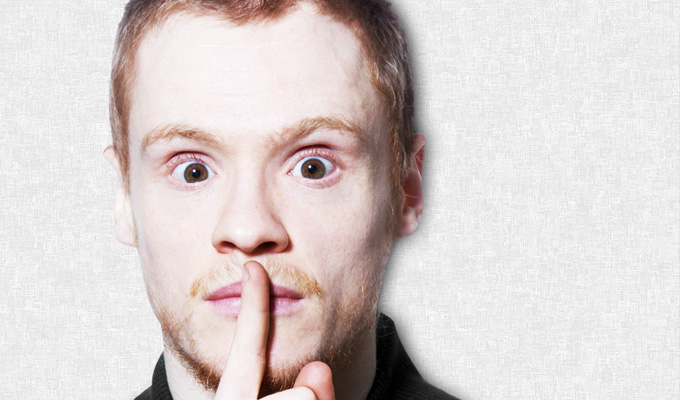 Andrew Lawrence: I'm the target of a witch hunt
Stand-up Andrew Lawrence says he's been the victim of a witch-hunt over his views on immigration and the 'surreal diversity targets' of the BBC.
Meanwhile his comments have attracted the backing of UKIP leader Nigel Farage, who praised his honesty'.
Lawrence caused an online storm at the weekend with controversial comments slating the 'unmitigated disaster' of immigration and blasting female and 'ethnic' comics on panel shows.
His comments attracted a deluge of criticism, which Lawrence says explains why so few right-wing comics are prepared to put their heads above the parapet.
Breaking his silence for the first time since the original post, Lawrence returned to Facebook to write: 'The reason there are no right-leaning comics in this country is because whenever one has the balls to stand-up, they become the target of a witch-hunt. Where there should be balance, there is, terrifyingly, censorship.'
However his comments did attract supporters, too, including Farage who posted to his 160,000 Twitter followers: 'It's rare to find someone so honest in the media, particularly in comedy. This is very interesting.'
In his original comments, Lawrence berated the 'hack, boring and lazy' comics who crack jokes about UKIP and claimed they only got work on the BBC because of liberal bias and 'militant political correctness'.
Lawrence criticised the 'moronic, liberal back-slapping on panel shows like Mock The Week where aging, balding, fat men, ethnic comedians and women-posing-as-comedians, sit congratulating themselves on how enlightened they are about the fact that UKIP are ridiculous and pathetic.'
He went on to say 'there are far,far too many people living here' and that: 'The reason UKIP have resonated with voters is because all the other parties are too spineless to tackle the issue of immigration.'
Despite resonating with the ethos of Farage's party, Lawrence said: 'Can't say that I'm a UKIP supporter, but I can see why other people are, and I don't disrespect them for it.'
When taken to task on Twitter over his 'women-posing-as-comedians' jibe, Lawrence responded: 'That's what they are. Open-spots who've taken easy breaks that have been gifted to them. Can't say I blame them, I'd do the same.'
Lawrence has today added some 'clarifications' to his original post, which he said 'attracted a level of attention I neither wanted, nor courted'.
He explained that 'ethnic comedian' was meant to describe 'a comedian from a minority background who uses their own ethnicity as a foundation for the whole of their act, rather than looking at wider aspects of society and exploring outside of their own personal experience.'
While the contentious 'women-posing-as-comedians' line he says was aimed at those booked onto panel shows to fulfil the BBC's 'aggressive diversity politics'. It has been well-reported that BBC director of television Danny Cohen wanted one woman on every panel show.
Lawrence explained: 'Because there is currently not a sufficiently large enough pool of female comedians with the requisite experience and ability to fill the quota, there are females who've been booked for these shows who are either poor comedians, not comedians at all, or aspiring female comedians that are still learning their craft, but have not yet reached a decent professional standard.
'These females I have described as "women-posing-as-comedians".
'The upshot of all that is that there are still many women coming across incredibly badly on panel shows, which is helping to perpetuate the myth that women aren't funny.'
He added in the new comments on Facebook: 'Unfortunately for every female who gets on a panel show, there are very many male comedians with more ability and experience who are not and will never get the opportunity to be on one. I think that's a great shame for TV audiences.
'There are also male comedians who've been doing these shows for far too many years and have become incredibly stale, too lazy to move on to other things.Some of them are fat and balding.
'Oh, and I don't have a problem with properly regulated immigration and I don't have a problem with immigrants. I do have a great deal of concern about the lack of border controls in this country and subsequent gross overpopulation as a result of EU legislation, which I believe adversely affects all our quality of life.'
Despite his complaints against the BBC, he has recorded three series for Radio 4, with a fourth, entitled There Is No Escape, coming this autumn. BBC radio chiefs have previously bemoaned the difficulty in finding right-wing comics for shows such as The News Quiz.
Published: 28 Oct 2014
What do you think?