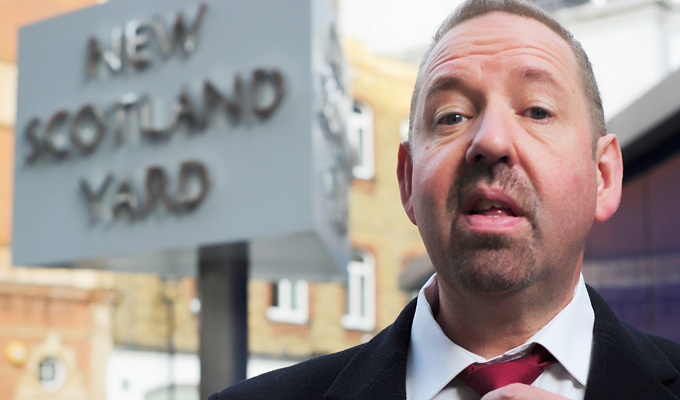 All in the line of duty...
Policeman turned comedian Alfie Moore called on all his training when he stumbled across the scene of an armed robbery yesterday.
The stand-up was in a car driving through West London, when he spotted a security guard in the road. He was bleeding heavily from the mouth and looked like he had lost a couple of teeth.
They pulled over and discovered the Loomis guard, who was delivering cash to Sainsbury's, had just been attacked by a gunman.
Moore's manager, Dan Waite, who was driving, said: 'All of a sudden Alfie shouts "pull over Dan," and jumped out of the car. I had no idea what was happening but Alfie had spotted a man in security guard's uniform on the road struggling to get up.
'It appears we had arrived at the scene of an armed robbery within seconds of it happening. Alfie jumped out of the car, made sure the man had not been shot and then – old habits die hard – he got out a note pad and started taking witness statements and telling passers-by to call 999.
'It was a good four or five minutes before the police arrived and by that time Alfie had interviewed all the witnesses and taken a full description of the armed attacker.'
Moore – who is on a career break from the Force but still a serving officer – added: 'We were on the way to a photoshoot for my Edinburgh show, so I had my police badge and notebook with me – and I am still a badge carrying policeman.
'We must have missed the crime by less than 30 seconds as the man was still on the floor, people were yet to call the police and I started taking statements as if it was my patch. The first statement from the witnesses are the most reliable and we passed on my notes to the police.'
The robber had fled with a plastic box full of money, but Moore said: 'The guy will be bitterly disappointed as the dye packs will explode if the plastic box is forced open.
'If we had been passing a minute earlier I would have been in the position to make an arrest or give chase in the car or on foot. I may be on a sabbatical but I am like a coiled spring… OK like a coiled spring that needs a little WD40.
'I have yet to arrest anyone in my audience but I often get ex-cons coming up to me after a show saying they never liked the police but "you're all right".'
  PHOTOS: Dan Waite
Published: 15 Feb 2014
What do you think?