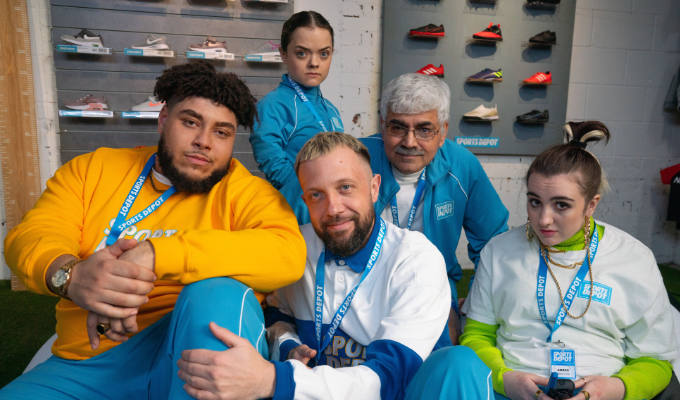 'Workplace sitcoms have changed because workplaces have changed'
People Just Do Nothing's Hugo Chegwin is about to star in Sneakerhead, a three-part comedy for Dave loosely based on his own experiences working in a trainer store. It co-stars Big Zuu in his first acting role as his colleague Mulenga, alongside Francesca Mills, Lucia Keskin, Mark Silcox and Alexa Davies – while comics Josh Pugh, Tessa Coates and Lloyd Griffith also make appearances.
Below the trailer, writer Gillian Roger Park speaks about creating the show – and below that Chegwin and Zuu have their say…
---
How was Sneakerhead created?
This has been plucked from Hugo's brain and a lot of it is based on his past experiences. He was such a huge part of the development of the show; he has a relationship with [production company] Roughcut and they came up with the idea of a show about a sneakerhead.
I first heard of the show when I was working on The Young Offenders and was invited to pitch my take on the concept. Roughcut had seen The Young Offenders and saw I can write in that tone for younger men and young people. They liked how I grasped the tone of the show and that I wanted to bring more female characters into the mix.
From there, we worked together to bring it to the screen. I remember in one meeting Hugo was talking about when he worked in a Foot Locker or a JD Sports in Peterborough and how his girlfriend worked in the Top Shop across the road. I said, 'That's the show!' It's funny and it's so true to life when you're from a smaller town; you're all pitched together, you can't escape your past, and you can't escape who you are.
Did you draw from your own experience?
I love small-town politics. I'm obsessed with [neighbourhood] Facebook groups and I think there's a universal small-town mentality. I didn't grow up in Peterborough - I'm from a very small town, much smaller than Peterborough - but I can tap into my experience from working in public-facing jobs there.
I worked in service jobs for ten years and it's just so funny. There's dealing with the public and then there's dealing with the public in your hometown where you spend your whole life. There's so much history coming through the door - people you went to school with and everyone knows your business. There's something really funny about a show where you can't escape yourself.
How would you describe the tone of the show?
Fresh, funny, and a bit weird. There's a lot of energy and a lot of fun.
There's a certain type of energy which comes from working in public facing jobs - chaos. We have a workplace setting, but anything can happen because of the chaos the public brings.
There's such a camaraderie when you work in these types of jobs. You've got two enemies: your bosses and the public. This is what's so interesting about Hugo's character, Russell, as he's struggling with becoming one of the enemies. He's moving from this very cohesive team to reluctantly stepping up and becoming a boss. That's the heart of the whole show. He's a super sneakerhead, but he's not management material in any form.
I love having such a positive character at the heart of the show, as Russell is completely devoid of cynicism and that balances out the cynicism of zero hour contracts and the way the staff are being taken advantage of. He's so positive and he likes working there, and that's an important part of the show for me.
Some of the other characters are not cynicism-free - his girlfriend Clare, for instance, right. Why have you inflicted her on Russell?
I thought, 'What's the worst type of character that we can give him?' She's based on a lot of people I know from back home and that small town mentality. In her head she's the biggest fish in this small pond and I love the idea that she's pretentious and has these huge ideas about herself.
We don't want her to be seen as a monster, we want people to enjoy her when she's on screen. She's a character you love to hate. I love writing for her and as much as she gives Russell a hard time I really respect her balls. I'm quite frightened of her in a fun way.
How important was it to reference the realities of the gig economy?
It was really, really important and it was something we kept coming back to. We'd ask, 'What makes this relevant? What makes this for young people now?'
In a normal workplace sitcom the fact everyone's at work means that they're fine, because everyone's got a job. Nowadays just having a job doesn't necessarily mean you're financially stable or you're going to make rent, because you could work all month and still not have made enough.
I've done zero-hour work and you have no control over your life from one week to the next. You have to be available at all points, but you still might not be given any shifts, so you have to have other gigs going on. I don't know any people who have one job anymore - everybody's got a million things going on.
I was working in a TV edit facility, a pizza place, and I was on TaskRabbit - I'd go round to someone's house and build Ikea furniture for £25.
This is life now and that's why so many of the characters are looking for another hustle. The reality of the gig economy is a feature I wanted to trickle through the comedy, to push the idea that workplace sitcoms have changed because workplaces have changed.
How into streetwear culture are you?
Not like Hugo! I did a lot of research and it's an interesting world. It's such an interesting character trait for Russell, because it represents an extended adolescence. He's in his mid 30s but he's dressing to impress 17-year-old boys, and that's a fun trait for a writer to have. When you take this interest to an extreme, it's a real indicator of arrested development.
Nostalgia was a big element for us going into Russell's character. His love of streetwear is linked to his teenagehood, when his mum bought him trainers - it's a comfort for him to wear these trainers. At the heart of it Russell is still trying to impress the cool kids at school.
---

HUGO CHEGWIN ON SNEAKERHEAD
I guess my involvement was before there was ever a script. I met up with Roughcut and kept talking about my experiences, and we discussed how we wanted it to look and feel. I didn't want this to look like another sitcom, because there's so many of them.
The show's relatable, because many people have worked in low paid retail jobs or something similar. I've worked in Foot Locker and a place called Sole.
There's nothing wrong with working in retail, because it's an honest job and I massively rate anyone that can do it, and it's not beneath any of us. But, in my opinion, it's shit. It's hard work, no-one's enjoying it, and shops are a target for teenage shoplifters, or, in my case, drug addicts. These places are run by 19, 20, or 21-year-olds who would rather be enjoying life.
Existing is so expensive. How do you do it on a zero hour contract on minimum wage? I should be getting paid fuck all for what I'm doing and people who work genuinely hard in mind-numbing jobs should be paid real money.
A lot of the shoes in the show are mine. To pay homage and respect to the culture you can't wear anything, it has to be desirable. I loaned about ten pairs to production; the ones which were picked were Air Max 95s, Stussy Air Max 95s, Yeezy Wave Runners, and some New Balances. I did bring in a big bag of stuff.
---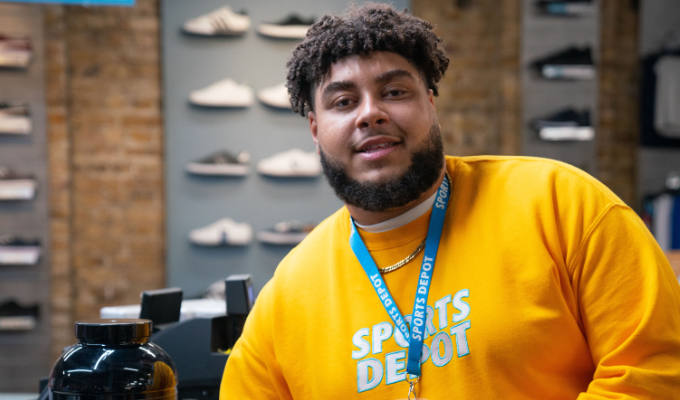 BIG ZUU ON HIS FIRST ACTING ROLE
It's a new venture for me. The role is like a dickhead version of me. So I was being myself, but I wasn't being myself, and I was able to draw on my own experiences and that's what I found interesting.
Roughcut gave me a shout and they asked me for a self-tape. I didn't know how to film a self-tape, so I googled how to do self-tapes, and this self-tape got me the part. When we did a couple of read-throughs I didn't know if I had to learn the whole script or just be familiar with it.
I recorded self-tapes a thousand times in my room on my own and didn't show anyone - it's not like music where I play my songs to my friends. I've made music for 10 years and, in my own mind, I've perfected my art. Whereas with acting, I was very secretive about it because it's not something I'm good at.
When I got the part I thought, 'Maybe I'm OK' It was a transition and it made me respect the art form of acting so much… it's not something you can just switch on. I'm lucky that I'm a performer and have broadcast experience which helps, but it still wasn't an easy transition.
When we started filming I thought, 'I only have three scenes today and I only have to know seven lines. This is easy.' That changed a week later; I thought, 'This shit's hard.'
I don't envy actors because musicians wake up whenever we want, especially if we've been in the studio until 2am. Actors stand in one place for hours repeating lines. It's not easy but when you finish a good scene, the feeling it gives you is nothing I've ever felt before.
• Sneakerhead will be shown on Dave on July 13, 14 and 15 and be streamed on UKTV Play.
Published: 22 Jun 2022
What do you think?