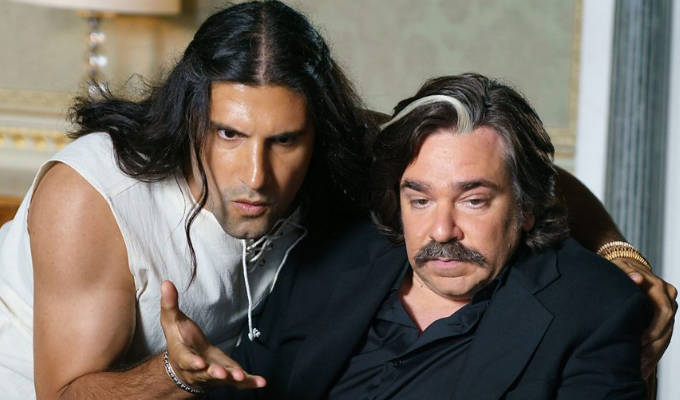 'I feel quite dizzy watching a lot of modern comedies'
Matt Berry returns to TV as larger-than-life actor Steven Toast tonight in the new series, Toast Of Tinseltown – now on BBC One six years after Toast Of London ended on Channel 4. Here, Berry's co-writer Arthur Mathews talks about the show….
---
What was it like working with Matt Berry on Toast again?
Fabulous! Matt can just say things in a certain way which can make them funny. He's a great performer. Even his reactions - when he barely does anything, but just takes in the mayhem around him - are very effective. I've noticed how important these are in the show.
Did you have any hesitation in bringing Steven Toast back?
No. I like Steven Toast! It's been six years since we made the last series, so that's a whole primary or secondary education. It's quite a while. I thought I'd probably seen the last of Toast, but Ben Farrell at production company Objective wouldn't let him lie. Ben's hard work behind the scenes has resurrected him.
Why did you want to send him to America?
I don't know whose idea that was (not mine). But it's opened up a whole new world. It was fun writing some over-the-top Hollywood-types: angry directors and obsequious producers. I'd never done anything like that. And having 'real Americans' actually in it was quite thrilling.
Can you tell us a bit about the writing process?
Matt would have an idea like 'I'd love Toast to be brought to a film location in the desert, and be thrown about while he's travelling there in his trailer.'
So I'd say, yes, that's a good idea, and then I'd think - it might be good to have him stumble into an old-style Wild West town with a saloon and various sheriffs, old timers etc.
And Matt was keen on the idea of Toast being constantly captured by two kidnappers, so I thought that would fit well into the final episode where he's desperately trying to get to the set on time for his role in the latest Star Wars movie.
One idea sets off other ideas, basically.
Did you think that the phrase 'Yes I can hear you Clem Fandango' would become such a cult catchphrase?
Yes, of course I did. (Actually - no, not really). But people seem to love that name.
How would you best describe the show to those who might not have seen it before?
Lots of things happen to Steven Toast. He's actually quite ambitious as an actor, and quite pompous about it. But by the end of the show, after some hair-raising adventures, he's completely humiliated.
Also, I feel quite dizzy watching a lot of modern comedies with all the zooming in and out and shaky camera work. So there's none of that.
• Toast Of Tinseltown is on BBC Two at 10pm tonight. Meet the Toast Of Tinseltown guest stars
Published: 4 Jan 2022
What do you think?