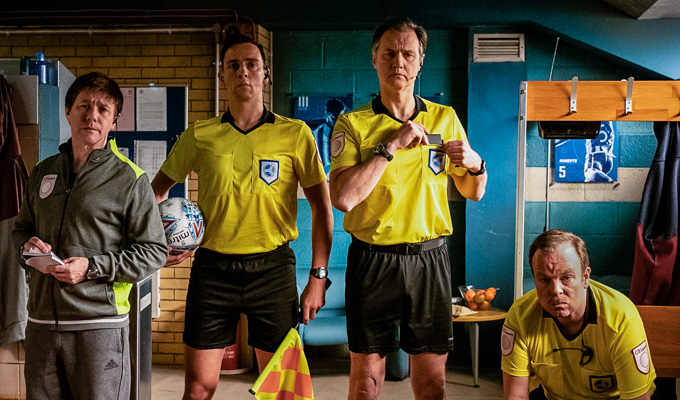 Each time we finish a series, we look back and go, 'Where did that come from?'
The world of TV comedy is full of anecdotes of meddling executives handing meaningless, confusing notes to creative writers to justify their jobs.
But when it comes to Inside No 9, Steve Pemberton and Reece Shearsmith are happily left to their own devices.
When asked at a preview event for the forthcoming fourth series whether the BBC interfere in their productions, Pemberton responded: 'Quite the opposite! The BBC say to us, "Don't tell us what's going to happen, I don't want to spoil it."
Producer Adam Tandy added that the corporation's head of comedy, Shane Allen, is 'kind of like a super fan, he really doesn't want any spoilers, he doesn't even read the scripts'.
Perhaps that's why the duo have recently signed an exclusive first-look deal with BBC Studios, resisting the big-bucks lures of the likes of Netflix.
The new series – which Shearsmith describes as 'the most varied we've ever done' will bring the total number of episodes to 31, and as Chortle reported earlier in the month, a sixth run is on their way.
When asked to name a favourite, Shearsmith said: 'It's hard; it's like choosing your favourite child. The ones that people like are the ones that make them cry weirdly. It's not the comedy it's the ones that move people.
'I'm really surprised that Bernie Clifton's Dressing Room took such a grip on people. We thought it was a good one but we didn't think it would be so moving and heartfelt. It was a vehicle for me and Steve to do a two-hander, that's where it was born from, we had never done one where it was just us two.
Pemberton added that the scripts sometimes surprise even them. 'Each time we finish a series, we look back and go, "Where did that come from?" with no memory of creating it'.
The team said that the felt the series hit a critical mass of popularity after the last season. Tandy said: 'We were blessed with having the whole series box-setted on iPlayer just before series 4 went out and I think that was a huge wakeup call as people started recommending it. Word of mouth built hugely and I think last season was the real break-through season. Not that people didn't appreciate the show before, but it certainly became a bigger thing, I think.'
But with success – and the back catalogue – comes the increasing demands of surprising audiences, both with fresh ideas and because viewers start to second-guess the twists.
Though Shearsmith snapped, in semi-mock irritation: 'It's not alway about the twists!'
Pemberton explained: 'We always sit and say "What do you think you're watching when you're watching this?" or "Where do you think it's going?'" We plot out where we hope you think it's going so that we can send you off down a false track and hopefully preserve a nice surprise.
'That's one of the joys of the series and one of the more difficult things as we write more and more episodes is to do that in different ways. I don't know if we're still succeeding, but that's the challenge we set ourselves.'
He also explained the writing process, saying: 'If you're just enjoying the writing you don't always have to have the end in mind but an episode like the 12 Days Of Christine, it's imperative that you have that in place because you need to very clearly work your way towards it.
'We're not prescriptive, we try writing different ways and try out different stimuli for the writing and hopefully that allows the episodes to feel different and have different qualities. The one thing we try and do is always be in the same room and talk a lot before we start writing so we at least have some proper grounding of the world that we're working in.'
And would they ever revisit characters or storylines from past stories? Shearsmith is in two minds: 'We would think about doing a sequel to one if it was worth it. I'm afraid of being accused of running out of ideas if we did it – but if it was a good reason to return to something, then that would be good.'
The new series starts next Monday with an episode set in the referees' changing room at a crucial football match.
Pemberton said: 'It's a space that probably most of us don't think about very often but it just struck us as a really interesting idea to set an episode there. It's very useful with Inside No. 9 to have a preordained structure, so the idea of "before the game", "halftime" and then "after the game" gave you a really good structure that felt really exciting.
'It started with the notion of where it would be set and then the story grew from what are the stories to do with being a referee? There were lots and lots of stories. I'm amazed how much we packed into 30 minutes actually.'
But as someone who doesn't follow football, Shearsmith admitted his colleague was the 'driving force' behind the episode. 'I just learnt it phonetically,' he admitted. 'It was absolute gobbledegook.
However, another forthcoming episode about magic and illusion was more up his street.
He said that the germs of ideas are 'sometimes personal, out of an interest in the world or it can be some weird little news report that you see and think is unbelievable'.
Pemberton added: 'We've got another episode in this series which is different kinds of monologues and one of them is a YouTuber. That came from reading a news story about the girl who tried to blag a free hotel and just said, "You know me, I'm a YouTuber, give me everything for free." So that sparked an interest.
The pair also spoke of another episode, The Stakeout, set entirely within a police car with just the two of them playing cops killing time. It had intended to be a cheap episode, with Pemberton saying that 'putting those parameters around it makes you have to be more creative in your writing – but it turned out not to be so low-cost becuase of the difficult camera angles and lighting.
'It looks gorgeous, but there's no lights inside the car apart from the glove box,' Tandy said. 'So actually just the lighting bill alone was as much as three or four extra cast members.'
He said the budget for an anthology show, requiring a new situation each week, was becoming increasingly difficult. 'The BBC are amazing. They support us incredibly with the show. But it's just the nature of the world,' he said. 'It's inflation. Everything just gets more expensive – particularly at the moment with Netflix means all the costs are going up.'
But despite the squeeze, the shows still get made, with the creativity of the writers, crew and huge array of guest actors producing episodes that may be moving, scary, surprising or dramatic, or any combination thereof.
'That's the joy of Inside Number 9,' Pemberton says. 'You don't know even halfway through an episode if it's gonna be a happy or sad. And we really enjoy that about it. The whole ethos behind it is to never let the audience sit back and let it wash over them.'
• Inside No 9 returns to BBC Two at 9pm on Monday
Published: 27 Jan 2020
What do you think?