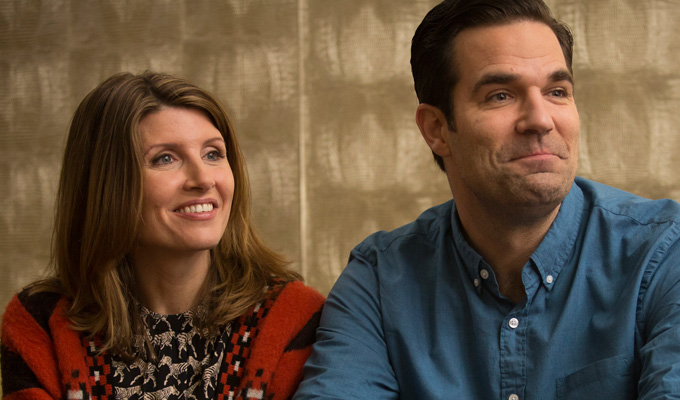 'We don't look for filth, filth finds us'
It's perhaps with some hyperbole that Channel 4's comedy chief Phil Clarke speaks of Catastrophe being an epoch-defining sitcom.
Describing the show as 'setting a new standard in honesty and comedy vision', he says that 'you cannot make a grown-up comedy now without knowing where you stand in relation to Catastrophe'.
Certainly, Rob Delaney and Sharon Horgan's show is one of a growing band of comedies – many of them from the other side of the Atlantic – to eschew the conventions of sitcom in search of a more realistic portrayal of life.
'We didn't feel we had seen a marriage represented in a sitcom in a way that we found wholly satisfactory,' Delaney said at the launch of series three last night. 'So we wanted to make one.'
He says that people's personalities are 'more dynamic' than typical sitcom tropes saying: 'We wanted to show people who were real. Sometimes we fully inhabit those classic sitcom roles of Rob being a dolt and she's shrewish, but we also have all the other cards in the rainbow, just to make it real, then the laughs you get out of it are more earned, I think.'
Mixed metaphor aside, Horgan agrees – saying their background as writer-performers also helps 'because there's nothing that interesting in playing a stereotype, like an eye-rolling wife or a dolty husband'. 
'And being a male-female writing team you're less inclined to guess it. I don't want to write a stereotypical female and Rob doesn't want to write a stereotypical female so we check each other on that.'
When it's suggested that the pair have taken up Seinfeld's writing manta of 'no hugging, no learning', Delaney kicks back. 'These guys learn and grow and even hug,' he insists. 'We are not opposed to that; we just would never telegraph that or wrap it up cleanly. Definitely we like to end each series with a question mark rather than a full stop.
'We don't want to moralise, we would rather have the audience say, "I know what's wrong with them" than us have some big resolution where we go: 'I think the moral here is...' and do that nonsense.'
Another aspect where they depart from traditional sitcom practice is actually laughing at each other's jokes on screen.
'Most the time when we are doing it, it seems natural to laugh when the other character says something funny,' Horgan says. 'It doesn't happen in real life that you say something funny and wait for the audience in your bedroom to react.
'When you watch Friends - which I love - someone says something hilarious, the other will say "yeah, good point",' Delaney concurs. 'In real life you would double over laughing because a team of 13 amazing sitcom writers have come up with a world-class gag, so yes, when Sharon Horgan writes a joke, I laugh at it.'
The shared laughs also get to the heart of what keeps their characters together, the pair agree. 'Being funny is attractive,' said Delaney. 'Coming up as a stand-up, if I was in a line-up of ten comedians and a woman got up and was ugly but made me laugh, I would then fantasise about her.
'It's true,' Horgan confirms. 'I've felt the same about ugly male comedians. That's why it's called "chuckle fucking…"'
Not that their characters, also called Rob and Sharon, necessarily have a lot to laugh about, as they are put through the wringer week in, week out. And series three, which starts on Channel 4 on February 28, introduces a new spectre as previously sober Rob falls off the wagon as his efforts to find a new high-flying job in advertising become increasingly fraught.
'We just thought that would be fun because it's a terrible thing that normal people do,' says Delaney, himself an alcoholic who has been sober for 15 years. 
'We didn't even plan for that. In fact  Sharon years ago now said, "Why don't we make Rob sober?" and I thought that'd be boring because I am in real life and we want to make a fantasy sitcom. And look! We had something in our pocket for later to make their lives worse!
'We wanted to make things difficult them as time goes on and you develop new habits. One great thing about getting older is that you can always be developing new bad habits.
Horgan agrees. 'The good thing about alcoholism is that it only ever gets worse. We thought the longer we leave it the more catastrophic the outcome. We didn't necessarily think we'd have it as a thing that we'd use, we just wanted to have it bubbling under an ominous, and then we found a great opportunity for it.'
As to why the Rob character works in advertising in the first place, that's because Horgan's husband Jeremy Rainbird is a former ad man – while Delaney briefly worked in the business. 'at the bottom of the barrel'. 'I bought and sold and made adverts on the internet for fucking terrible companies,' he admits.
His and Horgan's quest for realism on the show has also led to Catastrophe's frank attitude to sex and other bodily functions. But Horgan insists: 'We don't look for filth, filth finds us.'
She said Channel 4 has never had any issue with subject matter, but 'the only time we keep an eye on it is for nerdy writer reasons like have we done two filths in this episode? Maybe we should save this filth for the next one.
Delaney ads: 'If there are three toilet jokes in a script, it will be like, "Are there other kinds of jokes?" and we try to think of other things people would laugh at. We do it for symmetry or elegance. Poop is a spice. You don't want to have poop everywhere, you just want a little poop.'
'We thought the sex content was more of a thing,' Horgan adds. 'People seemed to like it when we did it in the first series. Then when we did the second series we thought, "We'd better put a lot of sex in there". 
'And now in series three because they've been married longer, there's not so much and it doesn't make any difference. We found out it's not as big a part of the show as we thought. Maybe people will disagree when they watch it and be really disappointed.'
Delaney admits he doesn't really know why the show has stuck a chord, but says: 'We are grateful that it does! If we had a secret sauce, it may be that every episode is written by the same two people and one of them is a man and one of them is a woman. That's my theory as to why the people who like it do.'
Horgan thinks it may be because Rob and Sharon muddle through the 'terrible things' that are heaped on to them and it's never the end of the world, which viewers find comforting.
Outside of their own show, the pair are fairly optimistic about the current state of TV comedy. 
'It's tricky to be a broadcaster,' Horgan says. 'You've got to appeal to all sorts of demographics, you've got to satisfy the family who want to watch TV together with the granny and a toddler in the same room – you're going to take fewer risks with that kind of thing But at the same time there's always space for comedy that's more diverse, and I think Channel 4 does really well in both camps.'
That prompted Delaney to praise E4's Chewing Gum. 'That's an amazing show,' he said. 'It's such a razor sharp observation about something I know nothing about. I'm not a young, black, born-again virgin trying to get laid on an estate in Tower Hamlets. But I feel like I am.'
-by Steve Bennett
Published: 8 Feb 2017
What do you think?