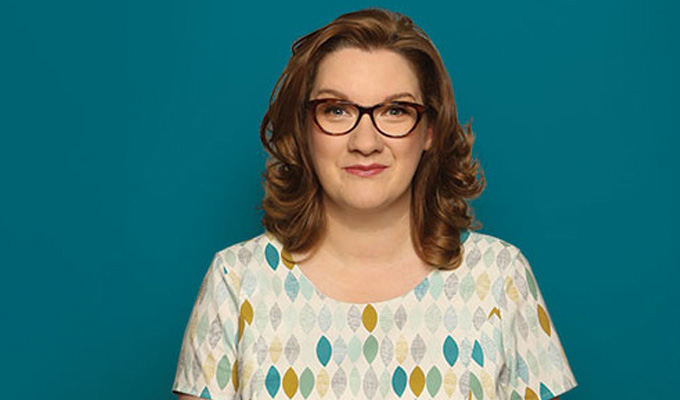 'I have occasionally farted on stage...'
That was one hell of a tour…
It certainly was. It was my longest tour: 176 dates plus nine in Australia, which I keep not counting, but I should because Australians are valid. Maybe they count as double, because it's so far.
How do you feel at the beginning and the end of a tour?
They're sort of a similar feeling because it's tense. At the beginning it's like, 'Is it good? Will they laugh?' I've tried it a lot of times, because I do quite a lot of warm-up gigs: I start by doing new material gigs, then progress to 'Sarah Millican and Friends' nights where I do an hour with other comics as well, then an hour solid with a support and then two 45s with a break in the middle. A tour is a long time coming before you get to the start.
So it's a bit of a relief because you're finally on the treadmill. And it is a treadmill, because it's hard work. It's not hard work like being a nurse – I'm well aware of that – but it's hard work.I keep saying 'treadmill' like I know what it's like. I've never been on a treadmill.
And at the end? There's excitement because it's nearly done. I love my job, but it's nice when it ends and you get to start working on something else or have a breather. But also it's that worry about 'what if my voice doesn't last?' or 'what if I get ill?'
The show's called Outsider, why?
You have to pick your title quite early. You might have John Smith: All About Cheese and then by the time the show comes round, he's like, 'But I haven't got enough about cheese! But the posters are made…' I always pick a title that's about me – because the show is largely about me. The first one was Sarah Millican's Not Nice then Typical Woman, Chatterbox, Thoroughly Modern Millican, and then I did Homebird and now Outsider. So they're all about me.
I wanted to talk about some slightly meatier subjects, about feeling like you don't belong – which is a feeling that's commonplace, I think. We should all talk about that experience and that feeling because then we'd belong to this big group of people who don't belong.
But let's not dress it up as a heavy-duty show, because it's not at all. I also wanted to talk about moving to the country. It worked out well: if you use the word 'outsider', it can mean either I like being outside – which I never really did before; it was literally how to get from one building to another – or not belonging.
Do you think comedians are outsiders?
Yes. We're not misfits, but we're maybe a little bit odd, a little bit 'outsidery', often observing other people having fun rather than being in the middle of it.
When I wrote for Standard Issue magazine about being a wallflower, loads of my friends said, 'Oh, that was me at school!' There were one or two every year at school and now I know those people and they're my friends! It's nice how things work out – you find each other I guess.
You talk about getting to grips with nature. How's that working out?
It's all right. I've managed to get my first batch of sweet peas to flower. Normally sweet peas die on me. The smell of sweet peas is one of the best smells in the world. My Nana used to grow sweet peas and she'd cut them and give me a huge bunch, and the smell was always so pungent and amazing, so I'm very happy about that.
Because of the dog, even in the winter, you have to go out, or he'll poo on the rug. In the past, when I felt like a fly was crawling in my hair, I'd be screaming, but now I just squash it in my hair and carry on walking. I don't get as fazed by bugs in the house as I used to. Spiders are BIG in the countryside. I heard a beetle the other day…
Sorry, heard?
Yeah! Don't get wooden floors! Have a carpet. But I heard scuttling and thought, 'What the bugger is that?' I'm weirdly feminist on my own. When my husband's there I ask him to get it. But when he's not in, I sort it out. I'm totally capable of putting bins out – but I don't. Why have a dog and bark yourself?
I'll happily walk into a cobweb, because you end up doing it all the time. I've got grey hairs coming in so you can't tell with the cobweb. I'm less fazed by the 'ick' of nature. And I've become very accustomed to the smell of shit, whether it's been put on the garden to make it grow, or what I've just stood on, on a rug.
Do you have any superstitions or rituals you have to do before you go on stage?
I always check up my nose because if somebody's got a bogey hanging you can't concentrate on what they're saying.
I wee right up to the last minute and sometimes have multiple wees. So much so that my tour manager will tell me when it's 'wee time'. Not 'clearance' or 'the audience are all in and we're ready to go', but two minutes before that he'll come in and say, 'Wee time!'
Some people like to be full of wee because it keeps them on their toes, but all I'd do is talk about wee. All my jokes would start with, 'You know when you REALLY need a wee…' I like to be completely empty.
Because of IBS, I have occasionally farted on stage. And one time I was talking about farting in the show and I did a fart on stage and you think, 'God, I hope there's an orchestra pit…' If there's not an orchestra pit, the front row are close enough to not know what they're letting themselves in for. It's a whole different level of experience. All of their senses are going to be rocking that night.
You don't have special knickers or anything?
On a 185-date tour? How revolting would those knickers be by the end?!
I have only got three pairs of leggings; they're on rotation. They always get washed, obviously, but one has a hole in the crotch. You know like when the knees go… I mean, I don't have a very protruding… I don't know why that's happened. Is that why women shave all the hair off? Have I just coarsely worked my way through to the outside? It just wants some air!
What's the biggest life lesson you've learned from being a comic?
That laughing can fix anything. Okay, it can't *fix* anything, but it can temporarily fix things. And while I love to make people laugh, I also love to laugh and to watch comedy. Laughing is a massive release and relief. Whatever you're going through, if you've got a sitcom that you love or a favourite comic's DVD you can put on, you can just have an hour, hour and a half where you don't think about real life problems.
And yes, when you come back out, it's all still there, but maybe you feel able to handle things a bit better because you've had a bit of time out and you've let all these endorphins come out.
It's very good for you to laugh. I used to laugh really quietly, but I've grown in confidence and now even if I'm the only person laughing in the room, I don't give a shit. I can be howling and I don't care if other people aren't laughing, because it's so subjective. I don't wait for permission anymore; I just laugh.
• Sarah Millican: Outsider Live is available on DVD and digital download now. Click here to order from Zavvi for £10.
Published: 29 Nov 2016
What do you think?