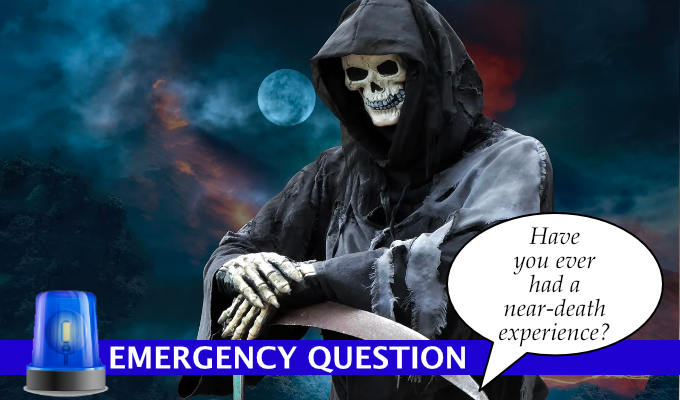 Emergency Questions: Have you ever had a near-death experience?
Every day until the end of the Fringe, we're asking one of Richard Herring's Emergency Questions from the RHLSTP podcast to comedians. Here's today's batch of insights... RHLSTP is also at the Assembly Rooms at 13:00 until August 14. Tickets.
---
We call those Thursdays in Africa Emo Majok whose show African Aussie is on at Underbelly at 8:30pm
I got caught in a rip tide in Australia a few years back. I can't actually swim. But luckily the rip tide was in 2ft of water, so after a 5 minute panic of trying to swim out of it, I stood up and walked away. Brennan Reece whose show Crowded is on at Pleasance Courtyard at 8:20pm
Yes. My appendix exploded once when I was young. I was given 12 hours to live. I was also once mobbed by lepers in Dar Es Salam. (True) Adam Meggido whose show Starship Improvise is on at Pleasance King Dome at 3:00pm
One time I ate so many hot dogs so quickly that I nearly choked to death. I became a vegetarian soon after and never looked back... Rebecca Kaplan whose show Arielle Dundas and Rebecca Kaplan: Parfait is on at Laughing Horse @ City Cafe at 12:05am
I was born three months premature, so I died twice as a baby... it was alright, actually. I'd recommend you all try it at least once. Tom Mayhew whose show Trash Rich is on at The Stand at 9:20pm
Yes. Absolutely. The entire run of Edinburgh 2017. I'd walk on stage at 4pm, by 4:10pm I'd lost any semblance of trust from the audience and then I spent the next 45 minutes of everyday on the precipice of death. A ROUGH TIME. Still, time heals all wounds, and I don't feel I'm exaggerating when I say I'm the greatest comic talent the world has ever produced. No, that's arrogant. Top 3. Will Duggan whose show Iceberg is on at Pleasance Courtyard at 3:25pm
Yes, I fell from a treehouse as a child and truly saw my short life flash before my eyes. But I went and revisited the tree as a teen and it was barely a 4ft foot drop. Marcia Belsky whose show Man & Woman is on at Assembly at 6:15pm
Yeah, a few which makes me think I should be more careful. Emmanuel Sonubi whose show Emancipated is on at Underbelly Bristo Square at 6:10pm
I got really drunk on a boat once and as I was stumbling down the dock to my friend's car, I almost walked directly into the anchor of another boat. I would've smashed my face, fallen into the water, and probably drowned while bleeding to death. My friend bearhugged me and got me out of the way. I'll never forget you, Philip. Mary Beth Barone whose show Silly Little Girl is on at Pleasance Courtyard at 8:30pm
Washed out to sea as a teenager. Don't have time to explain the details but I'm alive and it was more inconvenient than anything else. Sean McLoughlin whose show So Be It is on at Pleasance Courtyard at 7:55pm
On holiday with my family, I got the giggles in the back of the hire car, and laughed so much that I got twisted into the seatbelt and then the more I laughed, the tighter it got, until laughter turned to tears and then tears turned to a full blow panic attack. My dad eventually agreed to cut me out of it. It's fantastic that he let it get to panic attack stage before freeing me as he didn't want to have to pay the hire car company. Lily Phillips whose show Smut is on at Pleasance Courtyard at 7:25pm
Kathy's chest filled with pus about a year ago because of a freak tonsillitis complication. The shame of being nearly killed by a disease that is famously for children, with the only known cure being ice cream. Kathy Maniura & Derek Mitchell whose show Horseplay: Bareback is on at Underbelly at 10:30pm
In 2015, I ran a half-marathon. I did not drink or eat during the race and had only eaten a peach beforehand. It was very hot. I fainted multiple times and was sent straight to the medical tent when I arrived. I was very embarrassed and kept telling everyone I just needed a Lucozade and would be fine. My mum (who is technically a nurse but was still not allowed to be there) forced her way in and asked me to sit up straight 'I am sitting up straight' I thought, but I wasn't, and then my legs stopped working and I had to go to hospital. I was kept in hospital, hooked up to IV for five days, with everyone telling me that they'd discharge me as soon as my results improved (but they were just getting worse and worse). On my final day, after a lot of tests, a cardiologist I had never met, told me I hadn't had a heart attack so I could go home. I didn't even realise that's what they'd been testing for. Another time, the lock got stuck on my bathroom door and I thought I would be entombed there forever. Cerys Bradley whose show Sportsperson is on at Gilded Balloon at 4:40pm
I once had a gun pointed at me in Russia during a dispute over a suitcase. Milo Edwards whose show Voicemail is on at The Mash House at 4:35pm
Three years ago on stage at the Edinburgh Fringe. One of us came within a millisecond of accidentally drinking an entire glass of bleach. A doctor in the audience actually stormed the stage, and we cut the show short by 15mins. Griffin and Jones whose show Griffin and Jones: Idiot Magicians is on at The Voodoo Rooms at 6:15pm
I once got my heel caught and fell over in front of a bus while on a first date I had campaigned to go on via a focused six-month PR campaign with the man in question. There was a 'fight or flight' moment and, on balance, I decided to just lie there and accept death rather than face the mortification. My date ended up running onto the road and picking me up by my armpits like a toddler, hoisting me from doom at the last possible minute. I never heard the end of it. We did not go on a second date. Vix Leyton whose show Pedestrian is on at the Mash House at 2.40pm
I live in America and have American healthcare, so every day is a near-death experience. Dalia Malek whose show Another Castle is on at Just the Tonic at 3:15pm

I had to MC a gig to a thousand drunk soldiers who had just been ordered into the comedy show, twenty minutes before the conclusion of the football match they were enjoying. Garrett Millerick whose show Just Trying to Help is on at Monkey Barrel at 11:25pm
I chewed a pen that had been sprayed with a poison from a room that'd been fumigated. Spent 3 hours on the phone to NHS direct late at night, until they managed to reach a very pissed off internationally-renowned toxicologist. He told me I would be fine and could he go back to sleep. Christian Brighty whose show Christian Brighty: Playboy is on at Pleasance Courtyard at 9:40pm
Published: 6 Aug 2022
What do you think?