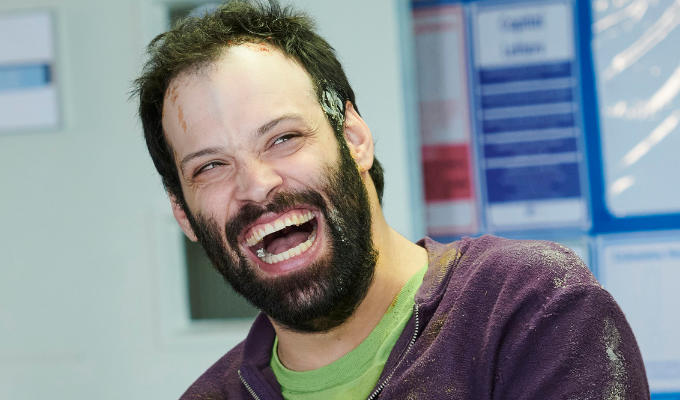 We've had disappointingly very few backlashes...
As Tim Renkow's semi-autobiographical sitcom returns to BBC iPlayer, Q&As with the core cast:
Tim Renkow
Star and series creator
What can you tell us about the new second series?
I've been told by people who know these types of things that 'it's insane'. I have no reason to doubt them. I felt the first season was to establish that a character like Tim can exist and this season was like: 'OK, we know he can exist now let's see what he can get himself into.'
Are there any changes to Tim's character this series?
No, he's just a stagnant mess, and I don't see that changing in the hear future.
Where did you draw your inspirations for Jerk?
From my endless travels through the universe as a cosmic wanderer. I search the stars looking for that elusive mistress – meaning.
Tell us more about your character…
I think of Tim as a good-will vampire. He doesn't destroy your life unless you invite him in but once you do he takes all your good intentions and uses them to make your life miserable. I guess I just wanted to create a disabled character that had flaws, because I hadn't seen that before.
Have you had any backlash to the show?
I've had disappointingly very few backlashes. I expected more but I haven't. That could change this season! My whole thing is that I actually think a lot about the foul shit I say before I say it. Yes we do push boundaries… but I don't say it unless I can defend why.
Have there been any highlights during filming the new series?
I love working with Sharon and Rob. They are both so talented. Don't tell them I said that though. I don't want them getting big heads. The crew were amazing. At the risk of sounding sappy, it was an honour to work with all of them.
Do you think that representation of disability on television is improving?
It is getting better. However, there is still so much to be done. We are still not at a point where there can be a disabled person on screen without their disability being mentioned. Once that happens, we will be on the right path.
What do you hope audiences can take away from watching Jerk and why should they tune in for this new series?
Laughs. I am a comedian so giving people a good laugh is what I live for. For me, it's above all the most important thing.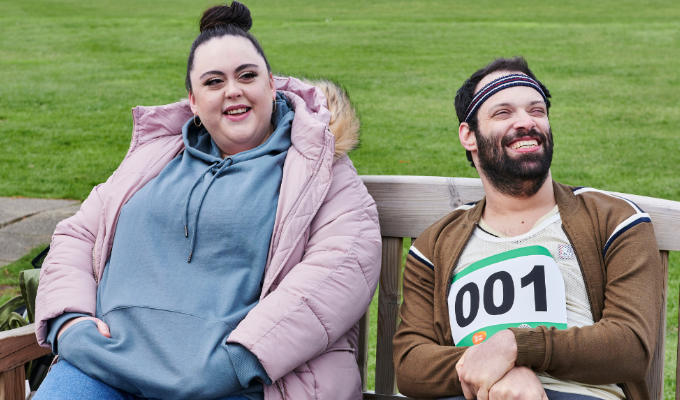 Sharon Rooney as Ruth
Tell us about your character
Ruth is Tim's 'carer' and I say 'carer' because she's not great at the caring part but excellent at the friendship part. She's very loyal to Tim and she's the ONLY one that's allowed to wind him up or tease him. They have a great bond and ultimately she cares for him but just not in a very conventional way.
What is it like to work alongside Tim and the rest of the cast?
I clicked with Tim instantly back at the auditions, we just got on right away and there was a complete trust there which I think makes the job so special. There's a lot of fantastic people in this series that came to join us and we had a lot of fun!
How would you describe Jerk to someone who has never seen the show before?
It's a comedy that I'm pretty sure is unlike any you've seen before. It follows Tim, who not only has cerebral palsy but is also American, on his many adventures. His carer Ruth is a foul-mouthed Scottish scowling champion and his 'friend' Idris is really super annoying but also very funny. His mum Skypes from the States and she's pretty terrifyingly brilliant. His main arch nemesis is called Kiefer who makes up for his lack of voice with his harsh insults. It's a wild ride but it's full of outrageous banter, awkward moments and a loy of laughs!
What drew you to the show?
It sounds simple but it really made me laugh and I loved how different Ruth was to anyone I'd ever played. When I saw the brief said 'Ruth is Tim's carer' I thought: 'Oh yeah, this will be a lovely part!' and then read the script and realised she was the opposite of a traditional carer, I knew it was someone I wanted to have a shot at playing and I was thrilled to get the chance.
Do you think you share any character traits with Ruth?
The eye-rolls, mostly, and worryingly the fashion sense and the high buns! I like to think I'm a bit more naturally caring than she is but deep down, she looks out for her friends and cares about them. I think I just show it more. I don't think I'm as brutally honest as she is and I would love to think I'm not as lazy as she is but I have been known to play computer games for hours!.
Do you have any particular favourite moments or scenes from the series so far?
We spend a lot of time laughing so it's hard to pick just one. They say on a comedy the more fun you have on set, the less funny it is - but that wasn't true in this case. In the first series, I loved the ending because it was the first time you got to see a different side of Ruth and you get to see how much she truly cares for Tim.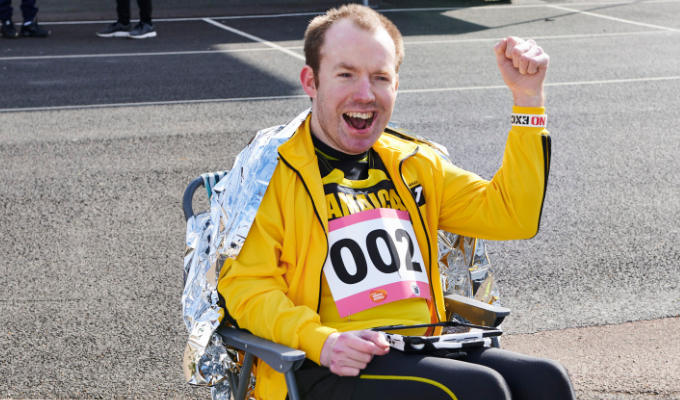 This series, Kiefer who's played by the brilliant Lee Ridley (right had me laughing a lot, And there's also a moment with Rob that I can't mention but when I say you'll know it when you see it, you'll know it.
What do you hope viewers will take away from the new series?
I hope they laugh and enjoy it. That's all I'd want. And to see that you can all be completely different but have great friendships. It's a bit shocking, it's a big wild but it's a big bit funny. We've all worked really hard and I truly hope people enjoy it as much as we did making it.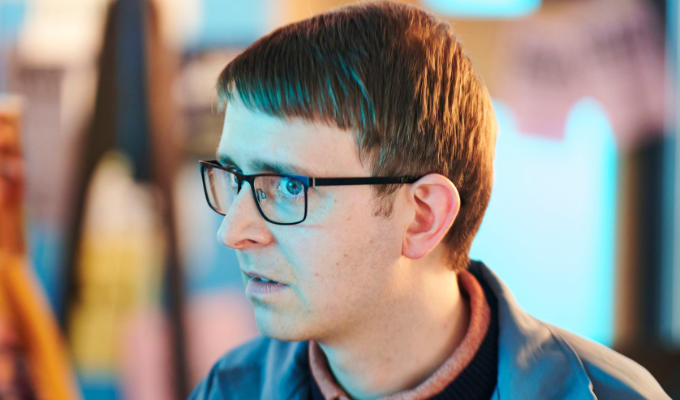 Rob Madin as Idris
Tell us about your character.
He's a well-intentioned, but ultimately quite irritating friend of Tim's. In the first series, he worked at the Job Centre, where he tried (and failed) to find Tim a suitable career. Despite having lost his job, he's still hanging around like a bad (but, again, kind-hearted) smell.
What drew you to being part of the show?
The script made me laugh. And Tim and Sharon are both great. It's fun being back with such a nice cast and crew – especially after 12 months of working from home. We've missed Lorraine [Bracco, who plays Tim's Mum] this time around, but her video-call scenes very much make up for her physical absence on set – they're very funny.
How would you describe Jerk to a new viewer?
It's a show about a guy who has cerebral palsy, but it's not a show about cerebral palsy. It's Tim getting himself into various ridiculous situations and winding people up – like a sort of impish, more devious Larry David.
Do you share any character traits with Idris?
No, I'm a hell of a lot cooler than Idris in real life – as I just illustrated by my use of the words 'hell' and 'cool'.
Do you have any particular favourite moments or scenes from the series so far?
There's a fairly trippy dream sequence in one of the episodes, which Idris features heavily in. That was a highlight. To be honest, I think Tim just added it in to try and make up for the more humiliating scenes they made me endure this series.
What do you hope viewers will take away from the new series and why should they watch Jerk?
I think the take-home message is that just because somebody has a disability, it doesn't mean they can't still be a dick. And Tim is a real dick. We were filming quite a few scene with small children and we were told we weren't allowed to swear. But every time a seven-year-old was in the vicinity, Tim would unleash a torrent of awful words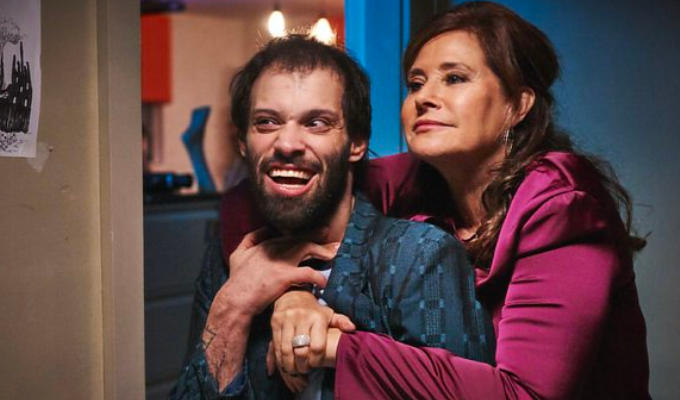 Lorraine Bracco as Tim's Mum
Tell us about your character.
She's a tough but adoring mother to her son - she can be brash and crude, but she's full of love & concern for Tim.
What drew you to being a part of the show?
I was blown away by Tim's talent and humour and drive, and I also hadn't seen anything like it before.
How would you describe Jerk to new viewers?
Like any ambitious person, Tim will use whatever it takes to get what he needs.
What is it like to play Tim Renkow's mother on the show?
An absolute joy and incredible fun.
Has been there a particular highlight of filming Jerk over the two series that you can recall?
When I finally came to England to shoot scenes in person. It was great fun finally meeting everyone and getting to play.
How has it been to film the new series during the current global pandemic?
Truth is, most of my work had been via Zoom to start with so there isn't a significant difference. But it would've been nice to be able to come back to the UK to shoot more scenes with Tim & Co.
What do you hope viewers will take away from the new series and why should they watch Jerk?
Have a laugh - we all need it.
• All four episodes of Jerk series two drop on BBC Three iPlayer on August 1, with the first two episodes airing on BBC One from 10.35pm the next day.
Published: 27 Jul 2021
What do you think?