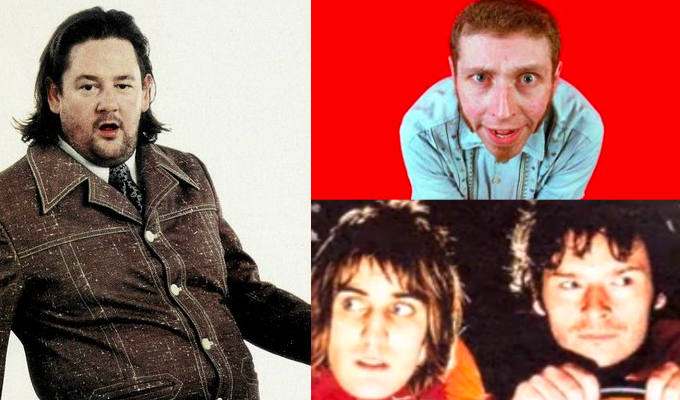 Welcome to the Edinburgh Fringe Time Machine...
BY CHORTLE EDITOR STEVE BENNETT
I've been covering the Edinburgh Fringe for 20 years for Chortle, seeing nigh on 2,500 shows in that time - not to mention those before that, seen purely as a punter.
With no festival this year, Chortle will instead be runnign a look back at some of my reviews from past two decades, both spotting future stars - and entirely missing some others. We''ll start today in 2000, at the very beginning of Chortle, when the big prize, the Perrier, was scooped by Rich Hall in character as country singer Otis Lee Crenshaw.
Among the stand-ups I caught this year was Micky Flanagan, part of a Big Value line-up of four comics, including future radio DJ Greg Burns, though he was only mentioned in passing. 'Cockney funnyman' was the extent of his write-up. Here are some more detailed reviews, though all a lot shorter than I would write in later years...
Come back tomorrow for some highlights from 2001.
---
This is, quite simply, a stunning show.
In a drunken moment, comedian Dave Gorman decided that he should meet his namesake, the assistant manager of East Fife football club.
From there, the idea snowballed and now he's on a quest to find as many Dave Gormans across the globe as he can.
As a sad obsession, this has something going for it. As the premise of a full-length Edinburgh show, the idea seems somewhat less sound.
So it's a tribute to Dave's skill that the sell-out audience become so emotionally involved in what should, by rights, be a bit of pathetic personal trainspotting.
Why anyone should care how far he has to travel to meet each fellow Dave Gorman is a mystery. Yet everyone cheers and boos the pointless statistics and wishes they, too, could help in this important mission.
There couldn't have been one person in the room who didn't take the sworn pledge to join the search with the heartfelt sincerity it deserved.
How did we become so involved? Magic. Gorman casts a spell over the audience with his charm, wit and contagious enthusiasm for the project.
But above all, this is a very funny routine with laughs coming thick and fast, and from unexpected directions.
This is a perfect show from a consummate stand-up. Unmissable.

---
Garth Marenghi's Fright Night (with Matt Holness, Richard Ayoade and Alice Lowe)
Dare you descend into the chilling netherworld of Garth Marenghi?
This demonic master of the horror novel threatens a maxi-terror journey through the darkest reaches of the soul.
The devilish Marenghi will surely play merry hell with your emotions. With the emphasis firmly on merry.
For this is a splendidly over-the-top spoof gorefest, getting plenty of laughs from hammy overacting, ridiculous plots and laboriously melodramatic lines.
Relentlessly piss-taking, but never cynical, it's a thoroughly enjoyable slice of inspired silliness.
Many of the laughs are as cheap as the props, but there's a keen observation behind every gag ­ with guffaws of laughter from the slightest change of facial expression or fractionally mistimed cue.
Do yourself a favour and get yourself a ticket to watch this Grin Reaper at work. You'll die laughing

Their follow-up, Garth Marenghi's Netherhead, went on to win the Perrier the following year.
---
The Johnny Vegas Gameshow
A seriously unbalanced alcoholic comedian forever denied a shot at the big time turns to the game show in one last, desperate attempt to break the relentless cycle of misery.
Is it an act, or is it his life?
Vegas milks the self-pity throughout this relatively extravagant show ­ but it's more than luck that it happens to be a very funny experience, too.
Mercilessly attacking his audience, both collectively and individually, the sweatiest man in showbusiness unashamedly announces that this ridiculous quiz will appeal to the basest of instincts ­ greed.
Setting one half of the 'room' (it's actually a big top) against the other, Vegas aims to create a cesspit of hatred in which his barbed comedy will shine. And it does.
Although the audience on this night were not particularly vociferous, Vegas's spontaneous, savage wit, tinged with overplayed pathos, created a uniquely entertaining evening out.
This gem of a show is overlong ­ which will come as no surprise to anyone who has seen this comedian before ­ but nothing a deserved transfer to the tighter medium of TV wouldn't fix.
But then what will become of Johnny's act if he ever does achieve success...?

---
Autoboosh
Much-hyped Boosh boys Julian Barratt and Noel Fielding are criminally wasting their undeniable comedy talent in these bizarre, freewheeling shenanigans.
Their charismatic double act already has a substantial cult following, and the appreciative audience seems happy to lap up whatever their heroes serve up.
But really the pair are all too willing to fall back on surreal nonsense rather than attempt any genuine humour - a crying shame as there are moments of pure comedy genius here, almost all in the tighter first half, that give a glimpse into what brilliance these two could achieve.
For Autoboosh, loosely set around a weekend country break, the dynamic duo have created a dark world of menacing Parker-wearing weirdos, mysterious Cockney villains and Crimefighters with unfeasibly long legs.
Yet it is during the simple preamble when the pair are at their funniest. Out of character and without the aid of props or special effects, Barratt and Fielding have the double-act banter down to a T.
For an act so hotly tipped for Perrier greatness, this flabby show comes as a huge disappointment.

Hands up!, I got that one wrong... the charms of the Boosh took a while to grow on me, and they went on to create one of the most inventive comedy shows of the century so far. Surely no one would have foreseen Fielding hosting a baking show, though...
---
Mr Bagshaw
Ridiculously dressed in tracksuit and tie, huge tinted glasses and trousers tucked into his socks, Mackenzie Crook's latest creation has the definite look of an overexaggerated one-gag character unable to sustain an entire show.
Yet the teacher from hell turns out to be a thoroughly entertaining act, pushing all the buttons of schoolday nostalgia yet frequently bringing an unexpected freshness to the subject.
The observations are spot-on, using every long-forgotten cliché in the teacher's phrasebook, but Crook never labours the point.
Subtle gags, some barely perceptible, are dropped among the more obvious targets throughout this entertaining lesson as the inadequate Mr Bagshaw struggles with sex education, field trips and extracurricular activities.
There's also fantastic interaction with the audience, generating a lively atmosphere. Exercise books and insults are hurled at the 'class', a sporadic volley of paper planes and screwed-up paper is the response.
Mr Bagshaw is such a believable comic creation, you wonder why school was never this much fun at the time. Crook should go straight to the top of the comedy class with this one.

---
All the reviews from 2000 are here.
Published: 7 Aug 2020
What do you think?