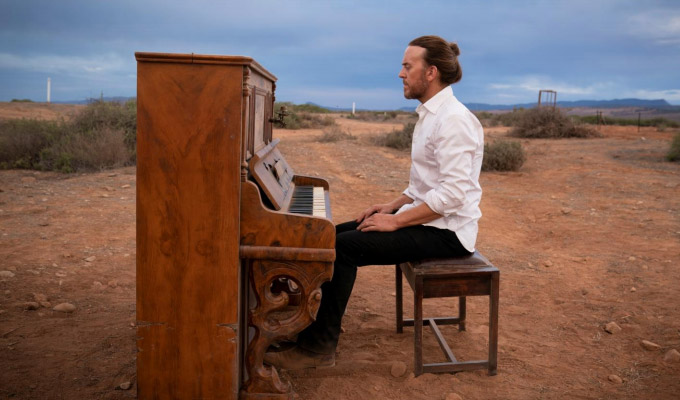 The piano is a cross he's bearing for his sins...
After a bruising experience in Hollywood, where the animated Dreamworks movie Larrikin that he spent years working on was unceremoniously axed before completion, Tim Minchin now co-writes and stars in Sky Atlantic road-trip comedy-drama Upright. He playing a family outcast called Lucky Flynn who decides to drive across Australia, packing nothing but an upright piano. Then he meets the runaway teenager Meg, who's dealing with some demons of her own. Here Minchin talks about the origin of the series, the ambitious storytelling and how he got drawn into the production...
---
It was an idea about a guy who has to get a piano from Sydney to Perth and who has a run-in at some point with this sweary belligerent superhero of a kid.
They [creator Chris Taylor and the producers] came to me and said: 'Would I be interested in acting in it?' I said: 'Yes… but I'm very interested in the idea and I would like to be involved in the creation of it as well.'
Everyone we went to knew immediately that it was a good idea. Everyone I told the story to would tear up. You don't really have to explain why it's a nice idea.
It's been incredible for me because I've been able to take some of the skills I've picked up from working on a film in LA, and from directing and chipping away at a script about the Australian outback as well.
I then just kept falling deeper and deeper down the hole of Upright until it became the only thing I was working on. I said to myself that I'd never put all my eggs in one basket again after various Hollywood horror stories and then I just came back and put them all in one basket! So here I am.
I think the premise is immediately engaging. The idea of a musical instrument, something that is meant to be sacred, is meant to be treated with care.
The idea that really, it's a cross he's bearing for his sins across a desert, it's epic. It became clear to everyone I told the story to that it had a combination of heart and comedy, but that is rare.
To find a story that allows you to have a chase by bikers and music, drunk-dancing adults in sand dunes, really funny sitcom dialogue and then huge sweeping desert shots and people almost dying, and this slow reveal of our two protagonists' back stories. The slow dropping away of their masks and armour.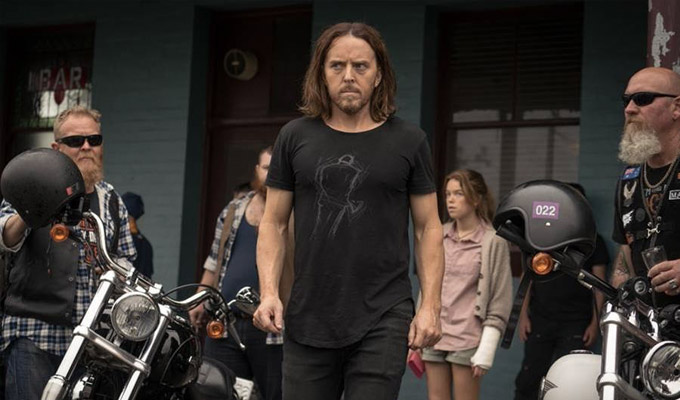 And as they reveal their damage to the audience, they reveal it to each other and accidentally learn that they need each other and love each other. That sounds classic - that's what all stories are made of – but they're actually harder to come by than you think.
The other thing is, it's a mystery that unfolds. You don't actually know the history of these people, or their motives fully, until the big episode where it all comes together.
My premise is: 'If you're not going to try to make people laugh and cry, why bother?' We've gone for more than that because we've gone for action, violence and car crashes.
Actually, the most ambitious thing about Upright is we've said to an audience: 'You know Walt Disney would say, you tell the audience within the first five minutes who your protagonist is and what they want, and how they're going to get it, is the story. And their achievement of that goal is the end.'
And we have said to the audience: 'You don't know who she is, and you don't quite know who he is, and you don't know what's driving them, but you want to be with them right? You want to find out.'
Then we just slowly let the audience discover them, because that's more of what life is.
In the writing of it, especially with my character of Lucky, I drew heavily from my life in terms of a sort of beachside middle-class upbringing. It's not a story of someone who's had a terrible life, it's a story of someone who was fine but mucked up and can't get over where he went wrong.
Lucky's a musician; he's a pianist, and he has in his possession an instrument that has been in his family since his grandmother migrated to Australia after the Second World War. We don't know why he left home, but we learn pretty quickly that something was not good about how he left Perth. He took the piano with him and he's decided now that because his mum is sick that he has to go home after right years of being in the wilderness of Sydney.
Meg describes him as someone who is both old and worn like an old car but also like someone who's never started. He's like someone who's been put on pause and he's now 40.
We understand early on, even though we don't understand what his issue is, that he has got to fix something so he can move forward.
He's also a bit of a goose. He makes really bad choices a lot of the time. He's so focused on this thing he doesn't want to do. He has to go home to see his mum before she dies, and for whatever mad reason he has to take this piano with him. He's so focused on that, that he keeps making terrible decisions.
This little furious kid becomes his only hope, she gets him on a leash immediately.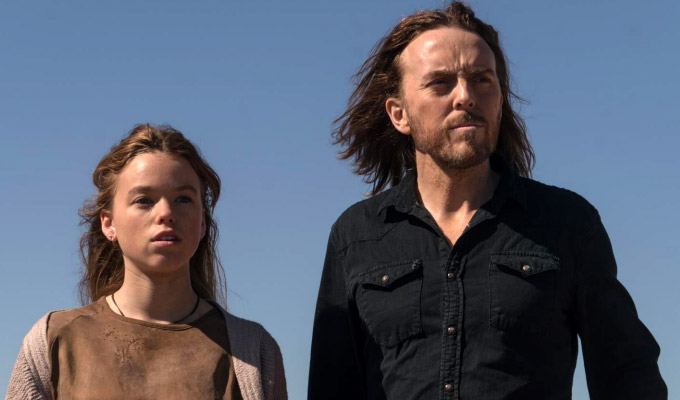 It's very much a story of this odd couple, these two people that shouldn't get along, and don't, but have to.
She's a teenage girl, he's a grumpy middle-aged man. He finds her infuriating but someone says 'What's her deal?', and all he can say is 'She is f-ing funny.'
From the beginning of episode two we have two narratives, and one is told through flashbacks about Lucky's past, which is 14 years ago.
The primary story is the journey of Meg and Lucky trying to get across the desert: they run out of fuel and they have accidents and have to find criminal solutions to problems.
In the meantime, through flashbacks we're telling this story of what happened to Lucky, what went on that has put him in this situation. Through these flashbacks we learn that he was very close to his brother. So apart from Meg and Lucky, the next group of characters you get to know the best, are his family.
Then we have our episode-by-episode cameos, a bunch of bikers, cops and bogans who steal shit, a massive group of Perth middle-class campers who set up an oasis in the desert that becomes the backdrop of a moment where things start going wrong.
It's a huge story and a tiny story. And it's a rollicking adventure but also just about two people trying to find each other. It's a physical journey but it's a journey of atonement and self-forgiveness.
One thing we knew about Upright is that we had to find an extraordinary Meg because she's really the main character, certainly in terms of presence and dialogue. Milly [Alcock]'s only just really got going in the last couple of years because she's still very young. Everything she's done, you're like, 'Wow, that, that kid's got a head for the camera. She can do it.'
We cast her knowing she was right. But in the end, this asks a huge amount of her. She has to be funny and gutsy and sad and broken and belligerent and resilient and vulnerable.
[Milly's] intuition of who Meg is and what she needs, and how she goes about getting it, is profound. A lot of people can't see it on the page, they need the writers or the director to sort of explain the journey, Milly just understood it. She knew who she was, and I just love her. I'm a bit worried about what I'm going to do without her.
What is so important about shooting a story like this is when you add everyone up: the 75 cast members and the 50 odd crew, it's a big group of people, you create a community. Being out of the city, so no one's at home. No one's going home to their families. No one is sleeping in their bed.
It's a school camp vibe, and it's a very, very positive way to make art. Again, it's like a writers' room, you're in too close proximity but out of that comes this level of communication and of shared ambition and a shared goal. You're all there when the weather rolls in, and you're all there when it's 37C and you're all there when the water pumps aren't working and you're all staying in Woomera. It's that shared experience and out of that comes better art, I think. Or massive disaster. One of those.
I've just moved back to Australia this year, having lived overseas for 12 years, and it's hard to compare the beauty of Australia to the beauty of North America or the beauty of the rolling hills of England or Switzerland or Paris or Hungary and all these places I've worked. But there's something about it that's just… it's just ours, you know?
It's a type of beauty that's hard to explain because it's the beauty of the oldest country in the world.
I've been on so many road trips. The big one is probably when my mum and dad, when we were 11, 9, 6 and 6 months old, decided to put us all in a yellow Mitsubishi van, and the camper van had just a fold out trailer tent. We did a month across Australia. Unbelievably insane. Mum and dad in the bottom bunk, three kids across the top and Nelly in the fold-out cot.
It was just brilliant, and I'm going to replicate that with my kids next year. I hope. Haven't told them that yet. It's a surprise.
As an adult, the best road trip was after Sarah and I got married in 2002. At the time I was in the middle of a play so we didn't really get a honeymoon. After we got married, we packed up our lives and moved to Melbourne, and that was when we left Perth and we never went back. The way we left Perth was in a third-hand Holden Commodore station wagon with our old futon bed from when I was 18. I just hacked bits out of it so they fit around the wheel hubs in the back and we just drove.
We took three weeks or something and probably one of the best nights of my life was just pulling off the air highway off the Nullarbor plane down one of these tracks to the Great Australian Bight, sort of where we've set a whole episode of Upright and just parking the car and having dinner.
We didn't really have enough light or anything and we'd driven hours and hours that day and we just pulled the stuff out and we just ate and went to bed. And then woke up at 4am. We watched the sun go down in the West over the cliffs and then woke up the next morning and watched it come up over the cliffs. And you just go: Why, why am I doing anything else but this?" You know? It's really good.
---
• Upright starts at 10pm on Sky Atlantic and Now TV from Thursday November 28; and in Australia from December 1 on Foxtel. Taken from an interview supplied by Sky press office.
Published: 10 Nov 2019
What do you think?