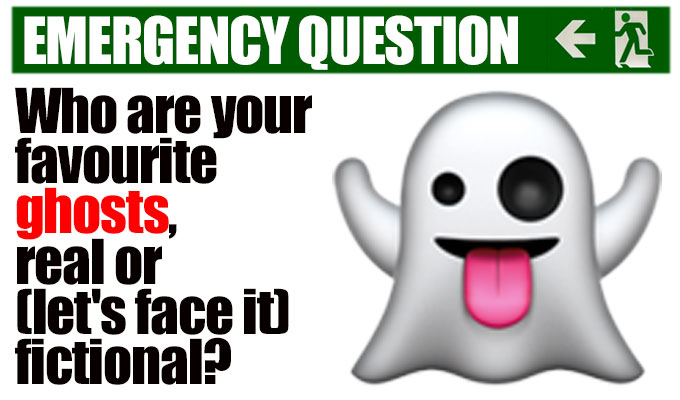 Who are your favourite ghosts, real or (let's face it) fictional?
Marley and Marley from The Muppets' Christmas Carol. My least favourite is the narrator woman from Desperate Housewives who always seemed unjustifiably pleased with herself. Tom Little - Chronically Underachieving Loser And Wasteman, Opium, 16:05
Favourite one I don't know but my least favourite is definitely Casper. What could be more creepy than a ghost that wants to be your mate? Dave Green: Guest Bed, Just The Tonic, 19:55
The Holy Ghost - while the Father and the Son make the headlines, it's very much the Cinderella of the Christian theological ball. But if for some neurological flaw like we have and you buy into it all, it's a friend for life! Jack Moon: We Cannot Get Out, Pleasance Courtyard, 21:30
Fruma Sarah in Fiddler on the Roof. You can be 100 per cent sure that I'll be back and wanting to make a big drama out of everything. Rachel Creeger, Hinayni!, Underbelly, 12:10
I'm really into ghosts right now. I like the ghost on Bluebell Hill in Kent who flags down cars, gets in and then disappears. What a rascal! Apparently she's caused loads of taxi drivers no end of confusion, the little minx! Maddie Campion, Truly Maddie Deeply, Gilded Balloon, 14:00
My grandfather. He was a real prick when he was alive. One day, a few months after he died, my mother called me laughing, saying, 'I just got off the phone with the woman who bought your grandfather's house. Apparently, every time she cleans the house, she feels cold and hears a voice behind her saying: You're doing it wrong.' Imagine spending the afterlife being so petty. Sofie Hagen: The Bumswing, Pleasance Dome, 19:00
The Ghost of Christmas Future. I love the idea of a ghost that scares the shit out of rich old men who are out of touch with the world showing them their actions are meaningless but harmful. Simon Caine, Every Room Becomes a Panic Room When You Over, Sweet Venues, 20:35
The ghost of Christmas Present! He turns up with a ton of food and wine then lets you get dirt on your friends Richard Stott: Right Hand Man, Gilded Balloon, 12:45
"There's a scene in the film Ghost where Whoopi Goldberg's character has just realised she actually can speak to the dead, and they are queuing up to get sometime with her. One ghost has jumped inside her body and is talking to his wife, leading to the following encounter:Ghost: Damn, girl! What you do to your air?' Wife: 'Orlando! Do you like it? It's Autumn Sunrise!'
Classic Ghost Bantz!" Philip Simon, Who's the Daddy Pig?, Banshee Labrynth, 12:00
Fictional: Patrick Swayze. Real: Patrick Swayze. Tom Clarkson & Owen Visser, MR. THING, Pleasance Dome, 22:20
Published: 31 Jul 2019
What do you think?