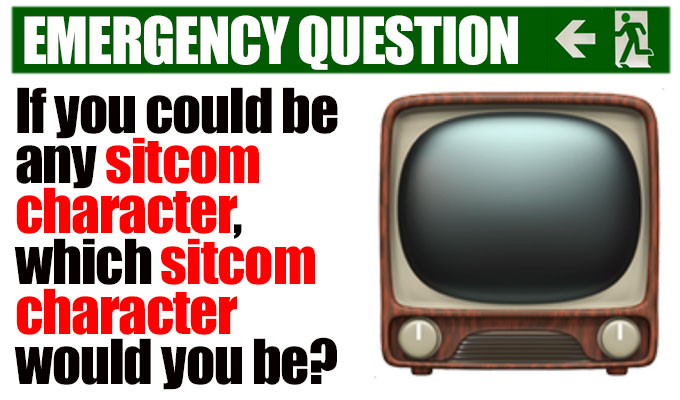 If you could be any sitcom character, which sitcom character would you be?
Alf. Anyone who answers otherwise is wrong. Bart Freebairn, Maximum Delicious, Just the Tonic, 15:45
Sam from BBC Two sitcom Popatron, because I played Sam from BBC2 sitcom Popatron. I've genuinely just had to Google what my character's name was because it was so long ago. Ian Smith: Half-Life, Underbelly, 17:15
Chandler. Could he BE any more funny/mildly homophobic?! Tom Ballard – Enough, Monkey Barrel, 21:00
Eddie from Frasier. Jim Campbell, Beef, Just the Tonic, 17:20
Either Barney Stinson (HIMYM) or Jake Peralta (Nine Nine). Both have way more self confidence than I do and both steal the show regardless of plot line. Simon Caine, Every Room Becomes a Panic Room When You Over, Sweet Venues, 20:35
Frank Reynolds From Always Sunny In Philadelphia. He's an absolute monster that has an untold amount of money, which is never really explained - and sometimes feels the need to stick himself into a sofa naked. Hero. Archie Maddocks, Big Dick Energy, Mash House, 16:50
I would be 'Rob' in my soon to be pitched sitcom 'Rob', where I play a devious and jealous comedian. Rob Oldham: Worm's Resolve, Counting House, 21:00
It's a tie between Mrs Mainwaring, Niles' wife Maris, and Carlton The Doorman from Rhoda. Scottish Falsetto Sock Puppet Theatre: Roll Up!, Gilded Balloon, 21:30
Liz Lemon, 30 Rock, Caitlin Cook: Death Wish, Just the Tonic, 17:50
Marcel, the monkey in Friends. He got to live with Ross, hang out with all of his friends in New York City and then he became a movie star. He totally SMASHED it. Lucy Farrett: Lois, Underbelly, 17:00
Onslow from Keeping up Appearances. I love an acting job where you get to slob around, wearing comfy clothing, barely moving whilst everyone else runs around doing their scenes. Bliss!, Philip Simon, Who's the Daddy Pig?, Banshee Labrynth, 12:00
Probably Frasier. He has a high quality of life and I'm like him cos I'm pompous. Shivani Thussu, Prefer Not To Say, Monkey Barrel, 13:20
The part of Denise, Frasier's British adopted daughter in the Frasier fan fiction I used to write when I was 14. London Hughes, To Catch A D*ck, Pleasance Courtyard, 21:15
Tobias Fünke from Arrested Development. What life that would be to live! Andrew White: Retirement Tour, The Mash House, 13:05
Ugly Naked Guy. Sofie Hagen: The Bumswing, Pleasance Dome, 19:00
Published: 30 Jul 2019
What do you think?