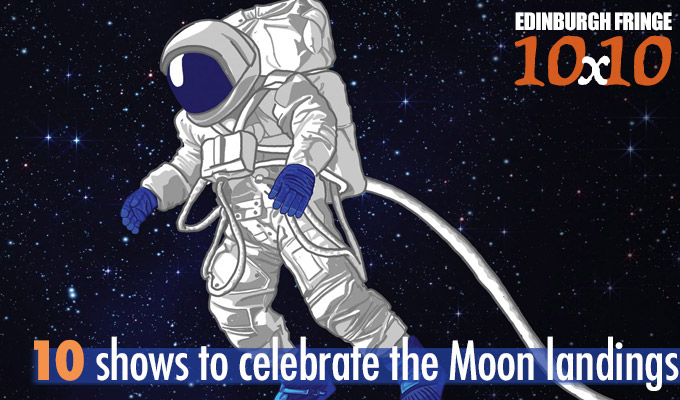 Edinburgh Fringe 10x10: Ten shows to celebrate the Moon landings
As we prepare to mark 50 years since the Apollo 11 Moon landings, here are ten Edinburgh Fringe shows linked to space and astronomy – however tenuously.
Moon
Well obviously! Though Jack Chisnall and Joshua Dolphin have very little to do with the Earth's satellite beyond their name, they have got all the ingredients to be cult comedy heroes, and this year's show – We Cannot Get Out– is directed by the artistically ambitious Jordan Brooks. So probably worth a look…
Pleasance Courtyard, 21:30
Isa Bonachera: The Great Emptiness
The Spanish comedian has been obsessed with space all her life, and has spent 20 years pursuing her childhood dream of becoming an astronaut. The extreme lengths she went to included building her own Mars Rover and starting a PhD in the same office where British astronaut Michael Foale got his. But it's probably not a spoiler that her ambitions didn't work out. Using a planetarium projector, Bonachera will take audiences on a guided tour of the cosmos – and her broken dreams.
Gilded Balloon at Old Tolbooth Market, 16:45
She has also released this teaser of the first few minutes:
Sam Nicorseti: UFO
Sam Nicoresti says that in 1998 he was abducted by aliens. Now he's ready to reveal the 'truth' in his debut show about space, alienation and dimensional string theory.
Heroes@The SpiegelYurt, 23:40
Lucy Beaumont: Space Mam
UFOs also feature in Beaumont's return to the stage after five years, after taking a hiatus to be a mother. But the show also includes off-beat stories of rearing a child, gender roles, and the North/South divide from a familiar face from telly.
Pleasance Courtyard, 16:45
Harry & Chris: This One's For The Aliens
The premise of the fourth show from Harry Baker and Chris Read is that this comedy-rap-jazz duo have set up their own PR agency to take on the mammoth challenge of selling Planet Earth to the rest of the universe. Reaching out to the extra-terrestrials, they want to unite people from all walks of life and take down the political and cultural borders that alienate and divide. After all, aren't we're all aliens in one way or another… (that's quite enough cheese, thanks)
Udderbelly Cowgate, 18:40
Jack Barry: Alien
This title's probably meant to mean 'outsider' too, come to think of it. But it's good enough for us to include here…
Banshee Labyrinth, 20:55
Rob Kemp: Moonraker 2: Moonraker
Again the links with space exploration may be tangential at best, given that the Elvis Dead creator is promising 'stuff on Belgian surrealist René Magritte and a song full of penis synonyms about the Icelandic Phallological Society' in his new stand-up show.
Monkey Barrel 2, 14:40
Olaf Falafel: It's One Giant Leek for Mankind
Self-described as Sweden's eighth funniest comedian, this surrealist comic is also a children's author, with his latest book It's One Giant Leek For Mankind inspired by the 1969 moon landing. Albeit with a lot more farting baboons that what Nasa would have you believe. This children's show is based on that.
Laughing Horse @ The Pear Tree, 11:05, August 2-11 only
Falafel also has an adult – and we use that word in a very loose sense – show entitled Knitting With Maracas in the same room at 14:50 for the duration of the festival.
Laurie Black: Space Cadette
Synth-wielding alternative cabaret performer Laurie Black's first narrative solo show is a journey through space and time, to escape the Earth and become the first woman to set her stiletto heel on the moon.
PBH's Free Fringe @ Voodoo Rooms, 22:10
Here's a trailer:
Police Cops In Space
The overdramatic comedy trio, comprising Tom Roe, Nathan Parkinson and Zachary Hunt, parody sci-fi action flicks in their typically high-energy and unashamedly over-the-top narrative show, which returns to Edinburgh after being named outstanding Fringe show in last year's Amused Moose Comedy Awards.
Assembly George Square, 22:40
Published: 9 Jul 2019
What do you think?