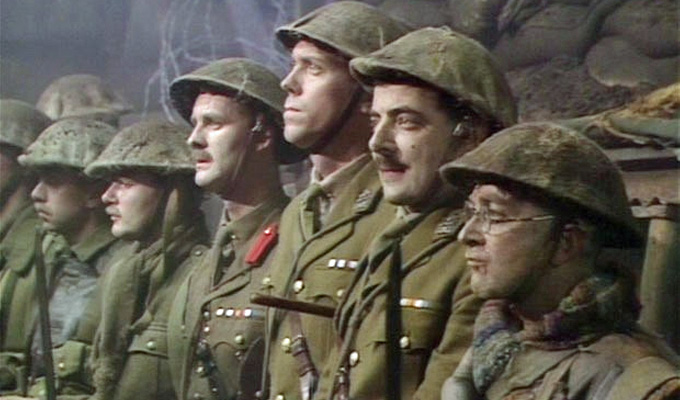 You can't make jokes about that....
American Civil War
Death toll: 600,000
The Secret Diary of Desmond Pfeiffer (1998)
The story revolved around a black servant named Desmond Pfeiffer who, in a convoluted set-up, was kidnapped from England, forced into slavery from which he was freed, before accidentally ending up working for Abraham Lincoln. The premise attracted protests and demonstrations complaining of its light-hearted treatment of slavery, which caused broadcaster UPN to drop the pilot episode. Even the opening credits said of the Civil War 'Who would have thought there was a comedy in all that? Well we did?' The American public, however, didn't – and the show, full of bawdy innuendo, was pulled after just four episodes.
First World War
Death toll: 16million
Blackadder Goes Forth (1989)
One of Britain's best-loved sitcoms of all time was set in the Trenches on the Western Front, its target usually misguided Allied leadership via the buffoonish figure of Stephen Fry's General Melchett. Renowned for its poignant final scene as Blackadder and his men finally go 'over the top', i has been largely hailed as a classic comedy since the day it aired, and for respecting the memory of those who fought in the trenches. However Michael Gove disliked its portrayal of the Army as lions led by donkeys.
Chickens (2011-2013)
Sky 1 sitcom that started as a Channel 4 pilot about three young men (Simon Bird, Joe Thomas, Jonny Sweet) who avoid combat to stay home in England: One a conscientious objector, one denied service on medical grounds, and one genuine coward. Essentially an historical flat-share comedy, as one critic said, it avoided any contention about its backdrop.
The Spanish Civil War
Death toll: 750,000
Plaza de España (2011)
Spain's LA1 channel set a sitcom in one of its country's darkest chapters, with a comedy set in the fictional town of Peñaseca, whose residents were forced to choose a side in the civil war. One actor said they wanted to depict a 'less bloody and more fun' side of the conflict. But viewers did not take to it, and the show lasted just one season.
Second World War
Death toll: 60 million
Dad's Army (1968-1977)
Another of Britain's favourite comedies, with 80 episodes attracting 18million viewers at its peak – and reruns are still a ratings-winner for BBC Two. No wonder it is now being remade as a film. The series was set in the Home Guard, the 1.5million local volunteers otherwise ineligible for military service who were meant to be a secondary line of defence in case of invasion. Targets were the pomposity of Cpt Mainwaring; his middle-class hangs-ups, and the incompetence of the platoon. There was never much controversy over the subject matter, thanks to a long heritage of military comedies such as The Army Game which proceeded it. The original title sequence showed real news footage of refugees, but the BBC decided that was inappropriate and replaced it with the familiar advancing arrows animation.
It Ain't Half Hot Mum (1974-1981)
Another comedy from Dad's Army creators Jimmy Perry and David Croft, its 56 episodes charted the the adventures of a Royal Artillery Concert Party in India and Burma during the last days of the Second World War. The show has been controversial not for its historical setting, but for having white actor Michael Bates play Indian bearer Rangi Ram.
Hogan's Heroes (1965-1971)
Set in a German PoW camp, this US sitcom ran for 168 episodes, although fewer than half aired in the UK. It largely depicted internment as a holiday camp, overseen by the cowardly Colonel Klink. Criticism that it trivialised the atrocities of Nazi prison camps clearly did not keep it off screens, But a 2002 poll named it the fifth worst TV show of all time.
Allo Allo (1982-1992)
Set among the Resistance in the fictional town of Nouvion, Allo Allo also played the war for broad, farcical laughs, with comically dumb Nazis, bungling French cafe owners and posh Brits with a poor grasp of language. The aim was to parody dramas, such as BBC One's Secret Army, rather than the war itself.
Goodnight Sweetheart (1993-1999)
Nicholas Lyndhurst stars as 1990s TV repairman Gary Sparrow,who discovering a time portal allowing him to travel back and forward to Blitz-hit London, but the tone was of gentle fantasy – even Sparrow's adultery was treated as harmless adventure.
Heil Honey I'm Home (1990)
Intended as a spoof of corny American sitcoms, but set in the Hitler household, this British Satellite Broadcasting sitcom has been dubbed 'perhaps the world's most tasteless situation comedy', that 'disastrously exceeded' the limits of irony. Hayim Pinner of the Board of Deputies of British Jews said at the tome: 'Anything that trivialised Hitler is to be deplored'. Only one of the planned eight episodes, set in 1938, ever made it to air: In it Neville Chamberlain comes to the Hitlers' suburban house – and Adolf tries to get rid of his Jewish neighbours before the British PM arrives. Creator Geoff Atkinson said the show aimed to to examine the appeasement surrounding Hitler in 1938 – but admitted of the pastiche: 'I think we could maybe have done that better.'
Korean War
Death toll: 700,000
M*A*S*H* (1972-1983)
Based on the book and film of the same name, this sitcom about the 4077th Mobile Army Surgical Hospital was one of the most acclaimed and successful American sitcoms of all time, running for 256 episodes, lasting more than three times longer than the war it chronicled, and holding the record for the most-watched episode in US TV history, with its last episode attracting 125 million viewers. The show did not flinch from addressing to the tragedies of war: the biggest controversy it caused was killing off commanding officer Henry Blake offscreen – attracting complaints for being upsetting. Series creators Larry Gelbart and Gene Reynolds wanted the show broadcast without a laugh track, which is how it aired in the UK, but the CBS network insisted it have one, although they made exceptions for the operating room scenes.
Irish Troubles
Death toll: 3,530
Give My Head Peace (1998-2008)
Irish comedy troupe The Hole In The Wall Gang mocked paramilitary groups and the sectarian divide in this comedy. One of the most successful home-grown Northern Irish shows (and a few episodes were aired on BBC Two on the mainland) it featured a dysfunctional family formed when a young RUC officer marries the daughter of the leader of an IRA battalion.
Iraq war
Death toll: 500,000
Gary Tank Commander (2009-2012)
A character-led comedy created by Greg McHugh, who also played the title character, a corporal in the fictional 104th Royal Tank Regiment of the British Army. The series is set after Gary and his Army pals have returned home to Scotland after deployments in Iraq and Afghanistan. McHugh addressed any potential concerns about bad taste by saying: 'We hear lots about the death of troops, sadly, but we never hear about the more human side or the lighter side.'
War In Afganistan
Death toll: At least 21,000
Bluestone 42 (2013-)
BBC Three series set amid a British bomb disposal unit in Afghanistan, essentially a dark workplace comedy. Corporal Daniel Whittingham, a British Army bomb disposal expert, has said the series' black humour was 'spot-on' and its action scenes 'pretty accurate'. But it attracted controversy before it aired, with Tory MP Patrick Mercer querying whether it was in good taste.
Death tolls are roughly in the middle of accepted estimated ranges
Published: 5 Jan 2015
What do you think?