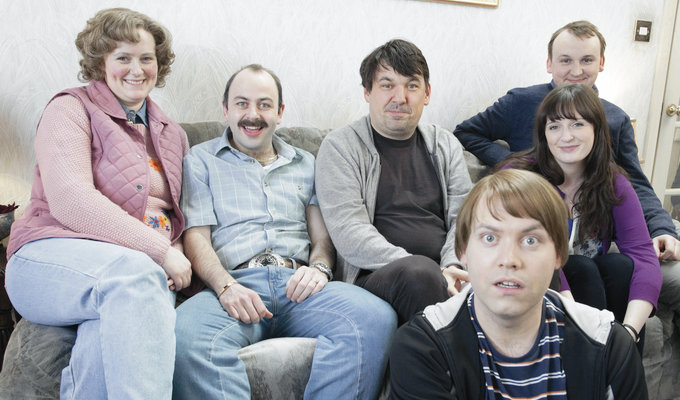 'It was very polite of Graham Linehan to humour us...'
It is every comic performer's dream: a chance meeting with a comedy hero leads to a TV break and your own sitcom – that dream became reality for Irish comedy troupe The Diet of Worms last year when they joined forces with Father Ted and IT Crowd creator Graham Linehan to bring family sitcom The Walshes to the small screen.
'The five of us were at a Matt Berry gig in Dublin, when we noticed Graham and Arthur [Mathews, co-creator of Father Ted] at the bar, explains Shane Langan over a drink on London's South Bank.
'Amy (Stephenson) and Gaffo (Niall Gaffney) were the only two who had the courage to go up. They said, "We do comedy; we've got stuff on YouTube". So Graham took down our name. We all thought it was very polite of him to humour us like that.
'Then a couple of days later we got an email...'
In a different email – this time to me – Graham Linehan explains what made him reply. 'I was impressed by how The Worms inhabited their characters, and they often took me by surprise with their choices.'
First to catch his eye was 2007's Dublin Stories, one of a series of YouTube videos – including bizarro animation Adventures of the Puffin Cat – produced by the Diet of Worms after their inception in 2004. But it was the peculiar tight-knit family featured in later web series The Taste of Home (an earlier iteration of The Walshes) that convinced Linehan to take the plunge.
One scene in particular, featuring the parents clowning around with a video camera, had him roaring. 'It's when Tony asks Carmel to say something for the camera and she comes up with "scooby doo". I mean, "scooby doo"! What a perfect thing for a camera-shy mum to say.'
Working with Linehan, who co-wrote and directed all three episodes of The Walshes, 'was like going to comedy summer camp', reveals a still slightly awestruck Shane Langan. 'Graham's got such a keen eye for a joke. He just wants to get it perfect.'
'The whole show is a sort of love letter to our parents', says Linehan, whose production company Delightful Industries made the show for the BBC, after ITV passed on an earlier pilot. 'We took lots from our own families. My dad did actually tell me not to be like James Bond during a sex ed chat. Philippa uses lots of expressions she gets from her mum – like "jizzy" to mean fun and full of life. I think she only found out the other meaning recently and was very shocked.'
The The Taste of Home videos from which The Walshes sprang was produced with help from another Irish institution: cooked meat company, Denny. The food company, whose sausages were name-checked by James Joyce in Ulysses, bankrolled the web shorts as part of an advertising campaign.
As you'd expect, The Walshes is an altogether slicker affair than its predecessor. Gone is Taste of Home's grainy, camcorder-look and retro backdrop, in favour of a two-camera set-up and a present day setting.
One thing remain the same, however: in 2014, like in 1987, Ireland is still feeling the effects of a financial recession.
The fallout from the Celtic Tiger is a convenient backdrop on which to project the usual sitcom dynamics of conflict and entrapment. 'The downturn has left [The Walshes] in suspended animation. Ciara and Rory are grown up but can't afford to move out, they're trapped,' explains Langan.
'We're not trying to make a big deal out of it. But we all know friends of friends who are 26 and still living at home. It can be hard to find a job.'
Despite drawing on the lives of family and friends from back home, the ultimate desire was to make a show with widespread appeal.
'It is distinctly Irish, but we were very aware we were making it for a British channel, says Langan. It's not a show about Ireland; it's about families. We wanted to make something that will still be funny in ten years.'
Time will tell, of course. But what's true today is the gang behind The Walshes have conjured a funny, warm-hearted sitcom laced with surreal touches, equal parts The Royle Family and Father Ted.
As the interview winds down and Langan prepares to leave for a five-a-side football game, he stops to congratulate me: 'You're the only English journalist we've spoken to who hasn't mentioned Mrs Brown's Boys'.
And I was so close…
• The Walshes is broadcast on BBC4 tomorrow night (Thursday) at 10pm

Michael Curle tweets at @touchlinebro.
Published: 12 Mar 2014
What do you think?