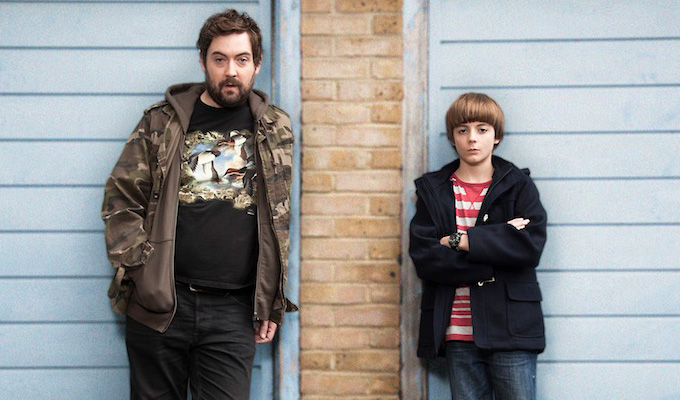 'Not swearing was difficult for me...'
Musical stand-up Nick Helm is about to make his acting debut in the sitcom, Uncle – which was originally piloted on Channel 4, but has jumped broadcaster to BBC Three, where it starts next month. Written and directed by Oliver Refson, the show is about an out-of work musician forced to look after his 11-year-old nephew on the day he was planning to kill himself… Here Helm talks about the programme.
On Uncle, and his character Andy:
Uncle is a sitcom about a bad, layabout uncle, Andy, whose world collides with his slightly OCD nephew, Errol. The series starts with the uncle suicidally depressed, he's on the verge of killing himself when he gets an urgent call to look after his nephew. The series follows their relationship as the nephew cleans the uncle up a bit, the uncle drags the nephew down – and they sort of meet half way. That's it in a nutshell.
Across the series Andy learns to be less selfish, and to be more responsible… basically, he grows up. At the start of the series Andy is a typical thirtysomething man-child, he's completely stuck in being a teenager and he's made to look after his 12 year old nephew who is old before his time. They learn from each other – it's all very moral.
On working with Elliot, who plays Errol:
He's brilliant. We got on really well, he is lovely. He's really talented, disgustingly talented really. Horrifically talented. He's a nightmare! Ha!
There were a lot of rules about filming around Elliot. We weren't allowed to swear in front of him, for example. All the references to alcohol, drugs, sex – everything like that in the series – was completely hidden away from him.
The swearing was difficult for me – I swear a lot in real life. A lot. But on this I was really good, really well behaved! We filmed for seven weeks and I didn't swear in front of him at all! We didn't use any of the swear words in the script during filming, and then what would happen would be that Elliot's mum, who is the exact same height and looks very similar, would wear a wig and his costume, and she would step in and we would swear in front of her.
On working with a writer/director:
I'm totally used to working on my own material usually – my own stand-up, my own songs, my own shows with stunts and costume changes, so I did find it hard. I'm used to being in control of everything, even down to the marketing of my shows – I help design the posters, that all comes down to me.
So I went from being in total control of every aspect, like my hair and what I wear and how long my beard is, to having no control over anything. I even had to have my beard trimmed every two days. It took me a few weeks to get used to it.
I had a bit of input. Oli and I would meet up fairly regularly and discuss the scripts while he was writing them, although from the original script there wasn't a lot that I would've changed. I was pretty pleased with how it all came together.
Plus in every episode I wrote a song, and what Oli would do would be to give me maybe a title of a song or a style of song, or the theme. He'd give me a set of criteria – they all had to be 90 seconds long, so I'd go away and I think I wrote six or seven songs, one for each of the episodes, and that was a little bit of creative input I had which just came from me. That was great.
On how Uncle fits in to the television comedy landscape: I think it feels slightly more like a comedy drama – although it has been a bit more comedically amped up for BBC Three. The stuff that I always watched growing up was stuff like Father Ted, Chris Morris, Alan Partridge, but Oli & I are also both really influenced by Wes Anderson and things like The Royal Tenenbaums.
One of the first things we talked about when we first met was what direction he wanted to go in, and we talked about the Royal Tenenbaums – and I'm not saying it's that specifically or literally, but it has that point of view. It feels very much like a Baby Cow comedy too… they've produced some of the best television comedy of the last 20 years: Gavin & Stacey, Alan Partridge, Nighty Night, Keith Barret, Mighty Boosh, and I think Uncle will fit quite nicely in their cannon of work.
Like Gavin & Stacey, there is a heart in the story – there's the crude uncle and the dark elements, but there is a heart to the story. There's an unconventional family at the show's core – the uncle and nephew and the single mum. They obviously are an actual family, but they create this unconventional revised family unit. That's what's nice about it.
• Uncle is due to start on BBC Three on January 13.
Published: 19 Dec 2013
What do you think?