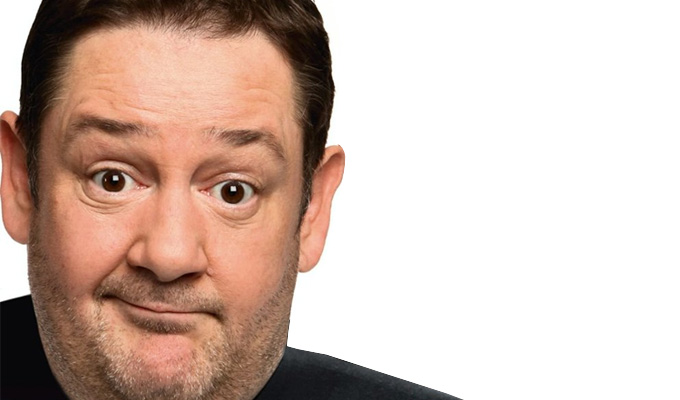 As my first gig approached, the sound plan of action seemed to be in getting pissed
Johnny Vegas's autobiography is published today. In this exclusive chapter – Everything You've Always Wanted To Know About Middlesex Poly (But Were Afraid To Ask) – the comic, then plain Michael Pennington, describes how his bawdy alter-ego, always referred to as he, started to take over his life... and got him through his first ever gig:
I walked back to my room remembering, funnily enough, the advice my brother, Rob, had given to me. He'd quit as a joiner and gone off to do teacher-training in Preston: all the carefree benefits of a student lifestyle, but close enough to home to bring his laundry back and raid the fridge of a weekend. At the time, I remember thinking of this as a bit of a cop-out, but as money got tight later down the line, I would envy his lazy stroke of genius.
Anyhow, he'd told me: 'Get out and make friends as quickly as you can. Always keep your door open but don't sit in your room waiting for the party to come to you, because before you know it, everyone's in cliques and you're the odd one out.' This turned out to be unusually sound and useful advice from my brother. As was my dad's plea to, 'Please save some money while you're working in the holidays. You're going to be mixing with folk with plenty of money, whose parents have plenty of money, and you know we don't.' This was an earnest request I would – and indeed did – ignore at my peril.
On that first night, I left the door to my room wide open and unpacked my stuff as Deacon Blue 'blasted' out of my mini stereo.
After three hours, I was still sitting on my bed having polished off another can, waiting for a friendly face to pop their head around the door and invite me to a student orgy, but still nothing.
It turned out that I'd been allocated a corridor all on my own – just me, nobody else. And, to make matters worse, I'd already packed my food away in the communal kitchen so I had no excuse to go back there. But just when all seemed lost, a flickering in the distance caught my eye: I looked out of the window and saw, no more than thirty feet away, the unmistakable light show of a pub bandit machine.
What were the chances my room would be one of the closest in the block to the student union bar? I marched over there with a bundle of cash and a simple but very determined mantra: 'Nobody knows you, nobody. You are whoever and whatever you want them to think you are the second you step through those doors.'
I stuck to my guns as best I could for my entire time at Middlesex Poly. I walked or staggered tall when not opting to crawl. I felt intoxicatingly invincible, and my misplaced sense of streetwise, working-class superiority meant I wasn't ever looking over my shoulder for fear of violent reprisal at my cockiness.
I made a point of approaching anyone I fancied talking to – male or female, meathead, academic, smart-arse or stunner, it didn't matter. I'd learnt from Mike's techniques how to spin a yarn and pull in a crowd. I wasn't interested in being funny enough just to fit in, merely to get by – I wanted every inch of sticky, beer-stained carpet to be my stage. In my head I'd arrived, and was determined to aim high and never again waste my time staring into the bottom of a glass and wallowing in the dregs of what might've been. 'Make it happen' was my motto. 'Not tomorrow, not next week, here, now, every single day of the year!'
It wasn't always easy, as my new persona of über-confident party animal needed cash to keep the woozy wheels of social relevance well oiled. The first year was easy as I had access to my grant and a sizeable overdraft. I drank like a trust-fund kid and threw my money around that bar like there was no tomor- row. I'd have sheets and sheets of bank statements comprising lists of no other figure than £10.50: the maximum amount you could cash at the union bar at any one time.
All the warning signs of a financial meltdown were there, and no-one could accuse me of spending my money wisely, especially when I took myself down to Camden Market and bought myself a poncho. There are fashion faux pas and there are legitimate reasons for a wardrobe/chequebook intervention.
Unbeknownst to me, I was still a deeply uncool, naïve, nobody-would-look-at-me-twice piss-artist, but I didn't care. I revelled in what I felt was my new-found true identity.
I had friends, lots and lots of friends across the college spectrum, and especially within the art and design campus, Cat Hill. Paul and Gary were my proper pals, though, and remain so to this day. There are others who may feel short-changed with the absence of a mention, but it was these lads with whom I connected best and shared most of my misadventures, Paul being the more sensitive of the two and a fellow art student, and Gary a no-nonsense Stockton lad studying politics.
Both had very different – but equally successful – techniques for getting intimate with their female cohabiters in halls but fundamentally they were always, always, always up for a drink.
I'd thought the new me might find a way to overcome my crippling shyness with women but, unfortunately, I never quite seemed to have what it took to get beyond drinking buddies. Even when he was in full flow, I'd always find a way to jeopardise a new rapport before it could get to the awkward point of physical vulnerability.
Improvised obstacles weren't always easy to find when the rare opportunity offered itself; after all, we all lived in the halls of residence, not thirty feet away, in single-occupancy rooms, with no parents to thwart our theoretically wanton ways.
It frustrated him no end as he was the perfect wingman. I might do my best to walk the walk, but it was he who definitely talked the talk. He was the Matt Damon intervening on my Good Will Hunting Ben Affleck's behalf whenever I got out of my depth discussing politics, atheism or sex. He flirted with a sexual intent that I loved to observe, until I realised that it was me, not him, that would have to see it through – and live with the disgrace afterwards.
The drunker I got, the further I'd allow him to take it, especially as his ongoing bitterness over my treatment at the hands of women back home meant he always wanted to punch above our weight. He would make a beeline for the really sexy girls
Even so, the bit of me that was convinced we were flirting with disaster always pulled it back, or slipped away in time to save face and restore order to my frustrated masturbatory existence.
I did my best to convince myself that I was more about the chase than anything else but the truth was, I was still haunted by my first full sexual encounter. I didn't just lose my virginity that night, I misplaced all ability to entrust my inexperience to any other living soul.
The circle of frustration ran like this: I couldn't begin to contemplate sex unless I was drunk, but I could never hope to match the confidence I'd show around the bar in the bedroom if I did bring someone back. I needed to build up a sober relationship with someone, a real friendship, in order that I might be able to express my anxieties in the hope that they'd ultimately have patience with me for being so damned inexperienced. But nobody seemed interested in me unless they were drunk, because I was so dull in the cold light of day in comparison to my party persona. So I'd get drunk to get over my awkwardness but then become terrified if ever someone else got drunk and shed their inhibitions completely. As a result, I was a world-class drunk and – in the eyes of most, I would imagine – a world-class eunuch.
There was one girl, a French student, with whom I became genuine friends. I absolutely adored her. She would cook me exquisite meals, we would chat and laugh about everything, and I felt so at ease in her company. So much so, after wine but nowhere near as trollied as I'd be over at the bar, I dared tell her that I had feelings for her beyond friendship.
Her response was, 'But this can never be. If we were lovers, it would destroy the friendship that we cherish. I like you too much to risk losing you.'
In the aftermath of this disappointing exchange, she proposed an unusual consolation arrangement where we could kiss and she would unbutton her pyjama top in order to allow me to fondle – but never kiss – her breasts. As sad as it sounds, I agreed to this, even sneaking back from the student union specially some nights, hoping it might lead to something more – perhaps this was her way of expressing a similar nervousness to me?
That myth was shattered after three weeks or so of kneeling on the edge of her bed and fondling her with all the sexual charisma of a trainee baker at the end of a long shift, when she announced, 'I fucked your friend Gary the other night.'
'You what! Why?'
'What about all that stuff about friendship and its preciousness?'
'But he is an awful man. Why would you think I would ever have him as a friend?'
As heartbroken as I was, I remained kneeling at the edge of her single bed, exercising her bosom like stress-relief balls, whilst we had our obscure version of a domestic.
'Are you fucking joking?'
'What does it matter?'
She was so French! The way she broke my heart as if she were announcing we were out of semi-skimmed or something ... 'He's my mate.'
'So?'
'So? It's not Jules et fucking Jim.'
'I am tired now. It is best you should go.'
With that, she buttoned up her pyjama top and turned away. I was devastated. He was furious and wanted words with Gaz, but I couldn't let him. How can you bollock someone for somebody else finding them more attractive than you? He was an alpha male. He had a Playboy duvet cover and still got laid, for God's sake!
He couldn't forgive her for wrecking my half of ourhead like that, so I strolled back over to the student union and joined Gaz and Paul for pints, surrendering to the status quo of sexual politics. It was one of the few times I was drinking to drown him out, because I sure as shit couldn't hide from him the fact that I was quietly relieved.
In the course of such displacement activities, I attained a notoriety for drinking that gained me the first invitation ever offered to a freshman to join the Hoppers' Society. We only met once, for a charity event that involved sitting on the stage at the student union all day, largely ignored by the patrons, on a sponsored drink-athon. A widow from the Lifeboat Association had enough homebrew to technically sink a lifeboat – an odd means of remembrance, I know – and it was our job to drink it after gaining sponsorship for each pint.
I don't remember leaving the stage. I woke up on some stairs, then in the halls of residence shower room, then out on the lawn of the College Dean's house, and finally in my bed.
In a false bid to economise once I'd started eating into my overdraft, I began buying one or two bottles of very cheap, really nasty Bulgarian red wine. The plan was to drink it in my room before going over to the student union and thereby save on the price of pints. But that just resulted in my still getting in the rounds and ending up absolutely falling-down drunk.
There was no denying the fact that of all my endeavours so far in life – even the things I was truly passionate about, i.e. pottery, comedy and drink – inebriation seemed to be the one I had a natural, God-given talent for. I would always be watching people's reactions whilst he waxed lyrical or made the kind of eye contact I couldn't. But at karaoke one night, down in the main bar, we both let rip.
There was something oddly empowering about having control of the microphone for that short space of time. It was only drunken messing, nothing comically profound, but I couldn't stop myself from talking once 'Red Red Wine' had finished (an appropriate choice of musical cue under the Bulgarian circumstances), and although I couldn't remember what I'd said, it must've gone down all right as I was requested by a student union rep to come back as compère for the next karaoke night. I drunkenly agreed and thought nothing more of it.
Next morning, the panic set in. Sitting in the bar being funny was one thing, but this was something else altogether.
It had been agreed without consultation that I'd compère my first gig under the name 'Mad Dog Mike Pennington'. The student union gave me that moniker because they wanted some- thing to put on the posters.
As the evening of my first ever official gig got closer with my still having no semblance of a professional routine or clue what I was going to do, the only sound plan of action seemed to be in getting pissed. So I made sure I took the whole afternoon off to prepare myself properly in the bar of the student union.
Forget the lifeboat, I downed enough Kronenbourg to sink a battleship, but I still felt my nerves were preventing me from getting to the right side of pissed to go ahead with the show (especially when I threw up on my way back to halls). Luckily, I still had time to hit my stash of ropey Merlot.
I can't remember what I said that first night as I didn't have a single prepared line. The only thing pre-planned in any way was my decision to wear the bad-taste trousers my sister had doctored for me. With a stage name like 'Mad Dog', I thought it might be handy to have a bit of a false persona to go with it.
Now, here's a vital point that would eventually have me for- getting that he was real and in existence long before I'd ever contemplated taking to the stage: as minimal as it seems, put- ting those trousers on was a monumental step in creating what I believed was a character, an alter ego, a fall guy to shield me from the very real fear of failure.
You cannot know how terrifyingly real having your name in print on a poster is when it is associated with the expectation of being funny, and I was already using those trousers from the retro night as a way of offering an exaggerated alternative to me.
What I – or rather we – did that night wasn't strictly stand-up. There was no sell-out crowd. We just did some songs in a really OTT fashion and had a laugh with the other folk getting up singing. The whole night is still just a bit of a blur if truth be told, yet it became a fabled event amongst some ex-students I'd bump into years later.
'Do you remember that karaoke night where you span on your head?' As drunk as I was, I seriously doubt that happened, because he would've had a health and safety extravaganza with me the morning after.
I compèred one more night at Middlesex Poly. The crowd was much bigger than the first time and I remember hating the weight of expectation, people asking, 'How're you gonna follow up the last one?'
Follow what? I couldn't remember what I'd done! Still, the second gig went down equally well. The technique of Merlot over matter was proving a winning strategy.
Published: 26 Sep 2013
What do you think?