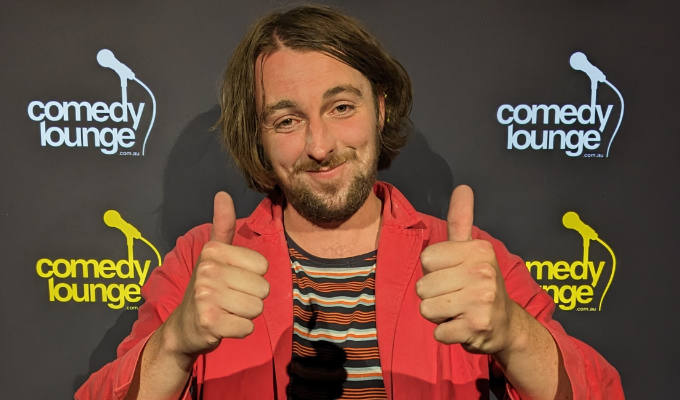 Joe Kent-Walter's Australia diary: Perth
Well yes here we are! Two years after winning Chortle's funniest kid in school competition (and at the other side of a 50+ email thread with organiser Stevie B), it's finally happening! I'm in Australia! Thanks Chortle!
I'm here right now, in fact. As I write these words I'm having a coffee at an Italian beach cafe in Bondi. It's got quite a confusing brand, there's a mural of a pizza chef riding a surfboard. However, this diary entry is not about the gnarly-dude capital of Sydney, it's about Perth, my first stop on the tour.
My first 24 hours in the city consisted of a jet-lagged mission to find the costume and props I'd forgotten to pack. My futile attempts to sleep at the right time was followed by an ill-advised 5am whizz round the city on an electric scooter looking for charity shops like I was in an OAP version of Wacky Races.
I eventually found some 'opportunity shops' as they are called, or 'op shops', for short. Additional Ozzy charity shop slang includes; 'Salvo's (Salvation Army) and 'Vinnies' (Saint Vincent de Paul, obvs!!) . They sure are casual over here!
Props and costume acquired, I headed to my first show at the Perth Comedy Lounge. I'd describe the place as a very 'clubby' comedy club; swanky interior, food service, all male line-ups and a Slug and Lettuce dress code.
To my horror, the first show I was booked on for was a gong. Fuck. Not only were the regular gong rules at play where the audience can use cards to vote the act off, but there were also two comics onstage for the whole time who would heckle the newer comic as they tried to get through their three minutes.
If you are not familiar with my act (why would you be?), I'm a pretty alternative character comedian. I paint my face white, wear shoulder pads, it's a weird time. Suffice to say… I ate shit.
I started my act as I always do, with a reveal of my white face which got the shock and nervous laughter it usually does. However, before I could break the tension with my first gag one of the 'bros' chips in with 'Wait, has that guy had a bukake?' (a vulgar term to describe a face that is covered in semen). Huge laugh from the crowd. Tension gone. Me a freak with cum on his face. Gong.
Luckily for me, things only went up from there and the next two nights of shows were actually a real hit. Once I'd got some sleep and shaken off cum-gate, I had a great time and was surprised how well my act was received in the bear pit. Through chatting to the other comics I learnt that some of the biggest reference points for my act (The Mighty Boosh, Vic and Bob) are pretty big in the Australian zeitgeist. They love a British freak!! Great!
So that was Perth, rocky ol start but thank god it got better. Loved the comics I met and also spending time on Scarborough beach, which I have to reluctantly admit is a bit nicer than its northern counterpart.
• Next stop: Sydney. When Joe returns to the UK, he will be appearing in the The Lovely Boys and Friends show at the Moth Club in Hackney, East London, on October 12. Tickets here.
Thanks for reading. If you find Chortle's coverage of the comedy scene useful or interesting, please consider supporting us with a monthly or one-off ko-fi donation.
Any money you contribute will directly fund more reviews, interviews and features – the sort of in-depth coverage that is increasingly difficult to fund from ever-squeezed advertising income, but which we think the UK's vibrant comedy scene deserves.
Published: 21 Sep 2023