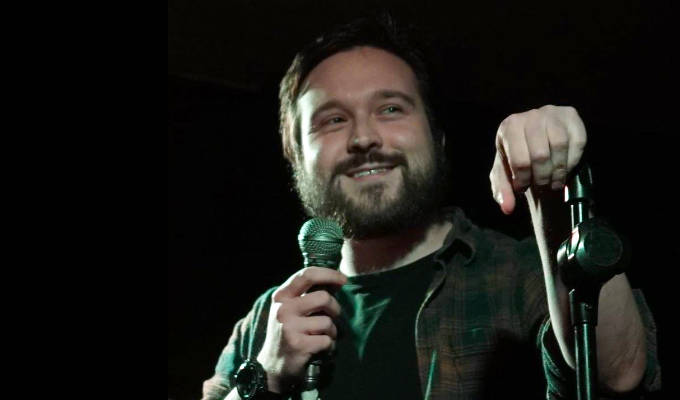 How I try to combat writer's block
New comedians often ask promoters and others: 'How do we get better? How do we get bigger gigs' And the answer they usually get is: 'Keep gigging. Gig like hell. Gig a lot. George Carlin gigged a lot everywhere all the time.' And that's all well and good. But what about writing?
It's gigging's slightly-more-boring cousin, but it's equally, if not more important. The reason George Carlin gigged so often was because he was a great and consistent writer and had such a massive output he had loads of material to test every time.
You can perform the same ten minutes until it's so polished you can see your face in it, but a promoter wouldn't give you progression to longer sets if he thought that's all you've got. Big acts, TV comics, they have hours and hours of material, killer-strong material, before they even begin to get anywhere. In Edinburgh one year I befriended two headline comics and found out they sit down for an hour a day and write, even during the Fringe. They sit down! for the express purpose of writing it! During the Fringe!!
Most new comics say to me: 'I don't really sit down to write on purpose. Most of the jokes I've written just come to me.' I felt the same way as a beginner comic, a decade ago: all my jokes were things that just appeared to me, like a Virgin Mary apparition. Sitting down to intentionally write felt like an alien idea, an antithesis to the anarchic idea of comedy itself.
Of course, that unintentional writing tends to be linked to the initial years of joy associated with the discovery of stand-up. Once it becomes a more regular part of your life, and perhaps as you accumulate more responsibilities, bits appear to you less regularly.
I find that the less new material in your life, the less joy and fun stand-up brings. Nobody likes feeling like a stagnant comedian. Since the collapse of Jongleurs there's a whole class of comedians who have bulletproof hours from 1999 being forced on to the circuit to rediscover that creating new material is actually quite nice to do.
So I spend a lot of time thinking about writing. Ways to bring back the possibility of jokes appearing to me naturally. Mostly just anything to avoid actually doing any writing. So here are some thoughts, in no particular order.
Concept
I think there was an old Buddhist saying about gardening: that when we want a plant to grow, we don't stretch the plant out, drag it out from within its seed, what we do is tend to the soil, and trust the plant to emerge from the seed. And I think that is what this kind of writing is.
The less I trust the bit to come to me, the less often it comes. But if I create the right conditions in my mind, sometimes the joke just wanders into my head fully-formed.
The American writer Elizabeth Gilbert has said ideas are like radio waves, and we can only control our receptiveness to them. Other comics describe the process of writing a joke as more like archaeology, digging into a subject and maybe finding gold. These metaphors may sound like pithy platitudes, but the way that we think about writing influences the way we go about it.
Writer vs editor
In creating stand-up, you need to be a writer and an editor. One who provides funny, one who cuts out the useless stuff.
But I find that when I become creatively stagnant, the editor is getting too big a place in my mind. It can be out of striving to be perfectionist, convincing myself that a bit is something that only I'd find funny, or that it 'just doesn't sound like a stand-up bit'. I don't think it's that I'm 'just not thinking of anything funny' – but that my inner editor that has too much strength. It cuts down everything before it can grow.
I try to redress the balance with two practices, both of them pretty easy:
Intentional bad jokes. Pick a random word- there's plenty of random word generators on the ol' internet- and try to write a joke about it. You have ten minutes. Use a mind-map or something, anything, but just write something. It's often something shit, that will never see the light of a stage. But you're allowing space for the writer in you in that moment, switching off the editor,
Morning pages: this is not a new and revolutionary notion I'm pretending I invented, but something that's been around for decades. It's meant to be a daily practice of waking up and, first thing, doing three pages of stream-of-consciousness writing. Whatever's in your head. I don't do it every day, and I don't do it first thing in the morning, but it still has an impact. That is purely time when the editor is not there. To be clear. I have never written a single joke from what comes of my morning pages. But I have written jokes from the allowance of myself to be open for that time. For my fellow slow-handwriters, I just knock it out in a Google doc or on the purpose-built 750words.com.
Silence
French philosopher Blaise Pascal said: 'All of humanity's problems stem from man's inability to sit quietly in a room alone.'
When I looked at what had changed since jokes had stopped coming to me automatically, I noticed that the lack of silence was one of the biggest.
Most of the times that jokes had come to me before had been while I was driving alone, talking away to myself or finishing aloud whatever stupid thought was bouncing around my head.
Now in the car I had music or audiobooks to numb myself with. Allowing silence back in and turning off the music brought back this vital source of creativity, and gave fellow motorists more reason to stare at me in traffic.
Intention
I know I started talking about writing unintentionally, so 'write intentionally' may sound like a bit of a cop-out. But I think maybe you should re-define your image of writing intentionally.
When I first tried this, I set aside an hour and a half every few days. After half an hour of banging my head against the wall, I'd feel like shit for not having written anything, and descend into Facebook emptiness for the next hour.
When I changed it to half an hour once a week, and stopped focusing on results (magically perfect fully-written jokes), suddenly it became easier, and eventually became an hour a week, which really suits me.
Sometimes still nothing comes. But for that time, I sat for an hour and tried to think of something funny. That is writing. The trying has to be what you reward yourself internally for, or else your entire sense of self rests on something that is not always reliable or consistent: you being funny within that hour.
Even set aside 15 minutes in the week, look at some half-finished bits or unused ideas in that time. See what happens.
Published: 22 Nov 2021
What do you think?