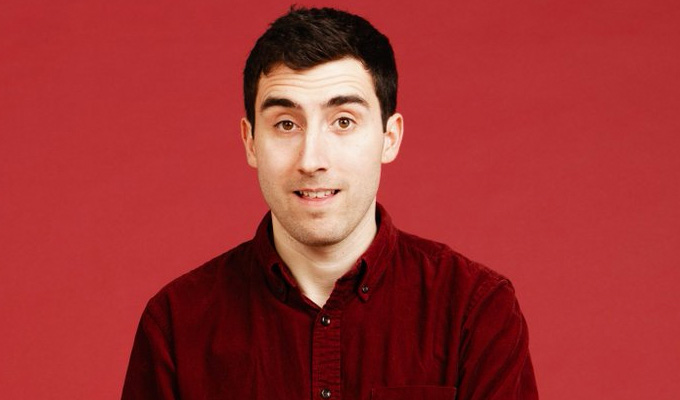 Is it OK to mine my mum's life for comedy?
Last year for Christmas, I gave my mum the news that my new Edinburgh show was going to be all about her dating when I was growing up. I probably should have given her some bath stuff as well.
She doesn't have these issues with my brother; being pretty stable he isn't compelled to bare his soul to strangers every night. He got her a personalised cheeseboard. (Who needs a personalised cheese board?!).
The comedy shows that have stuck with me have always been stories: Mike Birbiglia's My Girlfriends Boyfriend, Sarah Kendall's One Day In October and Chris Gethard's Career Suicide to name a few. It was these shows that inspired me to do narrative hours in Edinburgh, and to date I have done four in a row. The first was about taking a convicted murderer to his daughter's wedding, the second about pursuing a long-distance relationship, the third about working at an American Summer Camp and last year about the worst plane journey of my life. I'm now onto my fifth show and I've run out of my own stories, so I'm moving onto my family. First up, Mum's dating life. Next year, Auntie Lynda's battle with asthma.
The idea for the show has been fizzing away for a while. I previously thought my childhood was pretty ordinary, but when I told my pal Iain that when I was eight I would have debriefs with my mum when she got back from dates, he laughed and said that it was weird and also slightly creepy. I realised perhaps this wasn't stereotypical childhood fodder.
But that was normal for me, us sat on the sofa with cups of tea, me in my Stone Cold Steve Austin pyjamas, and I'd be going… 'so, what does he do? Did he make you laugh? Does he want to take me bowling?'. Apparently, other people just practised their times tables. Iain insisted I should do some stand-up about it but I refused. It felt too personal. That was four years ago, it's taken a while to gear myself up to it/run out of other material.
Writing this show has certainly felt different to others. It has forced me to re-examine events and feelings from a period of my life I had pretty much boxed up and sealed. My director James Bugg and I went on a writing retreat in Surrey (a cabin in someone's garden I found on Airbnb) and I told him every little thing I could remember about the period when my mum was single and dating men, which stretched for the majority of my childhood.
It was emotionally draining. James would prod more memories by asking probing questions like, 'who was your favourite? How did that make you feel? And, what is an Ann Summers party?' After two days we realised I had a story to tell and I felt excited. But at the same time, I was worried I might misrepresent my mum. I knew I had to hear her side of the story.
I took my mum out for lunch and quizzed her about her post-divorce dating life. Pretty weird for a Café Rouge, but it did make a nice change from her asking me whether I was eating properly in London. She told me all about the singles balls she went to with her friends and the weirdos she met on the internet that I never got introduced to. It was like getting the behind-the-scenes gossip of an episode of Love Island that I'd lived through. She kept trying to put her own jokes into the stories. I was like, 'chill out mum, I'll add the gags' (I have since gone on to use a lot of her stuff).
The story being so personal has made the previewing stage more emotional. When I have a tough gig in Leicester I'm like, 'hey, that's my mum you're not laughing at!'
At one point in March I nearly chickened out, I just lost my confidence in the whole thing. But then I realised my show title had already been submitted and calling my show Single Mum and not talking about a single mum could leave scope for confusion.
It's been a slightly odd process converting deeply personal stories into stand-up, which I then mine for jokes and say over and over again. I worry that I'll lose some of the sentimentality of the events for myself. I guess in some ways this is unavoidable, performing it night after night will slowly detach me from the feelings I had when I first wrote it.
But the flipside is that writing the show has forced me to think about parts of our family life that I'd ignored for years, giving me a fresh perspective on it that I may otherwise never have got. Plus, writing it has led to me finding out completely new information about decisions my mum took, which I'm thankful I now know. However, there were some intimate details my mum told me that I'd rather not know, they completely put me off my duck liver pâté at Café Rouge.
I am absolutely dreading the day my mum comes to see it. Imagine if she hates it! Another date circled on the calendar is the day my Dad comes to see it. He enjoys coming to the Fringe every year, but this time he'll be paying (yes, I charge him) to watch a whole hour long show about his ex-wife's love life, while sat next to his current wife. I don't think he's ecstatic about it. It will be his turn in 2021 (right after Auntie Lynda's asthmatic adventures).
I think I've created a funny and heart-warming show, which accurately retells the story. I wanted to write a positive show, a homage to my mum, because now I'm an adult I can see what she sacrificed for my brother and I. I did a preview in Bristol and two lads stopped me as I was leaving and excitedly told me their stories of growing up with divorced parents. It's those moments that make the crap previews in Leicester worth it. The buzz I felt after chatting with them made the diversions on the M4 almost bearable.
Anyway, more than anything I hope my mum likes the show. Surely a personalised Edinburgh show is better than a personalised cheese board.
• Steve Bugeja: Single Mum is Just the Tonic At The Caves at 19:30. Tickets
Published: 27 Jul 2019
What do you think?