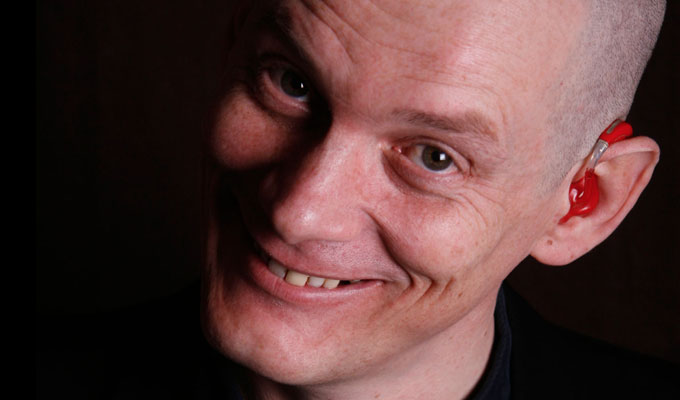 Adventures in dementia
The best gig I have ever been involved in took place in a care home for old people, most of whom had dementia.
It would never have happened without Janice Connolly, also known as Mrs Barbara Nice and the person who I've worked with that is the closest to having some kind of magic. Some people are great performers, some are amazingly funny, Janice is both, but she's also magic. Anyway…
I was asked to assist a six-week comedy course at a care home in Birmingham. The plan was to run a daytime workshop each week and then put on a show a couple of nights afterwards, where the residents who'd been on the course could perform to an audience.
It didn't seem that promising, but it was work, so I gave it a go.
I wasn't prepared for what I found on the first day. These people were so old, it was like a vision into the future, and the future was decrepitude and, it seemed to me, despair.
On top of that it became clear that almost all of the residents had dementia in one form or another. At this stage my dad's own dementia hadn't really taken hold and he was just a bit confused sometimes, so I'd had no experience of dealing with people suffering from this bastard condition.
On top of that the climate in the home was, to say the least, oppressive. The expense of keeping people in care must primarily be in the heating. The home had a kind of subdued, almost sedated, feel of sleepiness, caused either by doctors giving out sedatives or the tropical heat, or both.
The whole thing seemed utterly pointless as the staff wheeled in our workshop 'volunteers'. But it was the closest thing I've seen to a miracle that Janice was able to cajole anything at all from our crew of demented participants, let alone what actually happened.
First there was George, who was a former executive in the motor industry. We were told he had Alzheimer's, but he seemed chatty and fun. At the end of one session we asked if he had enjoyed it and he said that yes he had, very much, but could we kindly tell him where he was?
There was Billy: 'Hello, I'm Billy Rook, nothing to crow about' who came with his own patter but with a variant of a condition that made him burst out in song. Every time. The same song.
'Hello Billy', 'I love you like I've never loved before,' would come his reply
Billy had a companion in the home, Flossie. And every time Billy started singing, she tell him to 'Shut Up'
I love you like I've never loved..'/ 'Shut Up.'
'I lo..'/'Shut Up.'
'I..'/ b
This went on all the time.
Then there was Ria who didn't actually have dementia but having been dumped in this place surrounded by everyone else who did she might as well have done. I think they gave her sedatives just to help her fit in, otherwise she would have been like a permanent designated driver on a hen night.
Ria offered to sing, and by all accounts had a lovely voice but her version of They'll Be Bluebirds Over The White Cliffs of Dover?? was spoilt by the fact that she had a physical condition that meant she couldn't lift her head and was bent over so much her mouth was obscured. People with better hearing than me couldn't even hear a word she sang.
We also had Bob, who was a Desert Rat. He was against the whole idea of the show and wasn't going to contribute anything except sitting at the back complaining, but he was a Desert Ra and that was all there was to it. He'd beaten Rommel so who were we to tell him otherwise.
We also had Jean who would walk around on a mission known only to herself, but always walking, never able to rest. In the middle of a rehearsal or while watching a Tommy Cooper video for inspiration, Jean would walk through, ghostly, muttering in what I was told was Turkish, though she didn't look it. I don't know of any other Turkish people called Jean.
We had two guys who weren't residents but somehow dropped in to the home, and ended up on our course doing a ventriloquist act, one of them playing the dummy. Then there was me and there was Janice. To be honest I wasn't one hundred per cent sure the show would be a triumph.
But this is show business. On the day of the show we set up lights, arranged the care home chairs to make our own little comedy club, plugged in the microphone and opened the doors.
A surprisingly large number of people came. Firstly, some residents who we'd not even known were there, emerging from hibernation in their rooms. Secondly a number of relatives of our performers. Finally a number of regular comedy fans came, because Barbara Nice has a following, and people who know her know they will get something special. They did.
The plan was to have Billy sing, and his sidekick Flossie to constantly tell him to shut up in a kind of music hall, odd-couple way. I was going to do a bit, Ria would sing, and Barbara would be Barbara.
The thing with Billy was that during the workshops he'd started to get into it, get more focussed, and the excursions into singing became less random and more in line with what would work in the show. He went off to get changed.
Ria was growing in confidence too, she'd been on the verge of pulling out but decided to perform, though with her head down it was impossible to be completely sure. Bob was still against it on the grounds he was a Desert Rat and had beaten Rommel.
At this point Billy appeared, dressed up for the stage, and boy was he smart. A lovely crisply-pressed suit and a smart collar and tie. It made me feel I could have made more of an effort. Anyway no time to dwell, because it's Showtime!
It began, with Barbara working her magic and introducing Billy, with Flossie alongside him. Billy launches into his trademark song, 'I love you like I've never loved before' and we wait for Flossie. But she is silent. '…Since I met you on the village green.' Billy has never got this far into the song before, Flossie is still silent! 'When you were sweet, when you were sweet, sixteeeeeen.'
End of song. He gets a massive cheer, but this is a comedy show, Barbara stops the show to explain, and says to Flossie, 'What did you think, Flossie?' expecting some kind of curt reply. Instead Flossie, still gazing at Billy on stage, says, 'I think he's lovely.'
There is laughter and a few tears, and soon Ria is introduced to sing her song. She begins, and with the mic is able to make herself heard, I don't hear well, but I know a rapt silence in an audience when I experience it. I'm experiencing it now. She sings beautifully, and incredibly, thanks to Doctor Theatre, is able to raise her head. Not fully, but for anyone who had seen her before this is still a miracle.
But this is a comedy show, and the comedy part of Ria's song, that she'd help envisage and found hilarious, was that as she sang about Bluebirds over the White Cliffs, two residents with paper bluebirds sellotaped to the end of snooker cues would 'fly' the birds over Ria's head. Not only this, as the bluebirds flew, two other residents including our Desert Rat, were to fire water pistols at the bluebirds to bring them down in anti-aircraft (or perhaps anti-birdcraft) fire.
It all worked perfectly, except our gunners and bird-flyers had not anticipated Ria raising her head, nor had we to be honest, and the water fire not only brought down the bluebirds it also smacked squarely into Ria's face.
If you can imagine a soda syphon gag in a silent film you get the idea. The song ended on a gurgle, but the audience, assuming this was all part of the skit, were in hysterics. The applause was tumultuous, though I was so creased up with laughter it's all a blur.
The show ended, as Jean walked through muttering Turkish, almost liked it was designed to happen. I looked out to see some of the relatives of our performers in tears. I was, too. Janice got a standing ovation from those who could stand. never was one more deserved.
Comedy can be a hard game and we comics like a moan, often with justification, but when you see what comedy can do you have to just thank your lucky stars.
And now my dad has dementia, proper Alzheimer's. and it hurts so much. But having had this experience it's something that makes it less painful. Even though it's still an utter bastard.
• A version of this article first appeared on Steve Day's Facebook page.
Published: 31 Oct 2017
What do you think?