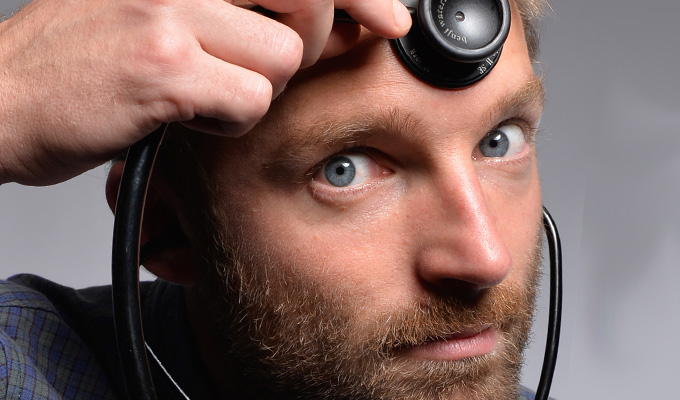 Fringe Clinic #1: Drugs
Research suggests comedians are statistically more likely to kick the can earlier than average. So as the Edinburgh Fringe starts to take its toll on performers' health, and following a similar series last year, we share the advice of four stand-ups who are also junior doctors.
Over the coming days, Matt Hutchinson, Kwame Asante and Ed Patrick give tips on sex, sleep and exercise.
But today shrink Benji Waterstones peeks over the cubicle door and considers drug use during the month-long party.
BACKGROUND
Comedians have long favoured mind-altering substances; think of Richard Pryor's taste for alcohol, Russell Brand's partiality to heroin or Alan Partridge's battles with Toblerone. We all have our demons. Although as Bill Hicks pointed out, drugs never did him any harm. Just before dropping down dead aged 32.
ALCOHOL
Booze is a popular weapon of choice at the Fringe. It can provide Dutch courage, oil your comedic cogs or be the petrol driving an anecdote.
But it's a fine balance and after 12 pints you'll slur crisp punchlines and deliver heckle putdowns with devastating, lightening-fast… oh what's that word I'm thinking of? It's all about moderation and sensible drinking i.e. 11 pints.
Another snag is that alcohol is a depressant so you're more likely to cry on stage. But on the plus side, you may inadvertently scoop the Edinburgh Comedy Award.
ECSTACY
Now how to cure that hangover or general low? Homesick, no audience, wet feet all day? Consider an 'upper' to take you to your happy place!
Problem is, ecstasy and MDMA are like Wonga loans for joy. You can have your euphoria in one lump sum, but you will have to repay it back the next morning at 1000% APR. The trick here is to simply repeat for 28 days.
Being 'loved up' may also enable you to nurture a deeper connection with your audience, provided they're all pilled-up to the eyeballs too.
COCAINE
Want to inject some energy into your performance? Get over the 40-minute hump? Get hold of some coke. But it's illegal – plus during the Fringe there's an extortionate price hike. Bottom line is, if a dealer offers you a gram of Charlie for £80, just-say-no. They'll usually come down a bit.
CANNABIS
Surrealist stoner Mitch Hedberg favoured marijuana for its calming properties. Although personally I don't find it very relaxing having a paranoid voice in my head screaming 'THE POLICE ARE AT THE DOOR'. But each to their own.
Weed can aid creativity, but it's debatable how performance enhancing it is when you can't be arsed to scribble down your bit about Monster Munch.
HEROIN
Promising to melt away your troubles like a rock on a hot spoon, heroin tops the moreishness scale. One day you're benevolently visiting your gran with flowers, the next you're running down the street barefoot with her wide-screen TV to fund a cheap score.
As easy to find as a needle in a Haymarket public toilet but not for people who struggle to eat just one chocolate biscuit.
PSYCHEDELICS
Want some perspective on the Fringe's relative place in the universe? Drop a tab of acid. A one-star review pales into insignificance when you're tripping down the rabbit hole into a colourful world of dancing dragons.
And finally what about ayahuasca, the miracle cure for depression and all the addictions you've acquired reading this article? The healing hallucinogenic so strong that just one dose is equivalent to 15 years of therapy? Well funny you should ask…
• Benji Waterstones: The Ayahuasca Diaries is on at Laughing Horse @ The Three Sisters, 16:00. He's also in the AAA Underbelly Showcase, Underbelly Cowgate at 18:20. (Twitter)
Tomorrow: Matt Hutchinson on sex
Published: 10 Aug 2017
What do you think?