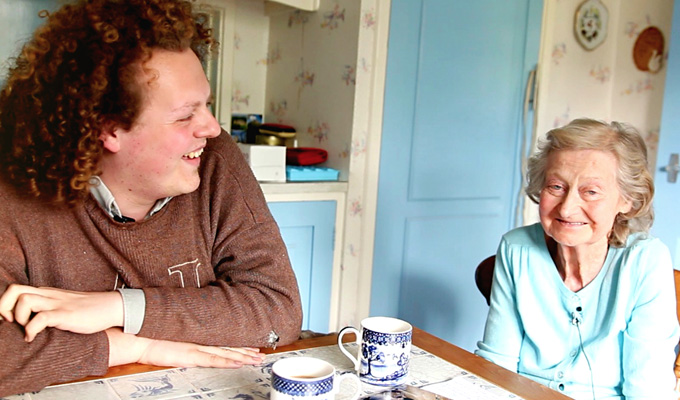 Good Grief! How me and my nan made a tragi-comedy
'The shows winning awards now are sad comedy shows.. Ooh my dad's dead... ooh feel sorry for me... Ah shut up! All our dads die, we all die, what are we? We're just meat being shovelled into a grave. Don't wanna hear that on a night out.'
That bit from Stewart Lee's Carpet Remnant World about 'dead dad' comedy shows is my favourite.
When I started doing stand-up in 2014, I wasn't particularly great. I got through to the finals of So You Think You're Funny with a five-minute set about Gail from Corrie always wearing polo necks and me getting repeatedly mistaken for a lesbian in gay bars. It was all right.
While at the Gilded Balloon I saw a show called Choose Your Own Adventure - sort of high-tech documentary show where the audience got played a series of films intercut with a story of finding some bloke off eBay. I loved it, and it made me realise I just wanted to put together an hour of stuff about the bullshit involved in grief, in particular the awkward aftermath of my dad's death when I was 15 alongside my nan's story of losing him when she was 80.
The latter doesn't sound funny and I guess it's not, but her approach to grief definitely is.
My Nnan is an old-school working-class grafter - an ex-dinner lady who'll tell you off for 'fucking swearing'. She's an absolute gem and older working class women like her are pretty misunderstood in Britain. They're presumed to be stupid - either biddy-little-racists who love Cliff Richard or naive fools who wire all their money over to fake Nigerian Princes or Turkish toyboys.
My nan thinks Cliff Richard is a cunt. She likes Il Divo though so, she's a bit basic.
But her experience of losing a child is one virtually ignored by mainstream culture. And my experience as a teenager losing a parent is one pretty ignored, apart from intense ITV murder dramas where weeping, shy, confused teens deal with sudden death by staying in their room.
But I was gobbier than that. And so was nan. Our conversations about grief - the awkwardness, the way people would cross the road to avoid you, the patronising way grown-adults would soften their voice as if you were in Year 4 and the inability for the men in our family to open up - all of this shit irritated us. And the hilarious things like getting free lasagnes from neighbours, bereavement counsellors farting mid-session and the fact that when I cry it sounds like Jimmy Carr's laugh - all this weird, wonderful comic relief got us through it as a family.
I don't really consider Good Grief to be a 'dead dad' show - it's far more narcissistic than that. He's only in it for about 25 seconds and mainly it's about me and nan telling our story about how we fought tragedy with laughter. It's been incredibly cathartic and I feel very lucky to have made something that has resonated with audiences of different ages, backgrounds, classes and tastes.
Premiering at Edinburgh Fringe 2015, I soon had big burly blokes hugging me post-show, sobbing about losing parents, siblings, friends. I've had a female bodybuilder telling me about a hospital cleaner accidentally singing Oh Happy Days when her dad was taking his final breath and my favourite story was one of an accidental error when someone told a nurse their sleeping nan had just passed wind, which was mistaken for passed away. She was wheeled to the mortuary alive.
The stories people have shared with me have been amazing, cathartic and what Good Grief was always supposed to be about.
Somehow this show me and nan made over a bag of sweet and sour chicken balls in her Uxbridge council flat got a feature in The New York Times, turned into a BBC comedy adaptation for Radio 4, has had three Soho Theatre runs, a Soho commission for a follow-up Happy Hour heading to the fringe this August, a UK tour and got me a job being a fat gay Stacey Dooley for BBC Three in Happy Man.
I really couldn't be more chuffed.
Sadly though I won zero awards, so Stewart Lee's theory is now wrong. Exploiting my dad's death wasn't as prosperous as I'd hoped.
But I do hope the final run I'm doing this week at Soho Theatre will continue those conversations audience members are having about grief, laughing about the awkwardness and embracing the importance of celebrating those we lose regardless of age.
Published: 13 Jun 2017
What do you think?